The Surprising Reason Paul Newman Once Burned His Tuxedo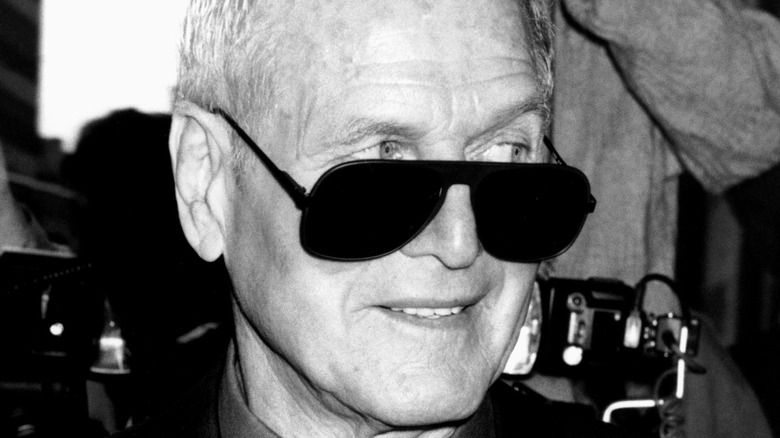 Everett Collection/Shutterstock
For one reason or another, people always seem to turn to flames when it comes time to express how they feel. Whether it's bras, books, or black tie affairs, it would seem that no object or occasion is safe from the inferno. Speaking of black tie affairs, it was Mr. Paul Newman who resolved to personify his discontent with them via fire once (via the New York Daily News). 
Newman led a long, joyous life as one of the film community's most beloved symbols of talent and charm up until his death in 2008. He and his wife, Joanne Woodward, are the subject of a six-hour documentary from Ethan Hawke, titled "The Last Movie Stars," which will stream later this year on CNN Plus, reports Variety.
The "Cool Hand Luke" star made an everlasting name for himself as an actor, director, and philanthropist. Inevitably, a slew of formalities was bound to follow in the wake of such admirable feats. However, for Paul Newman, such formalities were nothing short of exhausting and unsavory, and by the time he was 75, he'd had just about enough of them (per Mirror U.K.). 
Paul Newman burned his tuxedo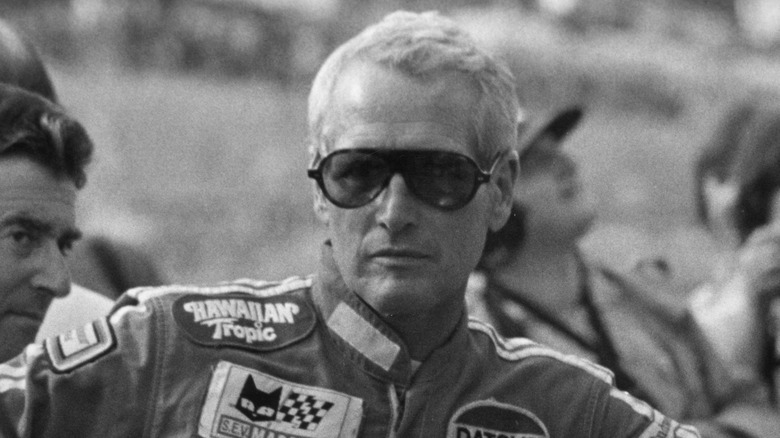 Keystone/Getty Images
In 2000, on his 75th birthday, Paul Newman reached out to a dear friend and Connecticut neighbor, author A.E. Hotchner, and requested his presence at his home. Hotchner and his wife dined with the actor, talked about old times, and celebrated in a communal jubilee as old friends would. However, it wasn't until after the meal when Paul led the couple out to his driveway for a "ceremony" that things really heated up. Newman dropped his tuxedo on the driveway and set fire to it. "That's so I never have to go to another black-tie do again!" he declared before his friends (via Mirror U.K.). 
"I set fire to it in the driveway and Joanne [Woodward, Newman's wife] was running around like a chicken saying, 'You're setting fire to the house.' I just figured that I had received enough awards for all normal purposes and I was quitting. I don't need it, I don't want it. I think Joanne saved one of the tuxedos for me to get buried in. She has to get even somehow," Newman explained later (per Alearned).
Paul Newman preferred a simple life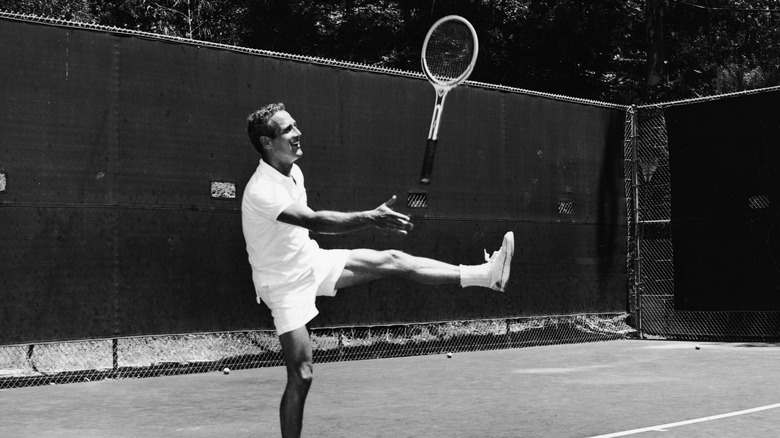 Hulton Archive/Getty Images
As an actor, director, and overall cinema titan, Paul Newman undoubtedly was enthusiastic about his career. However, life beyond the screen looked a little different for him. "He wouldn't live in Hollywood, he didn't want the superstar lifestyle, he eschewed any type of public award. He wasn't interested. He didn't give a damn about the pretensions and the social events. He wanted a simple, private, self-contained life," A.E. Hotchner once shared about his old friend (via Mirror U.K.). 
In his free time, Newman liked to spend afternoons on the water near his home in Connecticut, floating decrepit old boats he'd purchased with Hotchner. There they would drink beer, fish, and experience life's simpler pleasures. Newman also conceived what would become one of the most successful food companies of all time. According to Hotchner, "Around 1980, just a few days before Christmas, he called me up. He said: 'I gotta thing going on here and I need help. Come on over!' So I went over and there he was in his barn mixing up these salad dressings. He said: 'You gotta help me. I want to bottle all this up and on Christmas Eve we'll go round everyone's houses, sing carols and give away bottles of my salad dressing to the neighbors,'" Hotchner went on (per Mirror U.K.). That first batch eventually lead to the Newman's Own line of food products; all profits are donated to charity through the Newman's Own Foundation.
On September 26, 2008, Paul Newman lost his life to cancer. He died surrounded by family and friends at his home (via The Guardian).