Inside Lady Gaga And Liza Minnelli's Relationship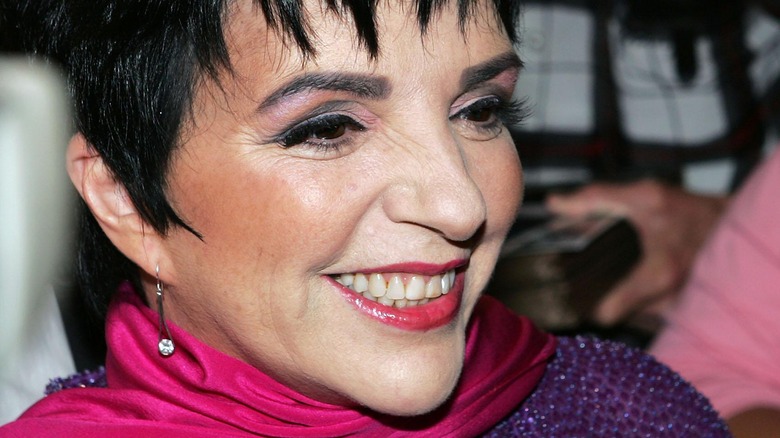 Neilson Barnard/Getty Images
The 94th Academy Awards ceremony, aired on March 27, 2022, contained a few memorable moments. Perhaps the most memorable (if indeed downright shocking) moment came when Will Smith walked onto the stage and smacked Chris Rock after the latter made a joke about the former's wife.
Another memorable moment came near the end of the ceremony, when Lady Gaga and Liza Minnelli presented the nominees and award for best picture. As Decider reports, Minnelli, who at 76 uses a wheelchair and is showing signs of age, had difficulty delivering her lines. However, in a poignant display of friendship, Lady Gaga touched her colleague's hand and said, "I got you," to which Minnelli responded, "I know." It was a touching and reassuring bit of calm after the tumult that was the Smith-Rock incident.
Though it may seem like the Gaga-Minnelli pairing was purely random, as it turns out, the two women share a friendship going back at least a decade.
They've been friends since at least 2011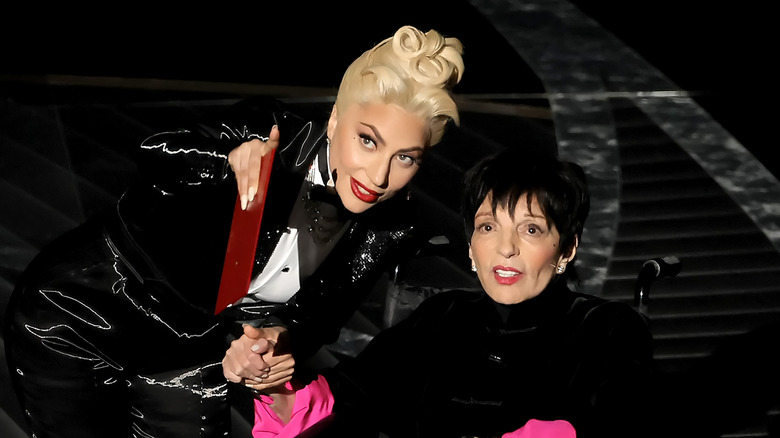 Neilson Barnard/Getty Images
Although it's not known for certain when Lady Gaga and Liza Minnelli first became friends, the earliest report of such a friendship on the internet comes from 2011. As Broadway World reported at the time, Lady Gaga was recording her HBO special at Madison Square Garden and Minnelli, among other luminaries, was in attendance as a guest.
At one point during the proceedings, Gaga spotted Minnelli in the crowd, and told the audience about how the famed actress and singer was an inspiration to her. Specifically, Gaga said that when she was in art school, she was told that she didn't have the right look to pull off being a superstar. "[I was told] 'you'll never be the main character ... the blonde... your hair's too dark ... you look too ethnic,'" to which Gaga would respond, "What about Liza [Minnelli]?" Gaga then asked the audience to give Minnelli a standing ovation, which reportedly thrilled the older actress.
'A Star Is Born'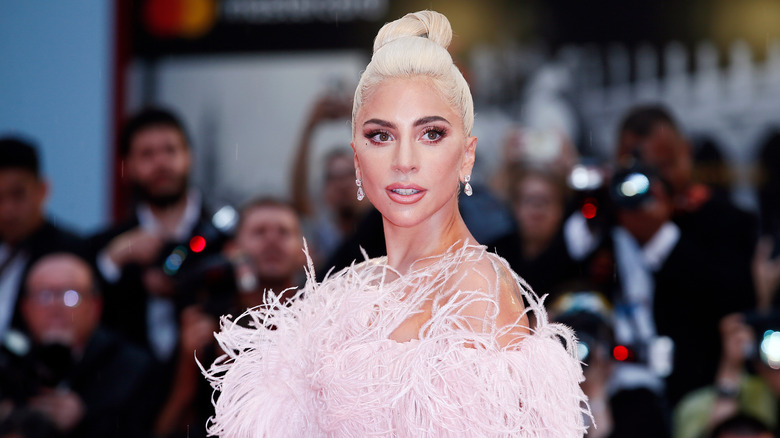 Andrea Raffin/Shutterstock
Undoubtedly the high-water mark of Lady Gaga's acting career (so far) is her Oscar-nominated lead role in 2018 film, "A Star Is Born." That film is actually the third remake of a 1937 film with Janet Gaynor in the lead (per TMZ), which was followed with a 1954 remake starring Judy Garland (who was Liza Minnelli's mother), which was itself followed by a 1976 Barbara Streisand remake.
Minnelli wasn't particularly excited about Gaga's performance in a role that her mother had made her own decades before. Back in 2018, Liza told Entertainment Tonight that her mother would have laughed at Gaga's portrayal in the role she (Judy) once occupied. "And then she would have gotten into it. I can hear her saying, 'OK, let's go! Great to the end!'" she added.
As TMZ would report, Minnelli made it a point to avoid watching remakes and reboots of her mother's roles, out of respect for her. However, she reportedly said that she might consider going to see "A Star Is Born" simply because of Lady Gaga.