This Is The First President To Work In The Oval Office
Steve Cukrov/Shutterstock
Official images of the President of the United States often cast them against the backdrop of the Oval Office, replete with cascading flags and the broad wooden surface of the Resolute Desk. The image has been repeated countless times, from official White House addresses and news photos to movie scenes and Saturday Night Live parodies. But it wasn't always the president's mise-en-scène — not until the 20th century.
Through the years, succeeding presidents have made the Oval Office their own, with presidents such as Harry S. Truman and Richard Nixon casting their offices in new color schemes, and others like Franklin D. Roosevelt moving the office to a new part of the White House entirely (via AHS HomeMatters). Most famously, First Lady Jackie Kennedy invited a French designer to renovate the White House, which included new and now-iconic white walls. Many presidents have changed the flooring, furniture, and drapery, with Barack Obama introducing patterned wallpaper to the decor.
Remote work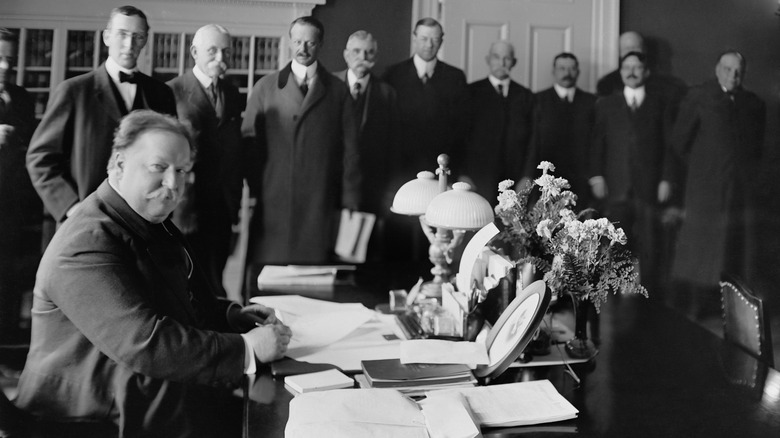 Everett Collection/Shutterstock
It was President William Howard Taft who first sat in an oval office at the White House. Before Taft, presidents used to work everywhere but the Oval Office. According to the White House Historical Association, Thomas Jefferson worked in a space now occupied by the White House's dining room. Teddy Roosevelt, Taft's predecessor, worked in what is aptly named the "Roosevelt room" — now a conference space opposite the Oval Office (via the unofficial White House Museum).
President Taft also used to work in the Roosevelt room, until he decided to utilize the new West Wing addition Teddy had made during his stay. In 1909, Taft moved into the famed Oval Office, albeit in an early state. Taft's Oval Office wasn't quite an oval, at least at first; it was more of a "U" shape. According to AHS HomeMatters, the 27th president remodeled the room into its now-familiar and much more symmetrical oval design.
What does the modern Oval Office look like?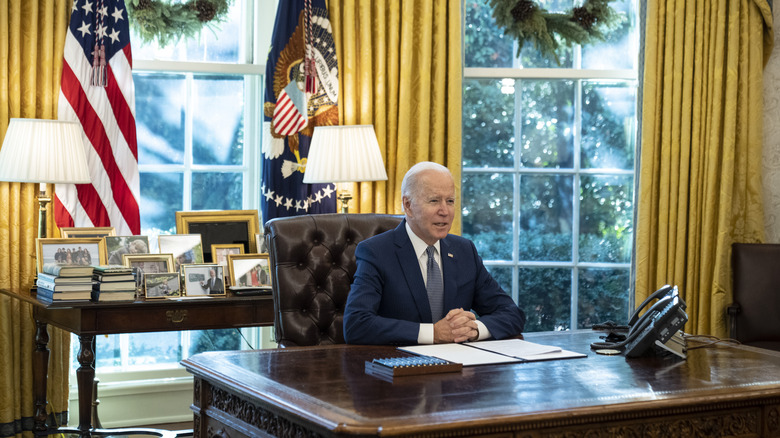 Drew Angerer/Getty Images
If you're wondering what President Joe Biden's Oval Office looks like, the answer is that it's a little bit of everything. Since William Howard Taft first moved in, the office has been destroyed by fire, relocated, scuffed by golf spikes and refurbished. Biden and his designers inherited many decorative accents from their predecessors, while reintroducing others that must have been waiting in storage somewhere (via AHS HomeMatters).
President Biden uses both the drapes and rug from the Bill Clinton administration, partially returned to use by his predecessor, Donald Trump. According to the Washington Post, Biden has surrounded himself with portraits of iconic Americans, like Rev. Martin Luther King Jr. and Rosa Parks, with Franklin D. Roosevelt featured in particular. However, Biden didn't just choose to flank himself with celebrities for nothing; evidently, he strategically paired individuals like Thomas Jefferson and Alexander Hamilton together. These political rivals were included, said the Biden office, as "hallmarks of how differences of opinion, expressed within the guardrails of the Republic, are essential to democracy."