Frank Sinatra's Hidden Talent Might Surprise You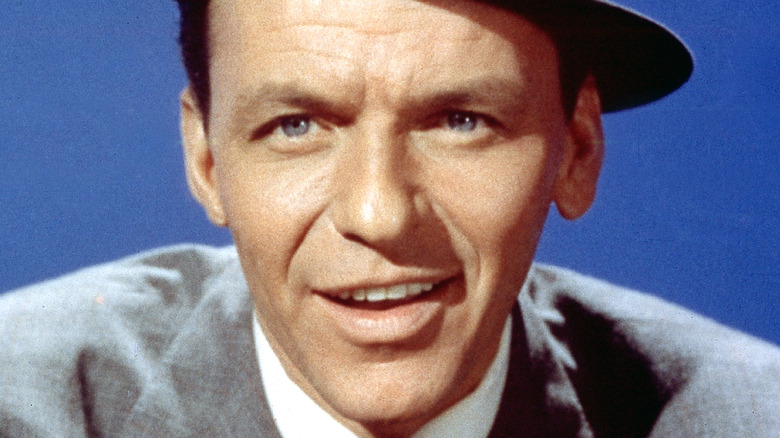 Michael Ochs Archives/Getty Images
Rolling Stone once stated (via Instagram) that the late Frank Sinatra was "indisputably the 20th century's greatest singer of popular song." His voice, with all its smooth composure and sheer majesty, still adorns radio waves like a timeless lullaby, never losing clout or going out of style. There's no doubt about it — the Sinatra legacy is eternal. However, some aren't aware that Old Blue Eyes had a penchant for art and exhibition that wasn't restricted to a song.
According to Artland Magazine, the jazz singer enjoyed the leisurely activity of painting and collecting art. Life on a stage can become distressing and strenuous, and as a way of alleviating the pressure of watchful eyes and ears across a crowded room, Sinatra would kick back with a pallet and brush and make something strictly for himself. "He called them self-portraits," Barbara Sinatra once shared while reflecting upon her beloved husband's conceptions upon a canvas.
Frank Sinatra was also a painter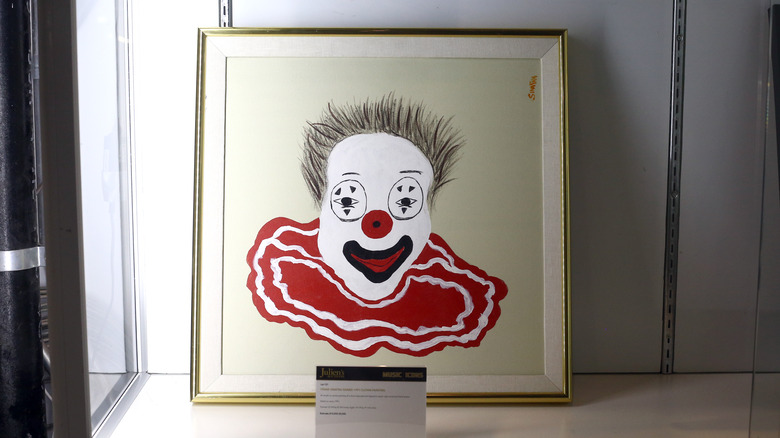 Tommaso Boddi/Getty Images
"For the past 10 years or so my father has painted in a geometric abstract style, which has been very satisfying for him. He is a fastidious person, a detail man, so he relishes the precision required to paint severe forms," Frank Sinatra Jr. once shared before his father's death (via Artland Magazine). The senior Sinatra was reportedly influenced by masters of the brush like Joan Miró, Pablo Picasso, Marc Chagall, Leroy Neiman, Walt Kuhn, and Childe Hassam. He also had a disposition for painting a certain type of subject that might surprise you: clowns (per Art Fix Daily). 
"I think he identified with the mask they wear — but his clowns were never sad or evil looking," Barbara Sinatra explained. Whether he was painting clowns or something else, there was a particular degree of abstractness and bold surrealism woven into his brush strokes that mirrored elements of Impressionism and Cubism. He had a passion for art that was by no means chaotic or arbitrary (via Artland Magazine). 
How much is a Frank Sinatra painting worth?
Donaldson Collection/Getty Images
If you're looking to invest in one of The Sultan of Swoon's iconic paintings, get ready to smash that piggy bank to bits, because they definitely aren't cheap. According to So the By's, one of Frank Sinatra's original paintings could cost you anywhere between $10,000 and $15,000, broadly speaking. It probably goes without saying that any of his personal effects are bound to be worth a small fortune; especially those conceived by his inconspicuous talents with a paint brush. 
Mr. Sinatra wasn't one to sleep on collecting paintings himself. He once called fellow jazz singer Tony Bennett "the best singer in the business," and he clearly felt the same way about his personal art — Bennett also spent time painting while he wasn't on a stage. During his life, Sinatra invested in more than a few of Bennett's paintings, some of which have been sold at auction for north of $30,000 (per Mutual Art).