Who Really Invented Punk
George Rose/Getty Images
There is a school of thought that "punk rock" has, by definition, got to constitute a break with rock music's past as its raison d'etre. Writing in The Observer, music critic Tom Sommer argues that it's useless to excavate the roots of punk, as what matters in the movement is the "firecracker" moment that started the "fires of 1976," when punk suddenly blasted its way, shockingly, into public consciousness.
Other critics, such as Dave Laing, whose book "One Chord Wonders: Power and Meaning in Punk Rock" is considered a landmark academic study of the genre, have come close to supporting this idea, by suggesting that the experience of many listeners encountering punk rock in the mid to late 1970s was one of coming into contact with the previously "unheard"; that punk seemed to push against everything that pop fans previously thought music depended upon, such as melody, virtuosity, and ease of listening. Its loud and proud primitivism unraveled the complexities of bloated prog-rock and sneered at the sentimentalities of traditional pop songwriting. Many of the musicians involved must have assumed they had created a new year zero in popular music.
But despite how punk rock might have felt at the time, the genre and the message inherent in its intentionally crude simplicity didn't emerge in a vacuum. The sound, style, and symbolic meaning of punk had its precursors in a plethora of artists working in a variety of pop and rock modes, all of whom, in their own way, played a guiding hand in the creation of punk. Here are those leading figures who made the punk explosion of 1976 a possibility.
'60s garage rockers
DIY recording techniques; simple chord progressions; shaky, unrefined vocals — all hallmarks of late '70s punk, but equally the preserve of a generation of bands who came a decade earlier: the garage rockers of the 1960s.
Garage rockers were typically young American groups hastily put together by young musicians in response to the cutting edge sound of British Invasion bands such as The Beatles and The Yardbirds. And just like the punk bands of the 1970s, these groups cared little for virtuosity, instead, valuing energy, rawness, and attitude, as Masterclass notes. Bands such as Washington-based The Sonics -– whose singles included "The Witch" (1964) and "Psycho" (1965) -– would remain direct influences of hard-edged guitar bands from the dawn of '70s punk to '90s grunge and beyond.
For many critics tracing the musical genealogy of punk, the Peruvian band Los Saicos is a particularly important early act, with The Guardian pointing particularly to their song "Démolicion," which infused skewed surf guitar with screamed vocals, and proto-punk lyrics preaching the pleasures of destruction.
The Kingsmen
But there was one song in particular that planted the flag for the ragged sound that would form the template for garage rock and the punk rock that would come after it: The Kingsmen's "Louie Louie," released all the way back in 1963.
Described as "deliciously moronic" by "Punk: The Whole Story" author Mark Blake, the track was a cover of a 1957 R&B tune written and recorded by Los Angeles-based musician Richard Berry, which was a minor hit. The Kingsmen, who formed in 1959, had long incorporated the song into their live party band sets when they recorded it in one take in what the band believed was a warm-up. 
According to The New Yorker, the recording was complicated by the fact that vocalist Jack Ely was wearing braces on his teeth, and, struggling to be heard over the din of the band, performed the take in an incomprehensible drawl. Though Ely apparently stayed true to Berry's innocent lyrics, his version was so unintelligible that rumors swirled that the Kingsmen's version was obscene, leading to its banning in numerous states and a prolonged FBI investigation, which only aided the song's popularity. It peaked at No. 2 on the Billboard charts in December 1963.
As Blake notes, the Kingsmen's "Louie Louie" was identified as the first punk record by legendary Creem journalist Lester Bangs. Its appeal has waned little in the years since, remaining a live favorite of guitar bands the world over.
The Kinks
One song that was particularly indebted to The Kingsmen's "Louie Louie" was "You Really Got Me," released in 1964 by British rockers The Kinks. The story behind the iconic guitar sound that punches out from the very first bar is one of the most punk tales in popular music. 
As Kinks guitarist Dave Davis recollected, he was looking for a way to generate new distorted guitar sounds, and in his frustration decided to let rip on his own equipment and see what happened. "It was quite small, in a very small amp, and it had a couple of inputs, and it had treble, bass, and volume controls," he said. "I didn't like the way it sounded, so I thought I'd jazz it up by cutting the speaker with a razor blade ... I didn't even think it would work, but luckily it came back with that amazing, roar sound" (via Ultimate Classic Rock).
Unfortunately for The Kinks, though they had pioneered the 'fuzz' guitar sound that would become the signature sound of garage, metal, and proto-punk in the United States, they were unable to capitalize on their newfound fame. After an onstage fight in May 1965, the band had their touring permits withdrawn by the American Federation of Musicians, per Ultimate Classic Rock. They were only allowed to return in 1969, by which time a new wave of acts had already taken their place at the vanguard of rock. Nevertheless, the simplicity and raw power of "You Really Got Me" have seen the song identified by some musicologists as punk's original sonic template.
Surf rockers
Though the lineage of punk can be traced directly to garage rock, those bands had their own antecedents: surf rock musicians, who emerged in the early '60s off the back of influential rock 'n' roll artists such as Link Wray, whose 1958 song "Rumble" would set the template for the surf rock genre. Per Rate Your Music, Wray pioneered the use of power chords within rock music, while later major surf artists such as The Beach Boys would come to form a crucial influence on many '70s punk bands such as The Ramones.
Though considered a popular music genre, surf rock musicians often took their inspiration from unexpected places, even turning to the traditional music of their own cultural heritages for melodies. For example, the highly influential "King of the Surf Guitar," Dick Dale, was a musician of Lebanese descent who plundered the Middle Eastern music he knew as a child for tunes that he could imbue with punk menace by transferring them to electric guitar (per The New Yorker). His "Miserlou," which found renewed fame in 1994 as the opening music to Quentin Tarantino's "Pulp Fiction," was in fact a traditional middle Eastern song performed at a vicious tempo. Later, surf became reintroduced to punk music as 'surf-punk,' a revival movement spearheaded by the Canadian group, Forgotten Rebels, in the early 1980s.
Glam rockers
On the outside, it may look as though glitter rock (aka glam rock) is the antithesis of everything that punk stands for. However, there are more commonalities between the two genres than first meets the eye: stomping rhythms, confrontational performances, and jaw-dropping outfits for a start.
British glam rockers T-Rex were a huge influence on the sound of British punk, while the stylings of Alice Cooper and The New York Dolls set the precedent for up and coming American punks that being in a band was all about attitude (per Britannica). Meanwhile, David Bowie would integrate the sound of glam rock into his music in the early 1970s to create the soundtrack for his most famous character, Ziggy Stardust, the look of whom would become a touchstone for the punks who would emerge half a decade later.
As udiscovermusic notes, the line from glam to punk is traceable in many songs from the mid-70s, including Blondie's 1976 single "Rip Her to Shreds" and The Runaways' "Cherry Bomb," released the same year, both draw on the heaviness of glam while retaining its pop sensibility.
Lou Reed and The Velvet Underground
Straddling a number of musical genres while remaining resolutely a law unto himself in terms of musical direction, Lou Reed was an undoubted lynchpin of alternative music throughout the late '60s and '70s, who has occasionally been referred to by critics as the "Godfather of Punk." 
Reed began his musical career as a songwriter-for-hire at New York's Pickwick Studios, which churned out garage-rock-esque tunes under a plethora of invented band names at knockdown prices. According to All Music, it was during this period that Reed penned "The Ostrich," a novelty dance song parody in which every guitar string was tuned to D. The droning effect would prove to be defining sound of The Velvet Underground.
With The Velvet Underground, Reed pushed the boundaries of popular songwriting, creating a sinister sonic backdrop for confessional lyrics about addiction, death, and alienation. Reed's persona was also highly influential, with the musician forming the archetypical rebellious posture that would become the hallmark of punk music (via The Independent).
Pub rockers
Meanwhile, across the pond, a decidedly untheatrical genre of music was making waves and setting the stage for the punk boom that would occur at the end of the decade. Pub rock emerged from the British Isles in the early 1970s and was -– like the punk explosion that would come later -– a 'back-to-basics' movement that worked against what many listeners considered to be the bloated self-indulgence of such genres like progressive rock, according to Britannica. 
Pub rock bands such as Brinsley Schwarz and Dr. Feelgood –- whose guitarist, Wilko Johnson, would be especially influential in creating the staccato guitar style of many punk musicians –- originally emerged to supply bar crowds with live sets made up of American R&B classics, though under the influence of both amphetamines and alcohol –- which would also become the drugs of choice for punks –- pub rockers' performances took on a jarring, frenetic edge that would come to define the movement.
The critic Tom Stommer has identified Dr. Feelgood's 1975 single "She Does It Right" as the very first punk rock record, being both recognizable as similar in sound to the punk breakthrough acts of 1976, and also a direct influence upon them (via The Observer).
Neu!
According to Tom Stommer, another candidate for the first true punk rock song is Neu!'s pounding track "After Eight," released in 1975 (via The Observer). Neu! was an innovative Krautrock duo that first formed in 1971 in Düsseldorf, Germany, and comprised Michael Rother and Klaus Dinger, two multi-instrumentalists who had previously performed as part of the electronic act Kraftwerk. Despite having little success outside their own country while they were active, they went on to pioneer the 'motornik' percussion style that would become central to many bands that came after. 
Stommer notes Neu!'s deployment of a simple, driving, three-chord guitar part on "After Eight," prefiguring punk's signature musical simplicity, and also the vocal similarity to The Sex Pistols' Johnny Rotten, who, along with members of Wire and The Buzzcocks, would later openly admit the song's influence upon him.
Rother and Dinger only made music together for a few short years, the result of clashing personalities, according to The Guardian. Nevertheless, thanks to various reissues they have since been identified as one of the most important and forward-thinking musical projects of the era.
Patti Smith
If Lou Reed is just one of several figures to have been described as the 'Godfather of Punk,' critics seemingly agree that the genre's Godmother is surely Patti Smith (via NPR). Influenced by poets such as the French symbolist Arthur Rimbaud and by her close friendship with '60s countercultural icon Bob Dylan, Smith made a name for herself on the New York scene before becoming an icon herself with the release of "Horses" in 1975, which, produced by the Velvet Underground's John Cale, worked to refocus rock's primal energy for a new generation (via the BBC).
Per the same source, Smith would later go on to dismiss being labeled a proper 'punk,' but "Horses" was undoubtedly an inspiration for countless performers who took away from the record's ragged aesthetic that music could be made by anyone organically, and that rules were made to be broken. "I felt that our cultural voice, which was so magnificent through the late '60s and early '70s, was faltering ... and there was the rise of stadium rock and glam rock and all of these different things and I felt like somebody had to save it," Smith told the BBC.
Iggy and the Stooges
Possibly the most oft-cited proto-punk performers on this list, The Stooges, led by the force-of-nature frontman Iggy Pop, emerged in 1969 with an uncompromising sound that would eventually become one of the most influential in popular music. Though they quickly became known for their primitive, violent, and seemingly unplanned stage performances, The Stooges were a band consciously trying to push boundaries.
"We liked all the bands that were popular, all the English bands, the MC5, Yardbirds, Kinks, all those bands, but we knew we could never be like them. So it was [Pop]'s idea from the beginning, we had to be totally different. We set out to accomplish that," said Stooges drummer Scott Asheton (via Louder Sound).
Pop's animalistic persona was backed up by raw instrumentals driven by the simple, innovative riffs of Scott's brother, and 1969's "I Wanna Be Your Dog" is especially notable for seemingly arriving at the punk sound early, with Pop's daring lyrics similarly prefiguring the genre's penchant for self-debasement and sexual masochism.
"I have always thought that music should never be too good or too tight. It should excite you," said Pop (via the same source), arguably summing up punk's musical aesthetic in a nutshell.
Death
Though some proto-punk bands such as pub rockers Dr. Feelgood were heavily indebted to R&B, few formative acts in the history of punk can be argued to have their roots primarily in soul and funk. But one trailblazing Detroit trio certainly did: the African American trio who went simply by the name 'Death,' which perhaps had repercussions for their sales figures.
As noted by All Music, the band made up of brothers David, Bobby, and Dannis Hackney were turned on to the devilish sounds of Alice Cooper and The Stooges, and cut politically charged punk tracks in 1975, a year before the punk explosion. Though Death was unsuccessful in their own time, songs such as "Politicians in My Eyes" eventually found a cult following among record collectors and bootleggers, and the accomplishments of the band were highlighted after Bobby Hackney's children became interested in their father's music, with a selection of Death's early recordings eventually being re-released by Drag City Records in 2008 (via The Music Origins Project).
After Death's deserved recovery from the trash bin of history, their legacy thankfully now seems to be assured. Per the Death website, artifacts from their career are now on display at the Smithsonian African American History Museum in Washington D.C., while the 2012 documentary, "A Band Called Death," has found their music a new audience among present-day punk fanatics.
Malcolm McLaren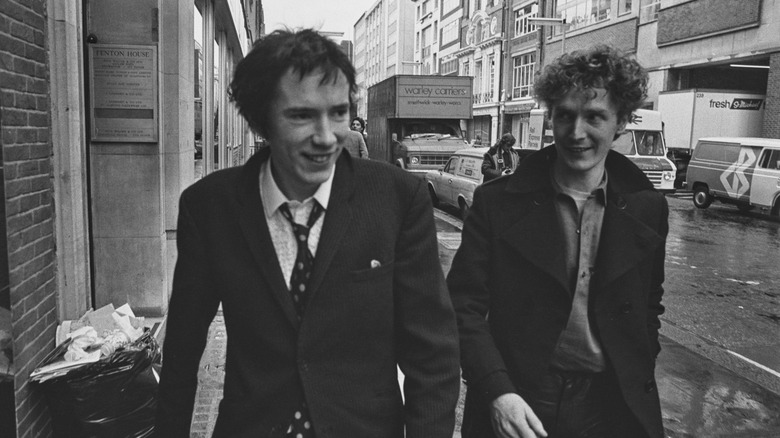 Evening Standard/Getty Images
The role of The Sex Pistols in catalyzing the punk explosion of the late 1970s is well known, but the fact is that the band — made up of Johnny Rotten, Steve Jones, Glen Matlock, Paul Cook, and Sid Vicious — did just appear out of thin air. The famously riotous group had a guiding light, and that man's name was Malcolm McLaren.
McLaren (pictured, right, with Johnny Rotten) was highly successful as an avant-garde London fashion store owner in the early '70s alongside his partner, the designer Vivienne Westwood, before becoming the manager of the New York Dolls (per Rolling Stone, it was Westwood who first convinced the Dolls to wear women's clothing). Managing the New York Dolls taught McLaren the value of bold, confrontational gestures, something he would use to help his new band, The Sex Pistols –- whom he formed in 1975 –- to reach international notoriety.
McLaren's dictum that "cash from chaos" (via The Guardian) was the order of the day summarized the nihilistically mercenary attitude that put punk on the world stage. But this was also, ultimately, the aspect of the late '70s punk wave which became its undoing, as competing interests saw The Sex Pistols implode having only released one studio album together. McLaren later became an advocate for early '80s hip-hop, and he remains a divisive figure more than a decade after his death from cancer in 2010.