The Untold Truth Of T. Rex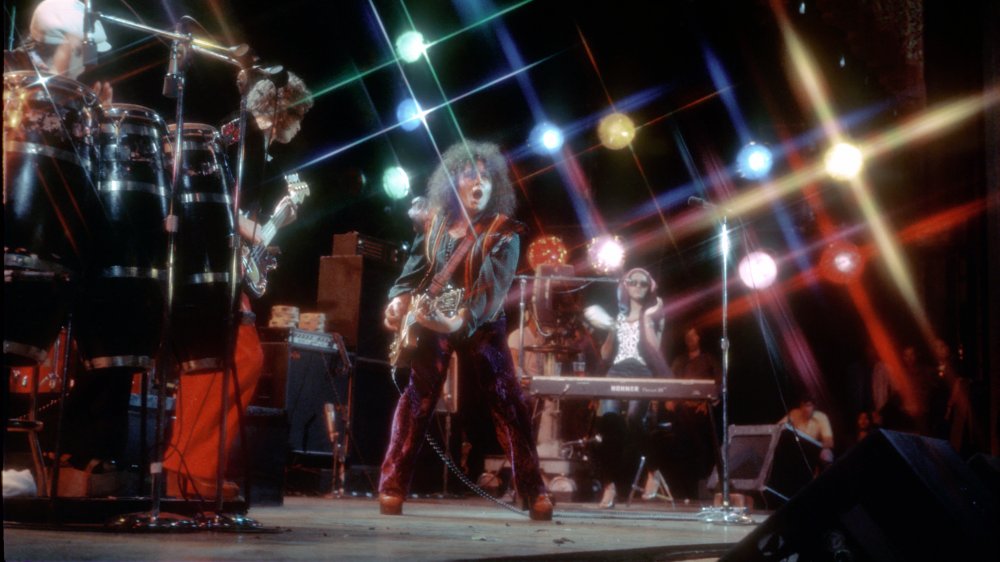 Michael Ochs Archives/Getty Images
T. Rex was formed in 1967 by the flashy-dressing, larger-than-life frontman Marc Bolan and multi-instrumentalist, Steve Peregrin Took. The band (originally called Tyrannosaurus Rex) started as a psychedelic folk duo. But by 1970, the group completely changed their sound (and name) and became the band most people would remember as. T. Rex. They were the pioneers of the glam rock movement and established themselves as a top act in the United Kingdom. While the band would go through numerous lineup changes over the years, Bolan would be its immutable member and charismatic spirit. "T. Rex is a monster. And I'm the whipmaster," Bolan told Rolling Stone in 1972.
Under Bolan's helm, the band would release multiple top ten classics and four number one singles in the UK. The song "Bang a Gong (Get It On)" would be their only top 10 success with American fans, but the band would become an influence on many popular American artists. T. Rex was on an upward trajectory for most of their career, and there's no telling what sort of crazy direction they would have taken, or just how much bigger they could have gotten. The band would end in 1977 with Bolan dying in a car accident just two weeks before his 30th birthday. T. Rex may have ended as a group but their music lives on, and it all started after Bolan wrapped up his work as a model.
T. Rex's early days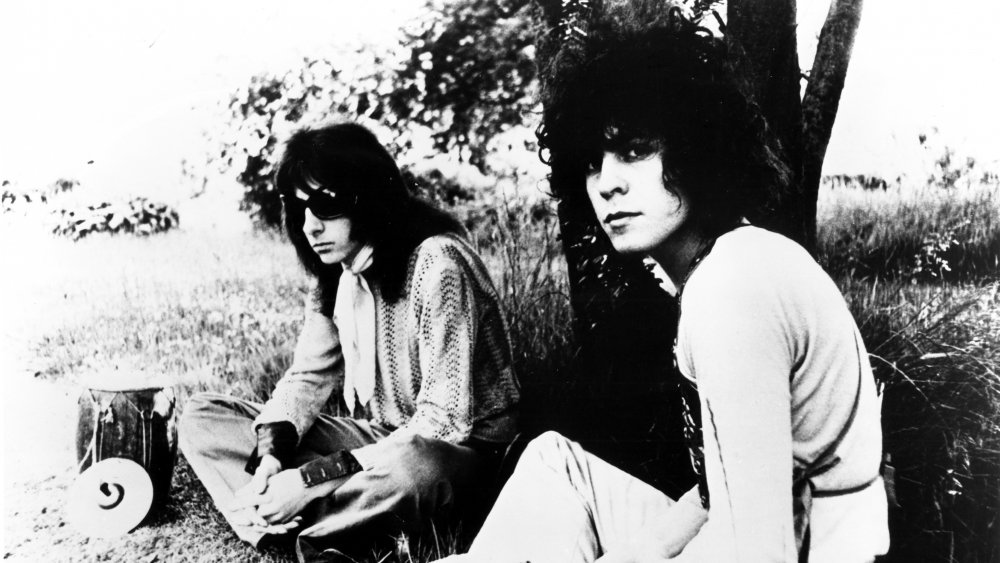 Michael Ochs Archives/Getty Images
Marc Bolan worked as a model, appearing in magazine spreads and cardboard cutouts in clothing stores; years later, Bolan would draw upon his model work and become the long-haired, tight-pants-wearing, glitter king of the 1970s, according to the Independent. Bolan would gravitate towards music and eventually meet musician and vocalist Steve Peregrin Took. They called themselves Tyrannosaurus Rex and wrote psychedelic folk songs for their first four records. The duo would form a bond and work with producer Tony Visconti who helped them achieve their sound. "What I saw in him was raw talent," Visconti said in an interview with the Guardian. "I saw genius. They were a folk duo, but I saw a potential rock star in Marc – right from the minute, the hour I met him."
In 1968, the band's first single, "Debora," peaked at number 34 and their debut album, My People Were Fair and Had Sky in Their Hair...But Now They're Content to Wear Stars on Their Brow, reached number 15 on the UK Album Chart, per Discogs. Tyrannosaurus Rex would release three more albums hoping for more success, but their sound and look limited them to the underground market. Bolan wanted to remain on top in the genre but his artistic reach and need for an even bigger spotlight would only remain stunted until taking a leap of faith and changing everything about the band only a few years later.
A T. Rex overhaul inspires T. Rextasy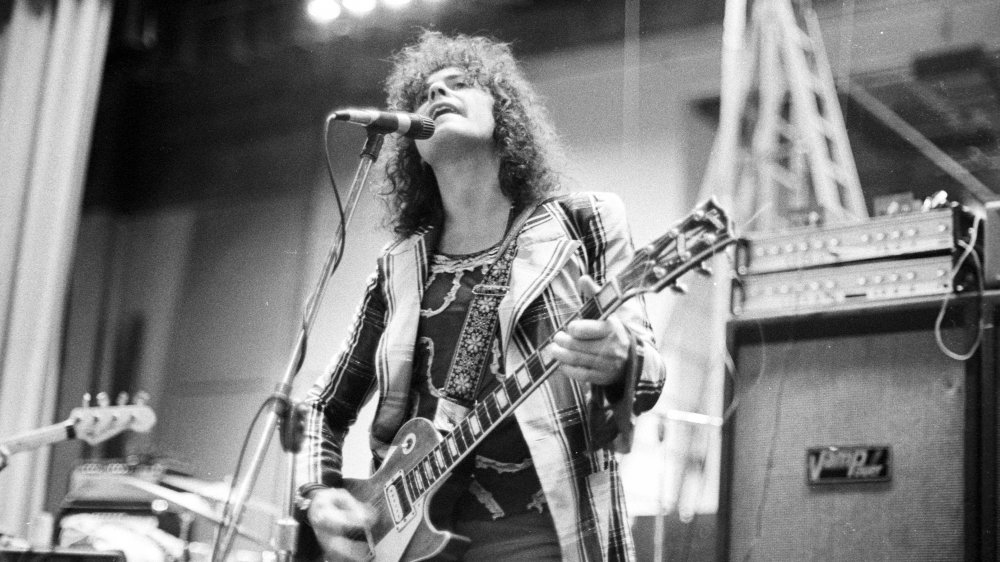 Michael Ochs Archives/Getty Images
In 1970, Tyrannosaurus Rex changed its name to T. Rex and came up with a new sound that would change rock 'n' roll music. "They had a very limited audience, who were mostly John Peel fans," Visconti told the Guardian. "Marc fancied himself as a Bob Dylan or a Donovan. He wanted to be seen as a folk-rock poet, but once teenage girls started screaming at the shows he had to become a pop star." The self-titled album, T. Rex, marked the change in the band's sound and gave their fans a preview of their new direction. Their single "Ride a White Swan" was released and reached number two in the UK. By this time, Took had left the band and was replaced by Mickey Finn.
The biggest departure from their psychedelic folk sound and leap into the mainstream came with the release of their album, Electric Warrior, in 1971; it was number one for six weeks in Britain and placed in America's Top 40, as per Discogs. By this time, Bolan added members Steve Currie and Bill Legend to the lineup and their appeal was wider than ever. They called their following T. Rextasy, which was similar to The Beatles' Beatlemania.
Marc Bolan invites David Bowie to open for T. Rex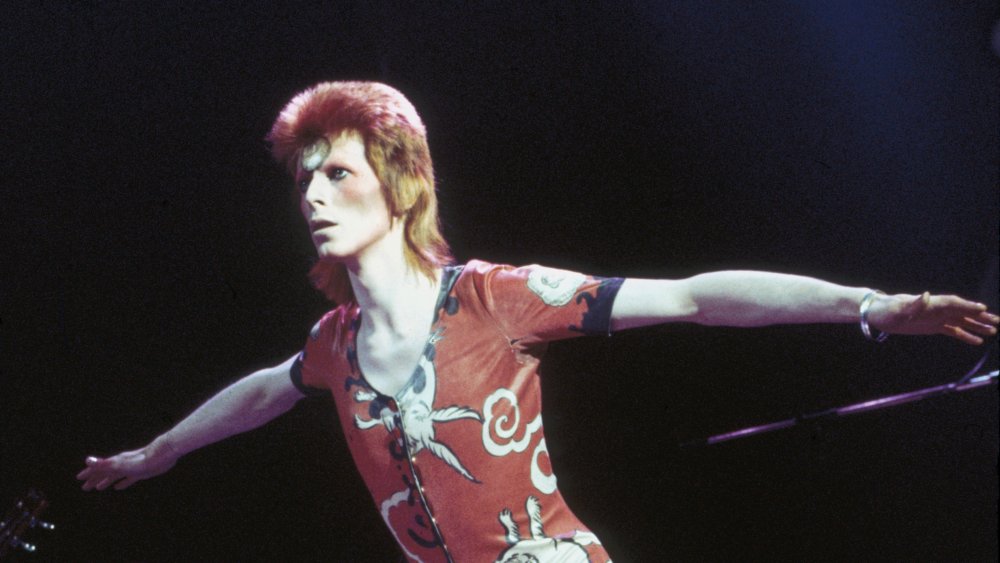 Debi Doss/Getty Images
Before Bolan reached his success with T. Rex, the legendary rocker began a friendship with another Brit who would later become the face of the glam rock movement: David Bowie. Bolan and David Bowie first met while painting an office. Bolan introduced himself as "King Mod," and followed up with, "Your shoes are crap," per Rolling Stone. The kids would form a deep friendship and a rivalry that would challenge each other's artistry. As Bolan's career rose with T. Rex, Bowie's still lagged behind at that point.
In 1969, Bolan invited Bowie to open for T. Rex, not as a musical artist, but as a mime. Bowie performed a one-man routine of a mime portraying China's invasion of Tibet, as per Mental Floss. As it turned out, Bowie actually had experience as a mime and trained under choreographer (and Marcel Marceau protégé) Lindsay Kemp. Bowie's act was "ruined by heckles of left-wing students and hippies irate over his damning portrayal of China's Red Guard," wrote Simon Goddard in Ziggyology: A Brief History of Ziggy Stardust, via Mental Floss. Bowie's performances were received negatively, and Bolan got a kick out of it (as would anyone), but it wouldn't be long until Bowie's career would take off with the release of his album Space Oddity. The two would remain friends, however, their relationship would strain over the years.
T. Rex headlines the first ever Glastonbury Festival in 1970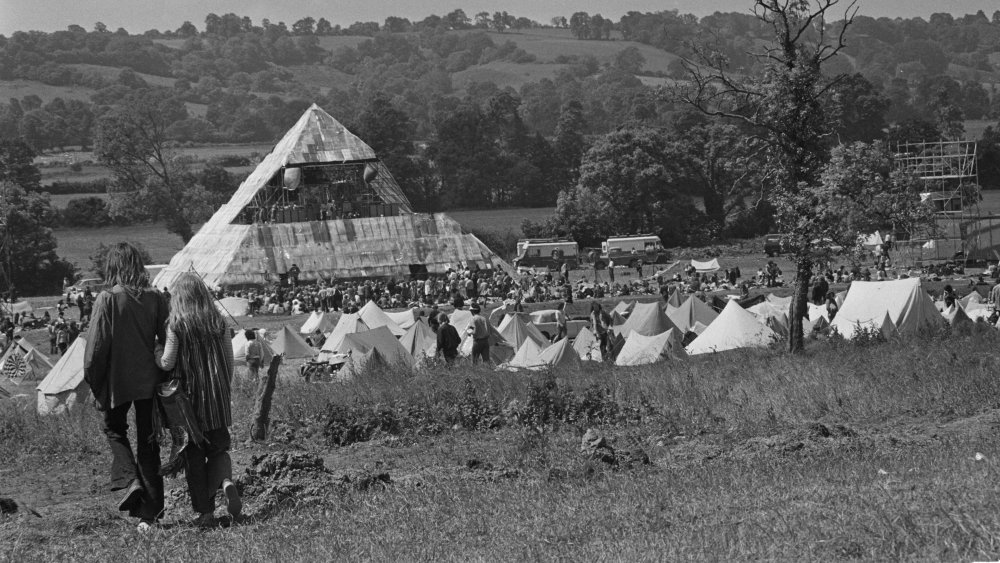 Ian Tyas/Getty Images
On September 19, 1970, one day after Jimi Hendrix died, the first Glastonbury festival was held at Michael Eavis's dairy farm in Pilton, Somerset, England, and was called the "Pilton Pop, Folk & Blues Festival," Radio X writes. Eavis charged £1 per ticket and offered the audience free milk. Eavis tapped into his dairy ads to promote the festival, writing: "Sheltered fields for camping!" "All food at fair prices!" and "Ox roast!" The Kinks were originally listed at the top of the bill but pulled out. Eavis was able to get in touch with Marc Bolan, who jumped at the chance to close the show out.
In all, 1,500 people showed up. "I have since been assured by many people in the business that if I had advertised Tyrannosaurus Rex as the main attraction, then I might have had ten times the number of fans turning up," Michael Eavis said to Radio X. T. Rex secured their place in history by playing the first Glastonbury, which would expand over the years, adding rock and pop's biggest acts, and holding concerts each year for hundreds of thousands of fans.
T. Rex was Born to Boogie with the Beatles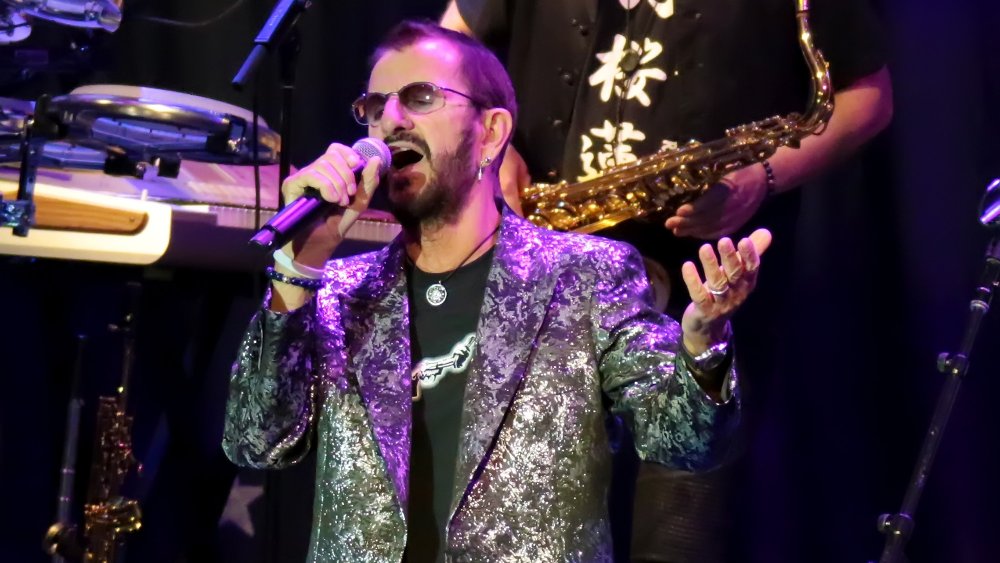 Donald Kravitz/Getty Images
T. Rex made friends with lots of other famous musical artists during their career. One of their most notable fans and friends was none other than Ringo Starr of the Beatles. Starr took a liking to Bolan and the band whose prominence in England was compared to his former band. Starr would team up with the band, filming the concert movie Born to Boogie, their March 1972 concert at an arena in Wembley, as per Courant. The movie featured lots of trippy footage in between songs filmed from their evening concert, one of two shows the band performed that day.
Fans of both T. Rex and the Beatles were treated to clips of Starr dressed up like a dormouse sitting next to Bolan while driving a '48 Cadillac convertible down an airport runway; in the background is a cut-out of Bolan, drifting across the screen. Another scene features Bolan playing "Tutti Frutti" and "Children of the Revolution" with Elton John and Starr. And it gets even weirder. There's another scene of English actor, Geoffrey Bayldon, serving hamburgers to a group dressed like nuns and other random people in John Lennon's yard.
T. Rex couldn't replicate their success in the States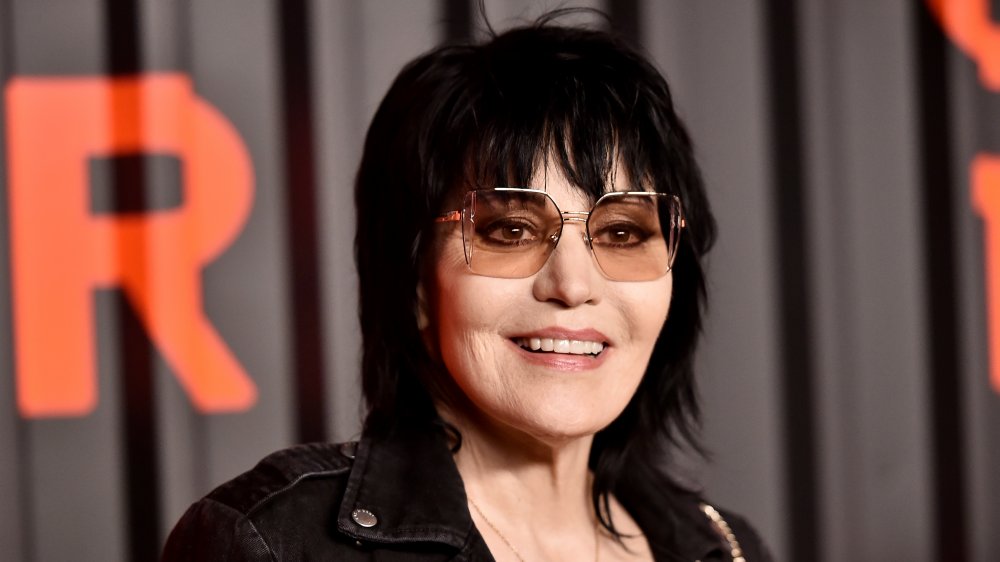 Steven Ferdman/Getty Images
While T. Rex had success in the UK, they weren't able to get the same results in the US. Bolan had hoped to expand the T. Rex brand in the States and broaden his fan base, matching the accomplishments of his friends David Bowie and Elton John. "Bang a Gong (Get It On)" cracking the Billboard Hot 100's top 10 was proof that T. Rex could make it in the US, however, no matter what Bolan tried, the band couldn't gain any momentum. "Marc [Bolan] tried very hard to 'break the States' during the early 70s," Martin Barden of Britain's Culture Consultants LTD, which has curated T. Rex's catalog since 1994, told Billboard. "Even though he achieved some success on the coasts he didn't necessarily become quite as well-known in the U.S. as he would have liked."
Legend Joan Jett also witnessed Bolan's attempt at success abroad and was able to surmise why T. Rex couldn't bridge the gap and take off. "Radio just went for the safer stuff," Joan Jett told the Guardian. "I know from being in the Runaways how everyone treated us, so I just know they would have had issues with a Marc Bolan type of guy."
T. Rex's Marc Bolan gets his own TV Show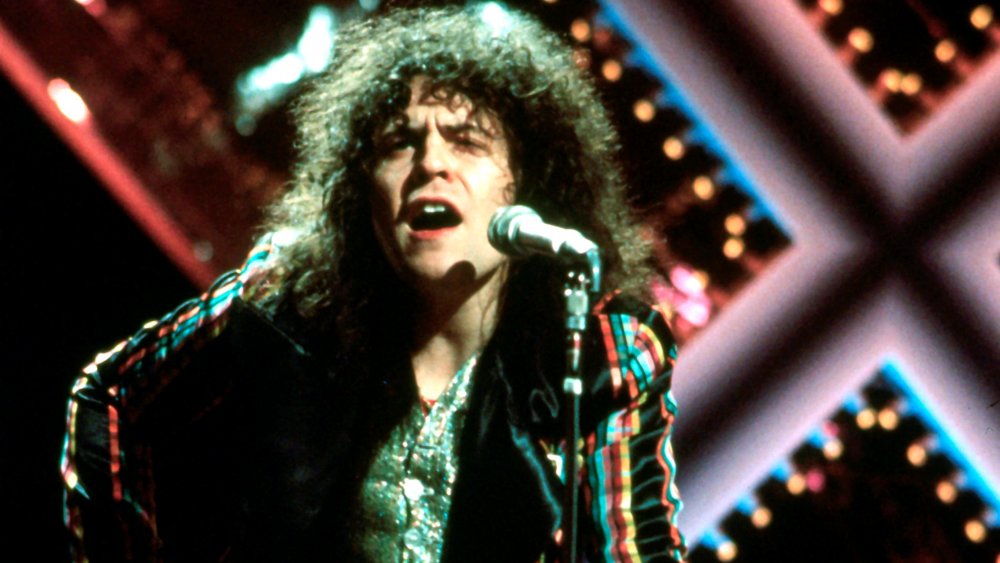 Michael Putland/Getty Images
According to Louder, in June 1976, Marc Bolan released a single called, "I Love to Boogie," which placed number 13 on the UK charts and helped set him up for a comeback after a string of declining record sales. The song led to a one-off TV special, Rollin' Bolan, which later turned into an offer for a TV series Bolan would host, called Marc. "He was very excited — as you would be," musician Steve Harley said in an interview. "He saw every little appearance on the small screen as making him more famous in Sainsbury's. Marc loved it all. He loved all the adulation and the recognition. He thrived on it."
"Marc was grateful to have a second chance," Tony Visconti said. "He loved kids and he loved kids' TV shows. That was how Geoffrey Bayldon [the actor in Catweazle] got a part in the Born to Boogie movie. Marc was back on form. He was the cosmic punk again." T. Rex would perform, playing new versions of old hit songs, and other artists, both upcoming and well-known, would get a chance to perform on the show. Punk bands would be showcased. The show only lasted for 6 episodes, with the last show airing after Bolan's death.
David Bowie plays on Marc Bolan's show days before his death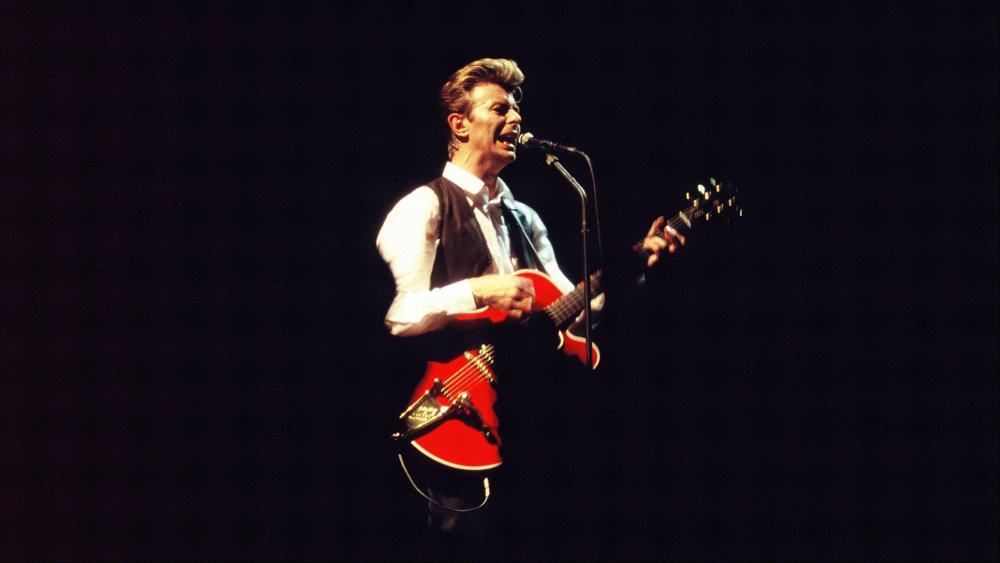 Georges De Keerle/Getty Images
Just seven days before Marc Bolan's death, the legendary glam rocker was able to rekindle his friendship with David Bowie. According to Far Out Magazine, Bowie performed on Bolan's show nearly a week before his passing. Over the years, their friendship would sometimes take turns for the worst, and their rivalry, and egos, would make things that much harder. Apparently, the day of the taping is when things got out of hand. Bowie had insisted on directing his own performance which upset Bolan and made things tense. Bolan felt disrespected and like he had no control over his own show. Then, things got tense again when David Bowie's security stopped Marc Bolan from joining him on stage to coordinate the show. The two were barely speaking by the time taping began.
Eventually, the two would begin to warm up to each other; playing music would slowly bring them together. While jamming on their guitars, Bolan fell off the stage, making Bowie finally crack a smile. The tension was completely broken at this point and the two had a laugh. Bowie and Bolan would go out to dinner later than night and their friendship would be restored. The taping wouldn't be broadcast until after Marc Bolan's funeral.
T. Rex loses Marc Bolan in a car accident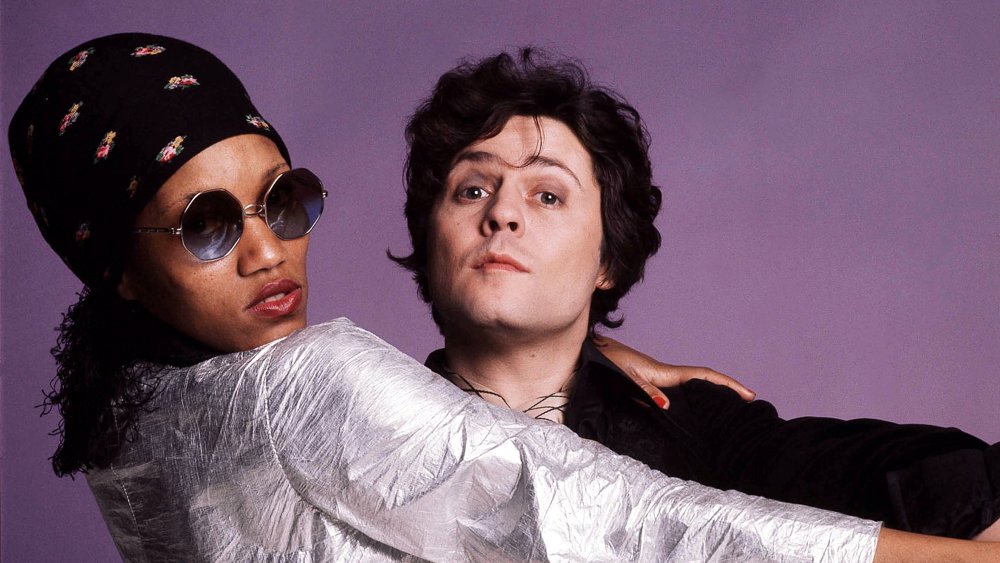 Michael Putland/Getty Images
In the spring of 1974, Marc Bolan distanced himself from T. Rex. The glam rocker would go on cocaine and booze binges and eventually dedicated much of his time to his new love, American singer, Gloria Jones, per Louder. Over the next few years, Bolan would try to straighten himself out. By 1977, Bolan had gotten rid of his drug habit, had become humbler, taken better care of his physical health, and his songwriting was getting better. However, all that progress would come to an end, and the world would lose one its most innovative rock stars of the 1970s. It started when Jones had recently come back to England after recording an album in California.
On September 16, 1977, Bolan and Jones went to Morton's restaurant and stayed out until around four o'clock in the morning. The two left in a purple Mini 1275 GT and made their way home to their house in Upper Richmond Road West, East Sheen. Just before five o'clock, Jones, who had been driving, crashed into a tree. They were almost a mile from home. Bolan was kill instantly and Jones was badly injured. Bolan passed away only two weeks shy of his 30th birthday.
Most of the remaining members of T. Rex pass away after Bolan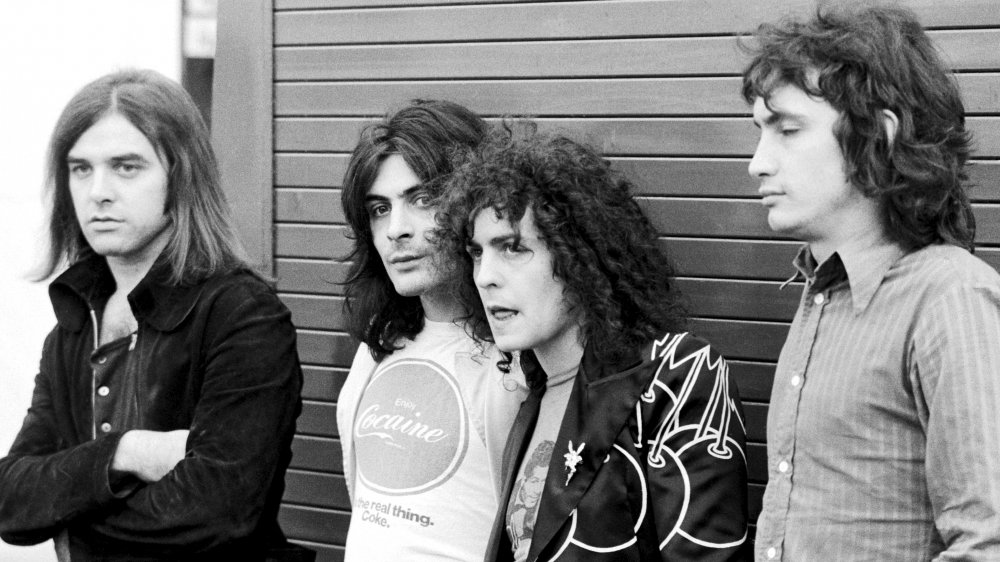 Michael Putland/Getty Images
After Marc Bolan passed away, T. Rex would not continue on. However, the remaining members would start new careers until, sadly, met their own demises. Bassist Steve Currie would also die in a car accident in 1981. Currie joined T. Rex in 1971 and stayed in the band through 1977's Dandy in the Underworld, their final release before Bolan's death. 
In 2003, percussionist Mickey Finn passed away from kidney and liver problems. Finn replaced original member Steve Peregrine Took in 1970 and stayed with T. Rex for five years. After leaving the band, Finn formed another band, under the name Mickey Finn's T Rex. Multi-instrumentalist Steve Peregrine Took choked to death on a cocktail cherry in 1980. Took formed the band along with Bolan in 1967 but left a few years later because of drug problems. The only surviving member from their heyday lineup is drummer, Bill Legend.
David Bowie helps Marc Bolan's son and girlfriend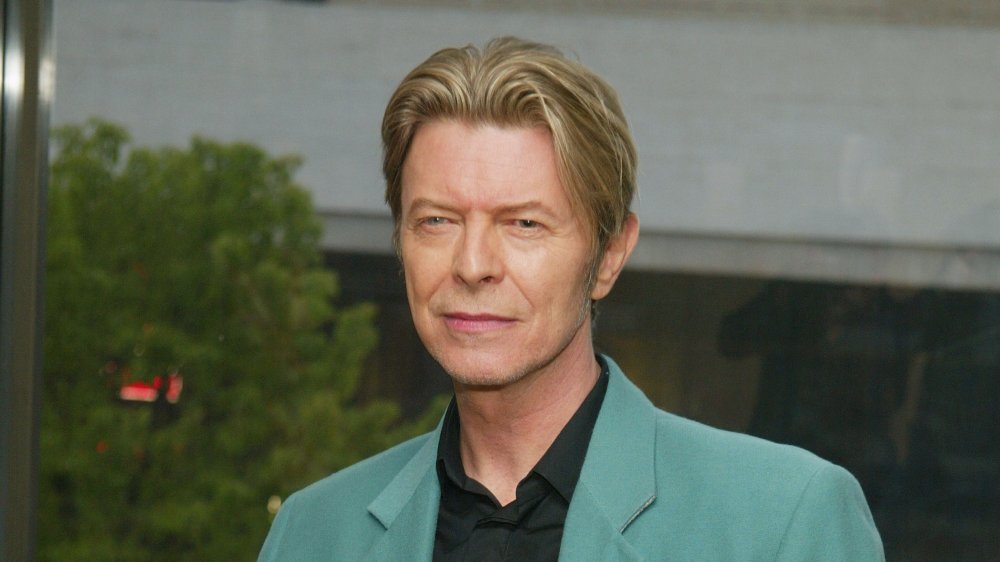 Evan Agostini/Getty Images
After Marc Bolan passed, his son, Rolan, was only two years old, and his mother, Gloria Jones, was still injured from the crash. Bolan's passing also came at a time when the singer was trying to slow down his lifestyle and be there for his family. Since Bolan was still legally married to partner June Child, Jones and Rolan wouldn't have access to Bolan's estate. According to Far Out Magazine, both Rolan and his mother were relatively destitute: "My mother went from a millionaire lifestyle to virtual poverty," Rolan explained. "We lived in Los Angeles and things got very tough."
Just when things seemed they couldn't get any worse, there was a light shining from a Starman, who gracefully stepped up to help out his fallen friend's family. David Bowie had been appointed the godfather of Rolan. Bowie would put his efforts into making sure both Jones and Rolan were doing well financially until 1994, after Bolan's legal wife passed.
"David's generosity helped us to survive," Rolan said. "It wasn't just the financial help — He kept in regular touch by phone and his first and last words were always: 'Don't hesitate to tell me if there's anything I can do.'" David Bowie truly lived up to his song, "Heroes."
T. Rex get inducted into the Rock and Roll Hall of Fame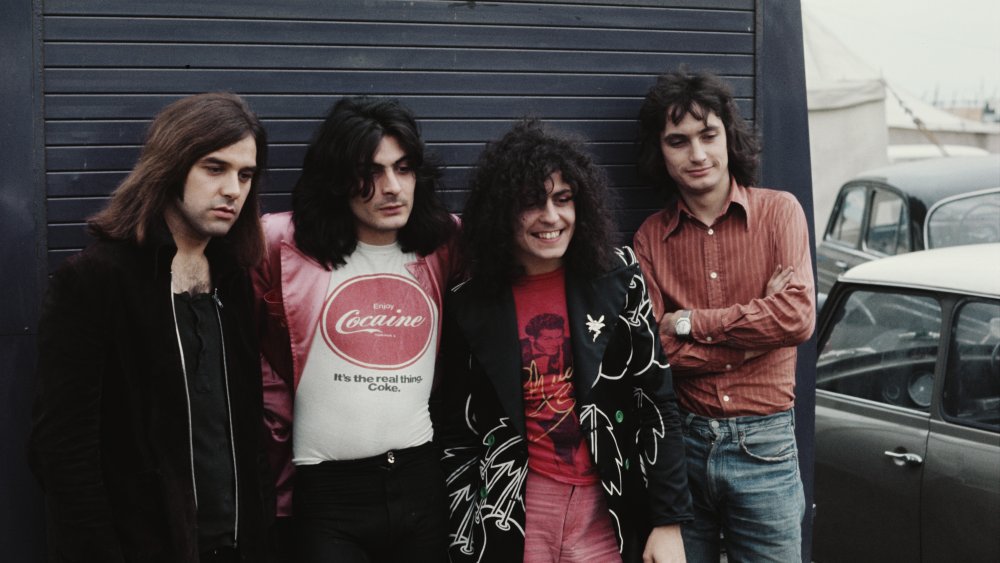 Michael Putland/Getty Images
At the end of 2020, T. Rex was finally able to receive acclaim in the US beyond their hit single "Bang a Gong (Get It On)." It was a feat Bolan had always hoped to achieve. T. Rex's induction into the Rock and Roll Hall of Fame is a fitting way to remember the band who pioneered glam rock and filled stadiums with reverberating chants to their choruses since the 1970s. The Rock and Roll Hall describes T. Rex as a "rock and roll comet."
Other inductees included Depeche Mode, the Doobie Brothers, Whitney Houston, Nine Inch Nails, the Notorious B.I.G. and featured guests such as Luke Bryan, Sean "Diddy" Combs, Miley Cyrus, Dave Grohl, Don Henley, Ringo Starr, Billy Idol, Iggy Pop, Alicia Keys, Lin-Manuel Miranda, and Bruce Springsteen, per Vulture. The event was originally supposed to air in early 2020, however, due to the COVID-19 pandemic, it was moved to later in the year.