How Dolly Parton's Words Ended Up On Whitney Houston's Gravestone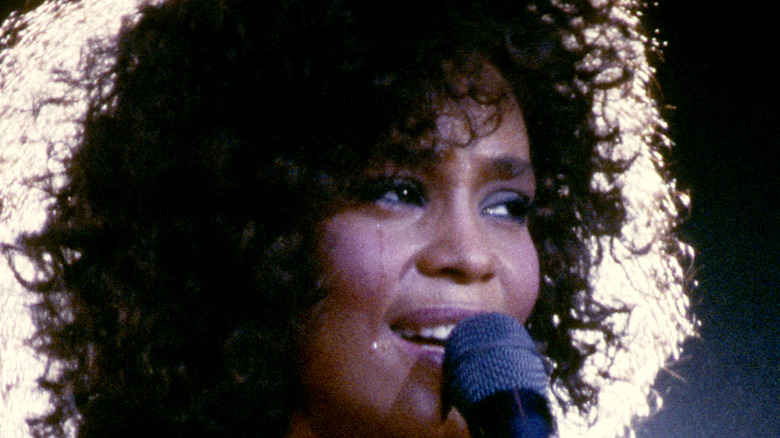 Graham Wiltshire/Getty Images
One of the most devastating deaths over the past decade was that of singer and actress Whitney Houston. When the news broke, local television stations even ran banner breaking news statements across their regularly-scheduled programming similar to the way they notify the public of weather alerts or AMBER alerts. If that does not show how impactful Houston was, what does? Houston's death occurred on February 11, 2012. Reports stated that Houston had accidentally drowned after taking drugs. After hitting the height of her fame in the 1980s and 1990s and winning multiple Grammys, Houston began suffering from addiction (via ABC 7). As an A-list celebrity, her struggles were well-documented by media and fans alike.
Despite hit songs like "I Wanna Dance With Somebody" and "One Moment in Time," Houston is perhaps most known for the soulful, heartbreaking song "I Will Always Love You." However, this song has a long backstory and multiple moments in music and film history.
Dolly Parton wrote the song 'I Will Always Love You'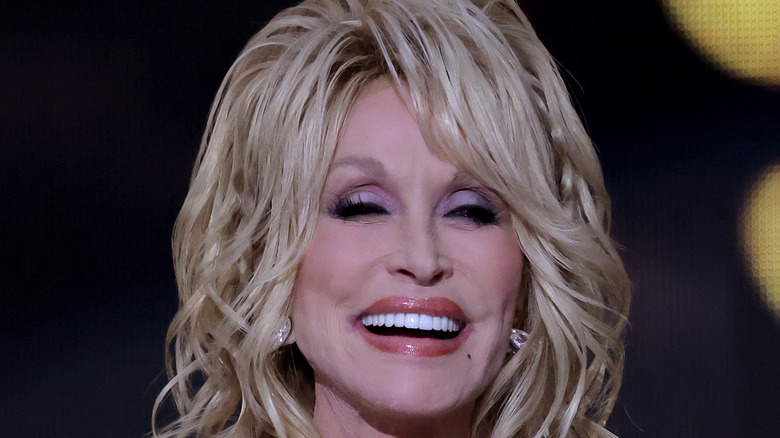 Kevin Winter/Getty Images
"I Will Always Love You" was part of the soundtrack for the 1992 film "The Bodyguard," in which Whitney Houston starred alongside Kevin Costner. At the Academy Awards, the film received two best original song nominations for "I Have Nothing" and "Run to You." But it was at the Grammys where "I Will Always Love You" scored two awards for Houston and the producer of "The Bodyguard" David Foster: Record of the Year and Best Pop Vocal Performance for a Female. The song also won Best Movie Song at the MTV Movie and TV Awards (via IMDb). 
What makes "I Will Always Love You" all the more iconic is that Houston was not the first person to record it. It was not even a pop song either. In 1973, country icon Dolly Parton recorded the song as a tribute to her friend and mentor Porter Wagoner. She had built her career with him, but was heading for her solo career when she penned the track, which became a No. 1 hit. She used the song again in the 1982 film "The Best Little Whorehouse in Texas." According to Biography, Costner asked Parton if she would allow it to be in "The Bodyguard."
Dolly Parton praised Whitney Houston's version of the song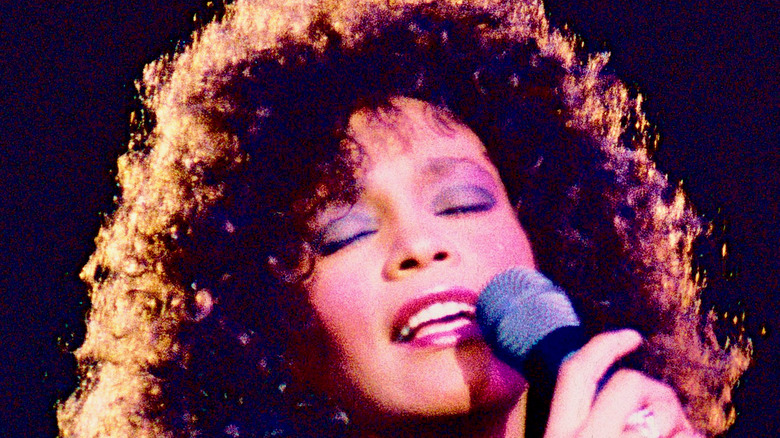 Steve Rapport/Getty Images
Dolly Parton first heard Whitney Houston sing the song on the radio while driving. Parton referred to what Houston was able to do with the song as "amazing" and stated that she was "thankful" Houston turned it into a worldwide phenomenon. Of course, Houston's funeral featured the song as well, adding even more meaning to its heartfelt lyrics (via Biography).
In 2013, TODAY reported that Houston's gravestone includes the words "I will always love you" along with "THE VOICE" in all capital letters. Houston was buried in Westfield, New Jersey next to her father. It may seem like a classic country artist who began a music career in the 1960s like Parton would have no connections to a 1980s and 90s pop R&B artist like Houston, but an impactful song that resonates with the public can easily transcend genre and time. As of 2021, the soundtrack for "The Bodyguard" is still the bestselling film soundtrack of all time with 45 million sales.