The Truth About President Taft's Special Seats At Yale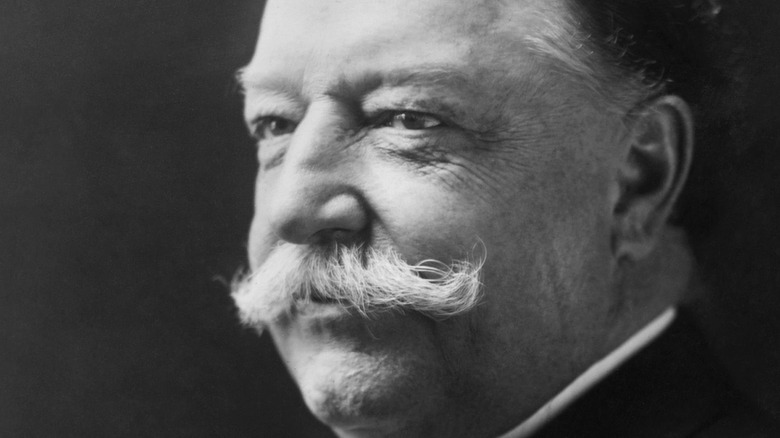 Everett Collection/Shutterstock
U.S. presidents maintain many perks once they're no longer in office, such as continued protection from the Secret Service, a sizable pension, and their own office staff, as Reader's Digest explains. Some presidents may find their name put on a college or university building to honor their service. One U.S. president, William Howard Taft — who was in office for one, term from 1909 to 1913, according to the office White House website — was honored at Yale, his alma mater. The Yale Taft tribute, though, isn't a structure or statue. Instead, it's just four old wooden seats.
When Taft came to office in 1909, his Republican party was split in the wake of Teddy Roosevelt's progressive policies. It's for this reason, among other missteps, that historians generally agree that Taft was unable to win one more term. Losing the 1912 election to Democrat Woodrow Wilson surely disappointed Taft and his fellow Republicans, as The University of Virginia Miller Center explains. In one small way, though, Taft seemed to find it a relief. Shortly after Wilson took office, Taft was back at Yale University. And this time he was teaching (via Britannica).
Taft taught law at Yale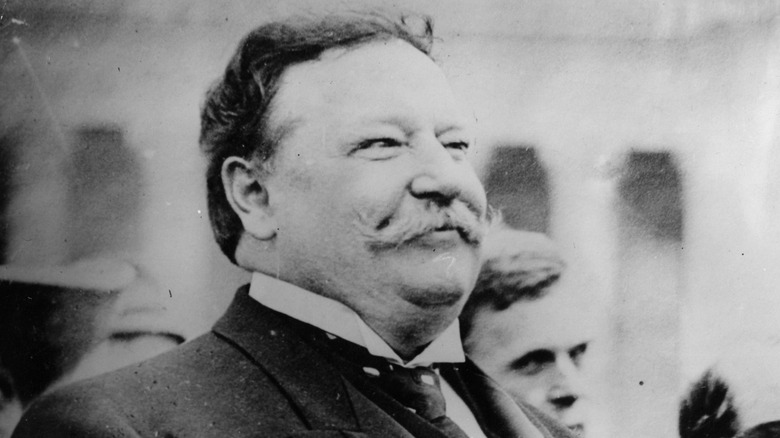 Topical Press Agency/Getty Images
Young William Howard Taft graduated from Yale in 1878. He studied law and was admitted to the bar in Ohio two years later. After the single term spent as POTUS, Taft quickly returned to Yale, where he would teach constitutional law, as Britannica notes. By all accounts, Yale was happy to have him, offering him a job shortly after the 1912 election was settled. Always an active alumnus, Taft quickly settled in back at the Ivy league school, teaching, coaching debate, and supporting the Yale baseball team, among other activities.
Taft called his return to campus a respite from "the stress and turmoil of the world" (via Yale Alumni Magazine). The salary that Yale offered Taft, 55 at the time, was a far cry from what he earned while he was president, at only $5,000 — about $135,000 today. Back then, presidents were paid an annual salary of $75,000, or roughly $2 million a year in today's money (via Dollar Times). Salary notwithstanding, administration at Yale was eager to have Taft on their faculty, and they took one special step to welcome him.
Taft weighed more than 300 pounds when he was president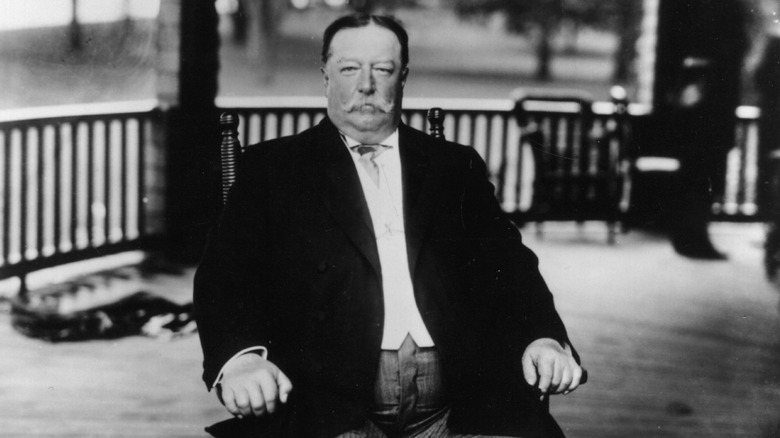 Hulton Archive/Getty Images
There's really no other way to put it: William Howard Taft was a big fella, standing six feet tall and weighing more than 200 pounds when he graduated from college. The stress of the presidency likely took a toll on him, and when he returned to teach at Yale he weighed in at more than 300 pounds. Clearly any "seat" on the faculty — whether literal or metaphorical — that the school offered him would have to be sizable. When offered the job, Taft even joked a chair on the faculty might not do it; a sofa instead might suffice. Realizing this, the administration at Yale were happy to oblige, according to Yale Alumni Magazine.
That's why, to this day, there are four oversized chairs on the Yale campus specially designed to accommodate Taft's girth. One, an armchair, is displayed at the Yale University Art Gallery. Another extra-large seat Taft used while watching baseball is preserved now in the Yale athletic department's Ray Tompkins House. The third seat, also an armchair, is at Woodbridge Hall on the Yale campus, while an oversized theater seat can still be found (and utilized) in the balcony of Woolsey Hall. Nicely, life back at Yale was good for Taft and he slimmed down to under 300 pounds in his eight years on the faculty.