Here's Who Inherited Katharine Hepburn's Money After She Died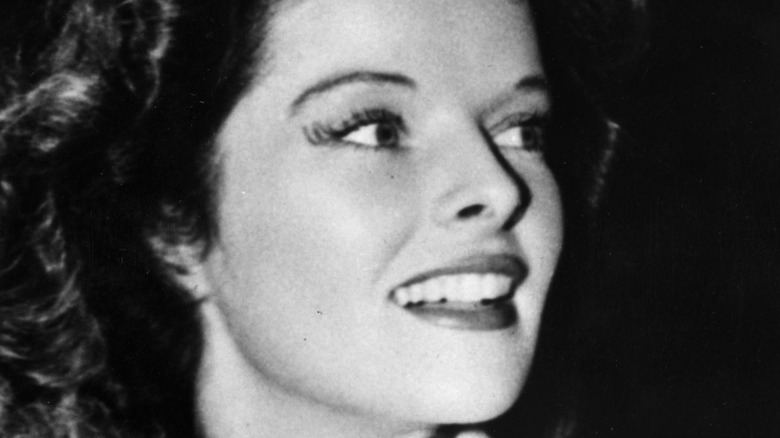 Keystone/Getty Images
Critically acclaimed actress Katharine Hepburn was known for her abrasive attitude and for her classic films such as "The African Queen" (via Biography). Britannica writes that she was born and raised in Connecticut. Unlike other children at the time, she was brought up to be outspoken and open-minded. However, Hepburn's idyllic childhood came to end when she encountered the scene of her older brother Tom's suicide. According to TCM, this significantly altered her personality and she struggled to stay afloat in school. Eventually, Hepburn was accepted into Bryn Mawr College and discovered acting. Ultimately, this changed the trajectory of her life.
Live About reports that after Hepburn graduated college, she focused on a career in acting. Around the same time, she married businessman Ludlow Ogden Smith. Hepburn then began to perform on Broadway before making the change to film. In 1932, she starred in her first onscreen role in "A Bill of Divorcement." Hepburn quickly became a full-fledged star and by 1933, she had won her first Academy Award for her role in "Morning Glory." Additionally, she divorced Smith in 1934 (via TCM).
Per Britannica, she was on a Hollywood hot streak but that quickly changed in the mid- to late-1930s. After a series of flops, including the now iconic "Bringing up Baby," co-starring Cary Grant, Hepburn was labeled "box office poison." Live About states that this was partly due to her introverted and tomboyish nature. Unlike other female movie stars, Hepburn was unconcerned with publicity and chose to wear pants instead of dresses.
If you or anyone you know is having suicidal thoughts, please call the National Suicide Prevention Lifeline​ at​ 1-800-273-TALK (8255)​.
Katharine Hepburn worked into the 1990s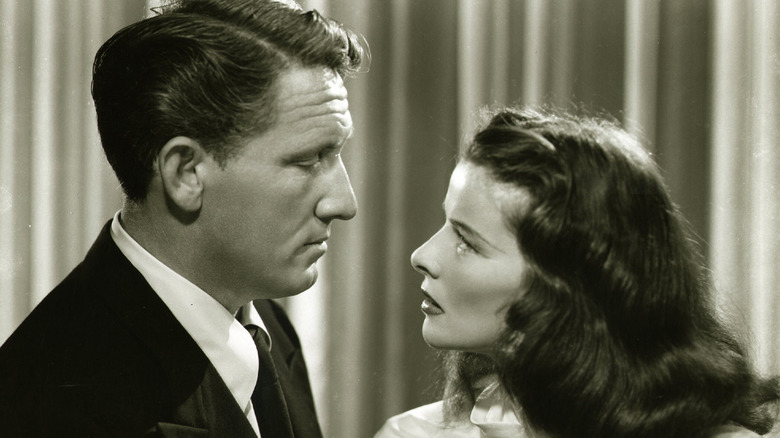 United Archives/Getty Images
Although many believed Hepburn's career was over, she had a few tricks up her sleeve (via Live About). Biography explains that she stepped away from the silver screen and returned to her Broadway roots, where she starred in "The Philadelphia Story." The show was a success and she subsequently purchased the story's film rights. Co-starring Cary Grant and Jimmy Stewart, the MGM film adaptation was released in 1940. According to Britannica, "The Philadelphia Story" was critically acclaimed — Jimmy Stewart picked up a best actor Oscar, and Donald Ogden Stewart won for his screenplay — and it was also box office gold. Hepburn once again became a Hollywood darling. Turner Classic Movies (TCM) explains that Hepburn managed to convince MGM to make the movie with her and to allow her to pick the film's director as well as her co-stars.
In 1942, Hepburn starred in "Woman of the Year" with Spencer Tracy. Also per Biography, they fell in love and made a total of nine films together. However, they neither married nor made their romance public. Tracy, a devout Catholic, was married and refused to divorce his wife due to his religious beliefs. Nonetheless, Hepburn stood by his side until Tracy's death in 1967.
Their last film together, "Guess Who's Coming to Dinner?" earned Hepburn her second of what would be her four Academy Awards (per Britannica). Despite her waning popularity in the late 1940s, she continued to star in critically and commercially successful films, including "The Lion in Winter," "On Golden Pond," and more. Her final role was in 1994's "Love Affair," when Hepburn was 87 years old.
Katharine Hepburn left her estate to numerous individuals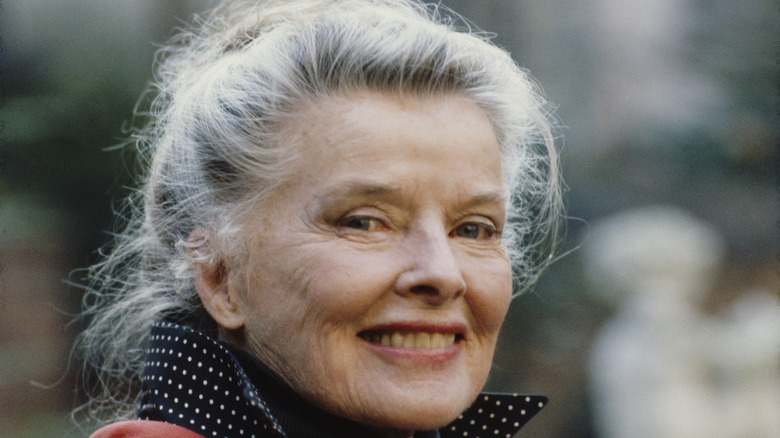 Michael Brennan/Getty Images
According to TCM, Katharine Hepburn died on June 29, 2003 at the age of 96. History reports that she died in her home in Old Saybrook, Connecticut, from natural causes. However, The Guardian notes that Hepburn had been sick for some time and was suffering from Parkinson's disease prior to her death. Per Celebrity Net Worth, Hepburn was reportedly worth $20 million at the time of her death, with much of that coming from the value of her waterfront home. After her 1934 divorce, she never married again. Moreover, Hepburn never had any children (via Showbiz Cheatsheet). Who then inherited her large estate?
The Smoking Gun explains that in a will signed in 1992, Hepburn bequeathed her fortune and assets to her employees, her family, and charity. According to her last will & testament (posted at Living Trust Network), she gave her housekeeper, Norah Considine Moore, $100,000; her accountant, Erik Hanson, $50,000; and her literary agent, Freya Manston, $5,000. Cynthia McFadden, a journalist for ABC News, was given $10,000. Additionally, McFadden was bequeathed furniture and art from Hepburn. Various belongings and memorabilia were distributed among her friends, family, and charity.
Hepburn specified that $10,000 was to be given to Actors Fund of America, the Motion Picture and Television Fund, and a church in Maryland. Furthermore, her nephew and grandniece inherited $100,000. Lastly, Hepburn requested that her homes in Connecticut and New York be sold and the profits given to her sister, Margaret, her brother, Robert, and the families of her deceased brothers Richard and Marion. In her will, Hepburn also specified that she did not want a funeral.