How Did Maya Angelou Get Her Name?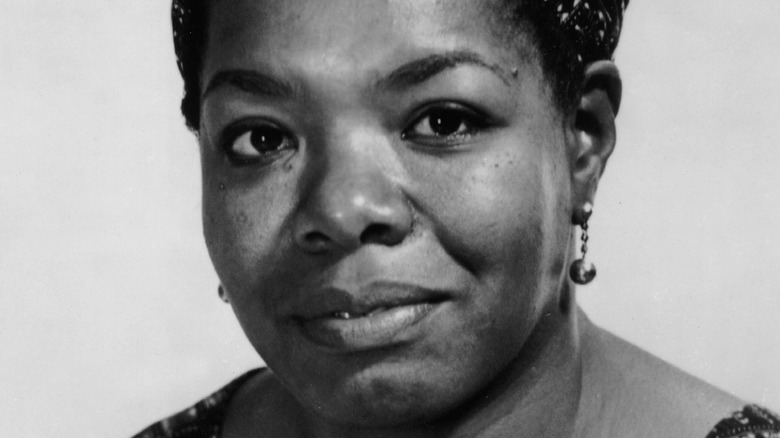 Michael Ochs Archives/Getty Images
Acclaimed author and poet Maya Angelou is widely known for her 1969 memoir "I Know Why the Caged Bird Sings" (via the National Women's History Museum). The History Makers writes that she was born on April 4,1928 in St. Louis, Missouri. After her parents divorced, she and her brother Bailey were sent to live with her grandparents. As a result, Angelou spent time in both the segregated towns of Stamps, Arkansas and the Midwest. While visiting her mother in Chicago, the Academy of Achievement reports, she was sexually assaulted by her mother's boyfriend when she was only 7 or 8 years old.
According to History, Angelou told her uncles what occurred and they reportedly killed the man. Believing that her words had resulted in his death, she stopped talking for five years. The National Women's History Museum explains that this incident and Angelou's childhood experiences living in the segregated south ultimately inspired her to write "I Know Why the Caged bird Sings." Her website states that the book quickly became a bestseller.
Although Smithsonian Magazine states it has gone on to sell millions of copies, the book continues to be banned (via Marshall Libraries) for its candid depiction of sexual abuse. That being said, Maya Angelou is not the writer's birth name; Time explains that she changed both her first and last name in the 1950s.
Her professional name partly stemmed from a childhood nickname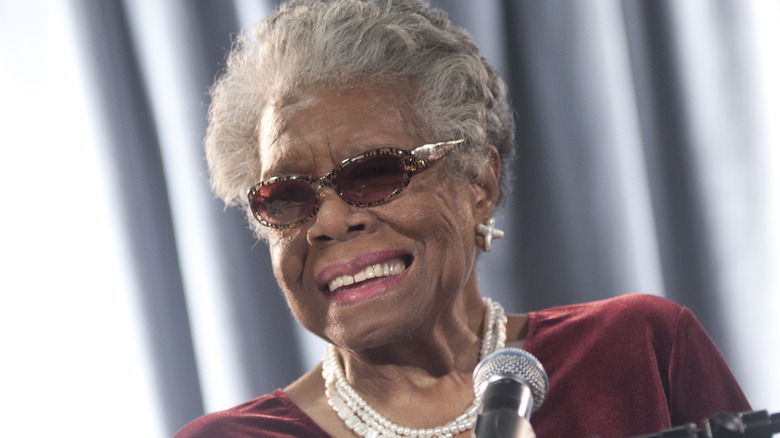 Kris Connor/Getty Images
According to National Women's History Museum, Angelou was born as Marguerite Ann Johnson. However, the Academy of Achievement explains that her brother Bailey was unable to pronounce her name due to a stutter. Instead, he called her "My," short for "my sister." Eventually, the nickname formed into Maya after Bailey learned about the Mayans. During World War II, Angelou and her brother moved to San Francisco to live with their mother. There, Biography writes, she studied dance and drama at a local school.
Angelou later dropped out when she nabbed a job as the first African American woman streetcar conductor at the age of 15. Per The History Makers, she later returned to school before giving birth to her only son, Guy. In 1949, says Sheen Magazine, Angelou married Anastasios Angeloupulos, a Greek sailor. Although the pair divorced in 1952, she kept his last name and shortened it. Thus, Marguerite Ann Johnson became Maya Angelou. Time states that Angelou made this change not as a pen name but as a stage name.
Maya Angelou was more than an author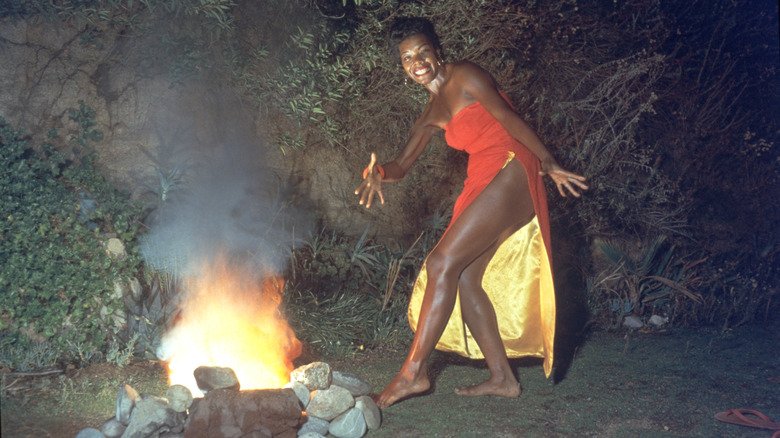 Gene Lester/Getty Images
The National Women's History Museum writes that in the 1950s, Angelou found success as a singer and calypso dancer. She landed a role in "Porgy and Bess" and toured with the production in Europe between 1954 and 1955 (via the Academy of Achievement). Moreover, Angelou recorded an album and continued to study dance. All in all, she was a bona fide performer. However, by the late 1950s, Angelou was interested in a writing career and the Civil Rights Movement. Biography reports that she subsequently spent time in Egypt and Ghana writing and teaching. In 1964, she returned to the United States and continued to advocate for civil rights.
When Martin Luther King Jr. was assassinated, Angelou threw herself into writing "I Know Why the Caged bird Sings." Upon its release the book was lauded and nominated for a National Book Award (per Smithsonian Magazine). It was eventually translated into 17 languages and was on the New York Times Best Seller list for two years.
According to her website, Angelou went on to publish 36 books in her lifetime. The History Makers reports she was nominated for a Pulitzer Prize, a Tony, and an Emmy, for her work as a poet and an actress, respectively. She won three Grammys for her spoken word albums, and in 2011, President Barack Obama bestowed on her the Presidential Medal of Freedom (via Black History Today). Per CNN, Maya Angelou died on May 28, 2014 at the age of 86. As of 2022 (per the United States Mint), there are now quarters that bear her name and face.