Joan Rivers' Own Show Got Her Banned From The Tonight Show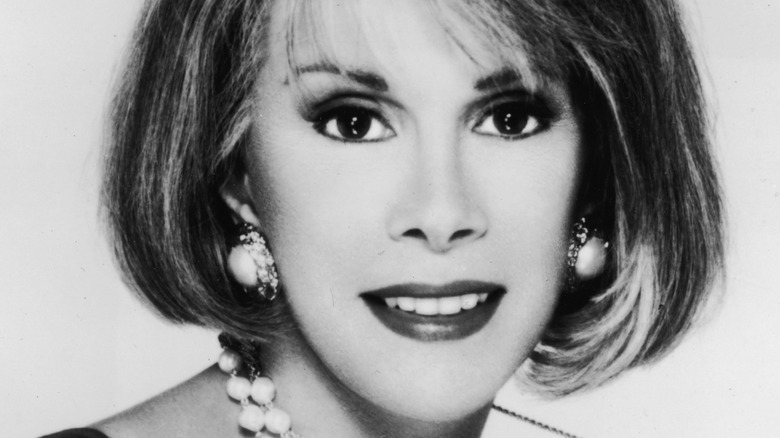 Hulton Archive/Getty Images
Comedian Joan Rivers was a trailblazer when it came to being a woman working in a male-dominated field. Born Joan Alexandra Molinsky in Brooklyn, New York in 1933, she began performing as an undergraduate at Barnard College, appearing in many stage productions, per Biography. Post-college, after a short-lived marriage and an unfulfilling stint as a buyer for a chain store, she decided to give acting another shot. Rivers soon realized that comedy was her true calling, and began doing standup in clubs throughout New York City as well as working as a television writer. Her big break came when she booked an appearance on "The Tonight Show Starring Johnny Carson" in 1965. Like many performers before and after her, the televised set served as her breakthrough and her star began to rise. Her relationship with Johnny Carson would continue for decades — she reportedly once referred to him as "the man who handed me my career."
In the late 1960s, Rivers got her start as a talk show host when she briefly hosted a program called "'That Show' With Joan Rivers," also known as "The Joan Rivers Show." She also continued appearing on "The Tonight Show" as well as "The Ed Sullivan Show." By the 1970s, she was a television fixture, with regular appearances on "Hollywood Squares," and became a popular performer on the Las Vegas strip. She co-wrote the television movie "The Girl Most Likely To" and also co-wrote (as well as directed) the movie "Rabbit Test," which starred Billy Crystal as a pregnant man. 
Joan Rivers considered Johnny Carson her mentor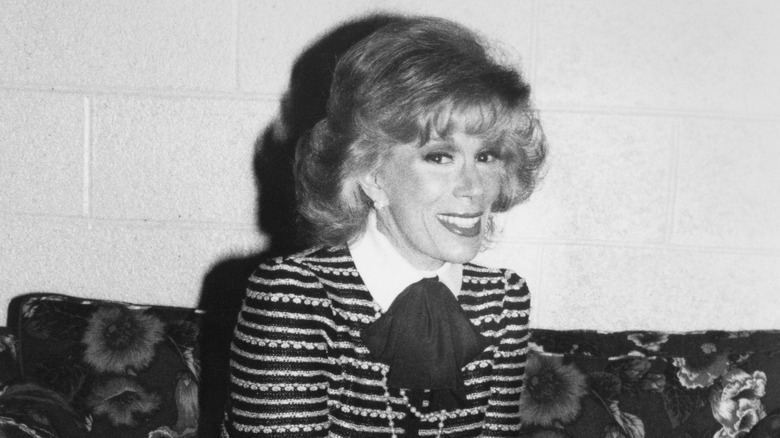 Michael Ochs Archives/Getty Images
By 1983, per Biography, Rivers had two best-selling books under her belt, a Grammy-nominated comedy album, and a wide and enthusiastic fan base. That same year, Johnny Carson named her as the permanent guest host of "The Tonight Show." In 1986, as reported by The Daily Beast, Joan Rivers made history when the then brand-new Fox network hired her to host a late night talk show, "The Late Show With Joan Rivers." Not only would this make her the first woman to host a late night talk show, but it would put her up against her mentor, Johnny Carson, as "The Late Show" and "The Tonight Show" would run at the same time. 
Rivers had been notoriously loyal to Carson over the years, declining to appear on his rivals' shows and even turning down offers to host her own show. However, she became nervous regarding her future at "The Tonight Show" in 1985 when Carson signed a two-year contract, while Rivers' contract was only for a year. This differed from her previous two-year contract. She later wrote that in her mind, "It could only mean one thing. The powers were uncertain about my future." She also claimed to have seen a list of possible replacement hosts should Carson leave the show, and neither she nor any other woman were named, despite her role as the show's permanent guest host.
Back on The Tonight Show nearly 50 years later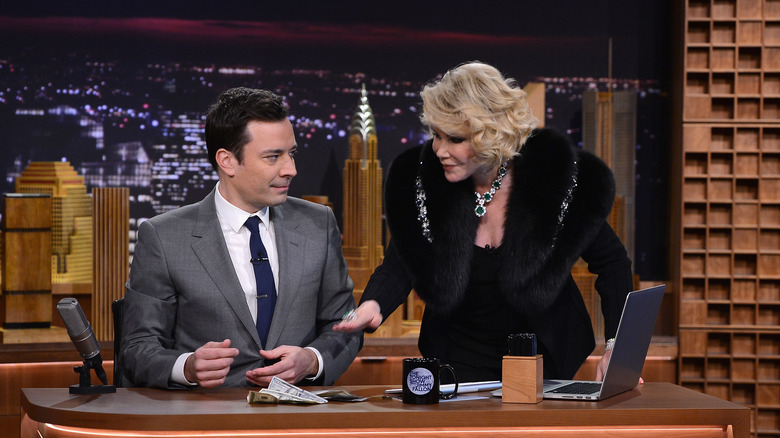 Theo Wargo/Getty Images
Johnny Carson apparently heard about Joan Rivers' move to Fox from Fox itself rather than from Joan. Per The Daily Beast, when Rivers called Carson to discuss her plans, he hung up on her, banned her from "The Tonight Show," and never spoke to her again. (Nor did she appear during Jay Leno's tenure, reports Variety.) Meanwhile, Rivers' time hosting "The Late Show" lasted less than a year. As reported by People magazine, Jamie Kellner, the then-president of Fox, was quoted as saying, "We disagreed on the direction the show would take from the very beginning," while NBC programming chief Fred Silverman claimed, "People don't want to see a nice Joan Rivers." Months after Rivers was fired in May 1987, her husband and producer Edgar Rosenberg died by suicide, distraught over the show's failure. 
This led to a very dark period for Joan Rivers. According to an excerpt from the 2016 biography by Leslie Bennetts, "Last Girl Before Freeway: The Life, Loves, Losses, and Liberation of Joan Rivers," published in Vanity Fair, Rivers herself considered suicide, deciding to live only because she realized no one else would be able to care for her loyal dog. She went on to host many television programs, often with her daughter, Melissa Rivers, and remained a popular Las Vegas headliner until her death from therapeutic complications on September 4, 2014 at the age of 81. She was welcomed back onto "The Tonight Show," appearing on Jimmy Fallon's first episode as host on February 17, 2014, 49 years to the day after Rivers' first appearance with Carson (per Variety).