The True Inspiration Behind Willie Nelson's Shotgun Willie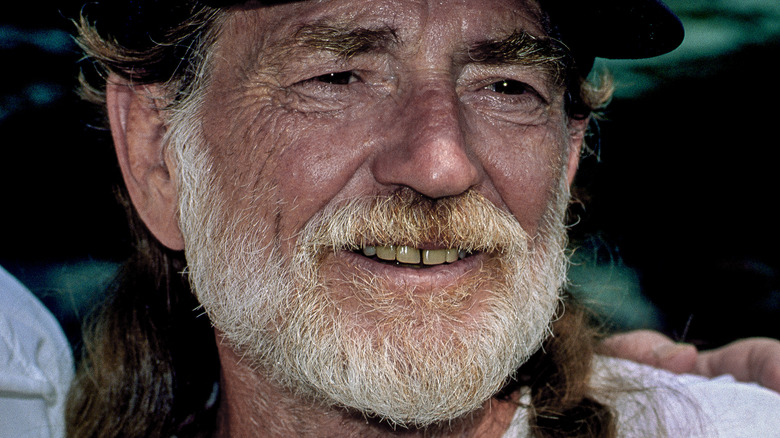 mark reinstein/Shutterstock
You don't stick around and become a living legend like country music icon Willie Nelson without collecting some nicknames. Some people call Willie Nelson "Red Headed Stranger," thanks to his own long, formerly crimson locks (as well as his 1975 concept album of the same name). As reported by Southern Living, it's just a coincidence that Nelson had red hair and a hit song about someone with red hair — the song was written in 1953 by Edith Lindeman and Carl Stutz and originally intended for crooner Perry Como. 
According to Texas Monthly, another Nelson nickname, "Booger Red," might have stemmed from an incident in Nelson's childhood, which the singer-songwriter recounted in his 2013 memoir "Roll Me Up And Smoke Me When I Die." Nelson was just 5 years old when, sitting in church in a white sailor suit and picking his nose until it bled, he decided to recite a poem his grandmother had taught him. Per Nelson, he quoted the following: "I hold my nose with one finger and while blood runs all over my little white sailor suit I recite my poem: What are you looking at me for? / I ain't got nothin' to say / If you don't like the looks of me / Just look the other way." 
But "Booger Red" and "Red Headed Stranger" aren't the country star's only nicknames. Nelson is also known as "Shotgun Willie," and the origin of that name is the most noteworthy and cinematic of them all.
Willie Nelson found inspiration in a hotel bathroom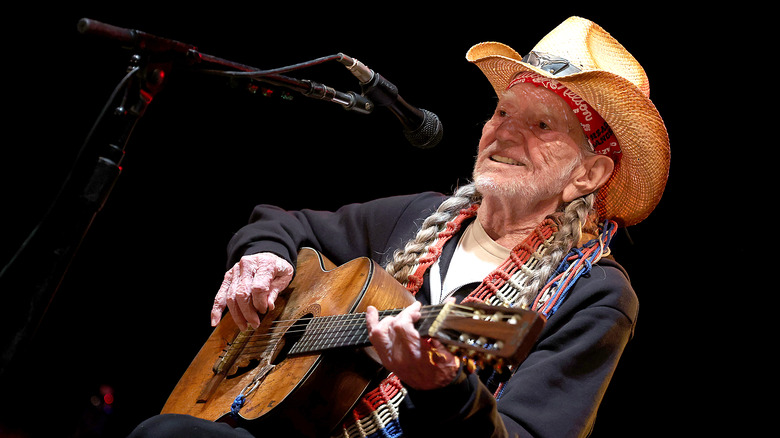 Gary Miller/Getty Images
Like "Red Headed Stranger," "Shotgun Willie" is actually the name of a Willie Nelson album. Released in 1973, "Shotgun Willie" was Nelson's debut on the music label Atlantic — and, per AllMusic, is considered by many to be the best Nelson album of all time. Filled with autobiographical songwriting and Nelson's unique brand of storytelling, "Shotgun Willie" has another unique attribute — how the title song came to be. 
In his 2000 memoir "An Autobiography," Nelson recalled the recording sessions for the album, which took place in New York (via Texas Monthly). Despite the luxury of finally being able to use his own band to record, things weren't coming together in terms of songwriting and arranging. Eventually, inspiration struck as Nelson paced in his hotel room, with what he described as "the old sensation of need pulsing through me." He went into the bathroom, picked up packaging intended for sanitary napkins, and started writing. "Shotgun Willie sits around in his underwear/biting on a bullet, pulling out all his hair," read the lyrics. 
As Texas Monthly noted, Nelson recounted his friend and fellow singer-songwriter, Kris Kristofferson, later referred to the song's verses as "mind farts." Nelson, however, preferred to think of it "more as clearing my throat." He brought the sanitary napkin envelope back to the studio and recorded the song.
The origin of Shotgun Willie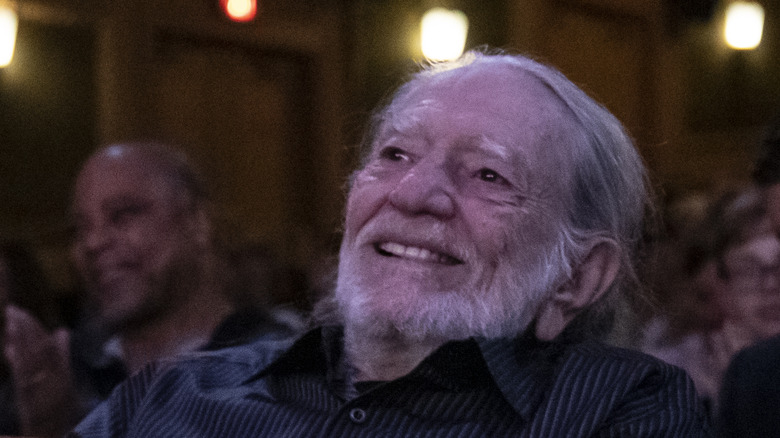 Sergio Flores/Getty Images
The story of how the song "Shotgun Willie" came to be is fascinating on its own, but the origin of the nickname "Shotgun Willie" is positively harrowing. As Texas Hill Country recapped, Willie Nelson once told the tale in a since-deleted page on his personal website. When Nelson found out that his daughter, Lana, was the victim of abuse by her then-husband Steve, Nelson "ran for my truck and drove to the place where Steve and Lana lived and slapped Steve around." Per Nelson's account, the singer-songwriter then returned home — only to be pursued by Steve, who pulled up and began firing a gun. Nelson returned the fire with an M-1 rifle, driving Steve off. 
After discovering Steve had left and taken Lana's child with him, Nelson armed himself with the rifle and a shotgun, assuming Steve would return. When he did exactly that, Nelson ran out at the ready: "That's when I shot his car and shot out his tire." When Steve called the police to report the incident, Nelson decided his explanation would be that Steve "must have run over the bullet." 
In a 2021 interview with The Daily Beast, Nelson confirmed the story. When asked if it came from "an incident with your daughter's husband," Nelson affirmed as much. "Well, that might have something to do with it, yeah," Nelson said. "That was just one of those deals where you felt like you had to do something."
If you or someone you know is dealing with domestic abuse, you can call the National Domestic Violence Hotline at 1−800−799−7233. You can also find more information, resources, and support at their website.