What Happened To The Brother Of Dan And Ron Lafferty From Hulu's Under The Banner Of Heaven?
George Frey/retired/Getty Images
Following the release of Hulu's "Under the Banner of Heaven," the public has been shocked and horrified by the renewed spotlight on the 1984 double homicide of Brenda and Erica Lafferty. As reported by Time, the 24-year-old mother and devout Mormon was stabbed and strangled by a vacuum cord in her home in Utah. Her young 15-month-old daughter was also found dead in her crib. Brenda's husband and Erica's father, Allen Lafferty, tragically discovered the bodies when he returned home from work.
However, the truly shocking twist was that the perpetrators were Dan and Ron Lafferty, two of Allen's brothers. Dan and Ron had broken away from Mormonism to join an off-shoot cult called the School of the Prophets that allowed polygamy, among other dubious attributes. Allen declined to join the sect, which Dan and Ron blamed on Brenda. The bad blood continued after the two brothers believed Brenda had helped convince Ron's wife to leave him.
However, the catalyst for the horrific crime came when Dan and Ron claimed they received a message from God. According to Time, these messages allegedly instructed them to kill their sister-in-law and niece, which they sickeningly coined the "removal revelation."
So what happened to Allen Lafferty after?
Though authorities cleared Allen Lafferty of any wrongdoing related to the murder, the book that inspired "Under the Banner of Heaven" revealed that he was aware of his brothers' rants about harming Brenda and Erica, per E! News. Unsurprisingly, Brenda's family still blames Lafferty for not doing enough to prevent the horrific tragedy, and it seems unlikely that he has continued any kind of relationship with his in-laws.
In light of this, it seems that Lafferty thought it best to start a new slate in terms of his personal life, location, and career. According to The Cinemaholic, Lafferty got remarried and moved to California, allegedly to pursue a career in Hollywood. Though it should be noted that IMDb entries are not verified, a page under Allen Lafferty shows a number of projects — including those that relate to Mormonism — that suggest he was indeed involved in film production. Some of the credits include the propmaker foreman of "Alien: Resurrection" and the propmaker gang boss of "Tears of the Sun." He is also described as an uncredited propmaker on the hit television series "House" and a carpenter for a 2018 John Legend Christmas special.
His most recent project is "Grace Notes," which is described on IMDb as a series that "welcomes emerging and established recording artists from a broad range of genres and spiritual backgrounds for intimate performances of inspirational music and candid conversations about life and faith."
He eventually moved back to Utah, close to his previous home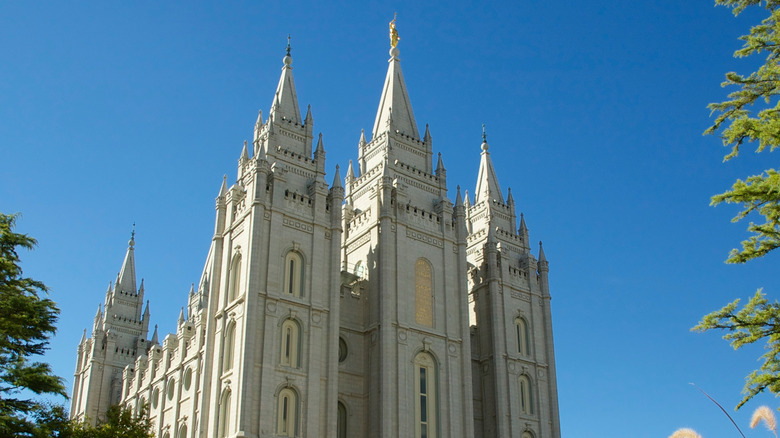 JVE001/Shutterstock
Allen Lafferty eventually made his way back to Utah, this time relocating to Saratoga Springs. The town is only a 20-minute drive from American Fork, his old hometown, where the double homicide took place. Lafferty is currently reportedly working as a life coach, mentor, and motivational speaker, per The Cinemaholic. 
Though Lafferty has mostly kept a low profile, an unverified video posted to YouTube in 2015 under the name Heidi Lafferty appears to show the couple discussing their life and faith (per Gossip Next Door). In the video, the pair note that Lafferty's job in Los Angeles had become a stressor in their lives, and it was through prayer and guidance from the temple that they decided to return to Utah. The video also shows that Lafferty has remained devout and steadfast in his Mormonism, despite his personal tragedy.
"It's become a practice for us to go to the temple and find answers when we're struggling with things personally or as a family," he said. 
"We love going to this temple," his wife added. "It brings us lots of joy, especially when we're faced with a lot of challenges, and we've had our share."