This Is How Redd Foxx Really Got His Name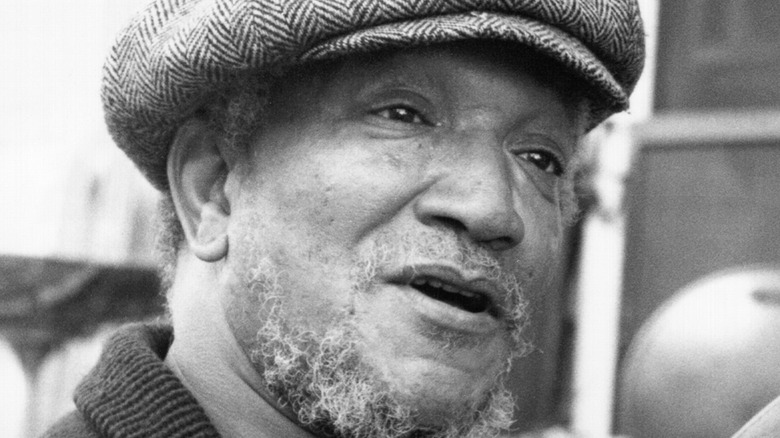 Michael Ochs Archives/Getty Images
Redd Foxx rose to widespread fame in the 1970s via his hilarious and groundbreaking sitcom, "Sanford and Son." From 1972 to 1977, Foxx played Fred Sanford, a widower living with his adult son, Lamont (played by Demond Wilson) and operating a junkyard in Los Angeles. As Britannica explains, before landing the starring role, Foxx built a solid reputation for himself as quite the raunchy comedian in the 1940s, '50s, '60s; but more importantly than his tendency to "work blue," Foxx often shone an unflinching spotlight on racism in his work.
Foxx is frequently cited as a major influence for many of the most successful, skilled comedians since the 1970s. According to The Source, stand-up comedy deity Richard Pryor was not only influenced by Foxx, but he also worked with him as a young writer on "Sanford and Son," and went on to record two highly successful comedy albums with him. Eddie Murphy also cites Foxx as an influence (he cast Foxx and Pryor in his 1989 movie "Harlem Nights"), as do Chris Rock, Tracy Morgan, and Jamie Foxx (who took his last name in homage to his comedy hero), among many others. Redd Foxx, sadly, died of a heart attack during what many predicted would be a comeback, in 1991.
If you find yourself wondering if "Redd Foxx" is entirely too cool of a name to have been gifted to anyone at birth, in this case, you're right. But the story of how his name came to be is too cool in and of itself.
Chicago Red, the funniest dishwasher on this earth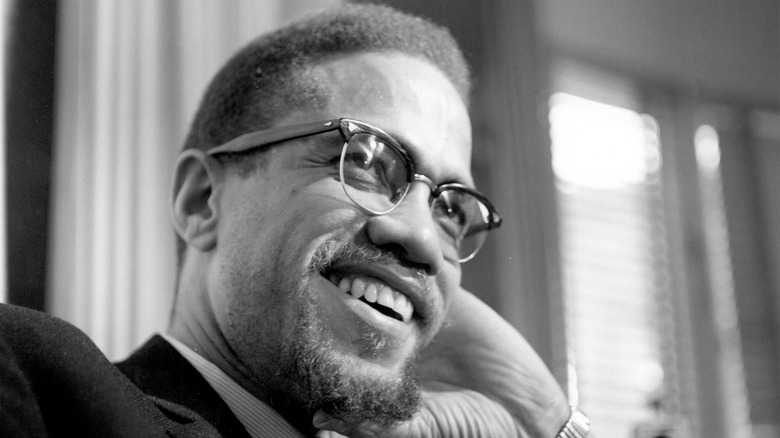 Michael Ochs Archives/Getty Images
Redd Foxx was born Jon Elroy Sanford on December 9, 1922 in St. Louis, Missouri. According to Historic Missourians, his father left him, his older brother, and their mother, causing his mother to move to Chicago to find work to support them. The Sanford brothers lived with their grandmother in what Sanford said was an "old wood shack of a house" until middle school, when they joined their mother in Chicago.
Once in Chicago, at age 13, Sanford supported himself by playing washboard in a band. The Redd Foxx official website (via the Wayback Machine) stated that he played with the band for about three years, until they broke up, at which point the 16-year-old caught a train to New York City. Having grown up with a rather ruddy complexion, apparently "Redd" (or "Red," depending on the speaker) had become a common nickname by this time. That nickname would be cemented when he worked as a dishwasher in Harlem alongside Malcolm Little, later to be much better known as civil rights leader Malcolm X. Little referred to Sanford as "Chicago Red, the funniest dishwasher on this earth."
A Redd Foxx is born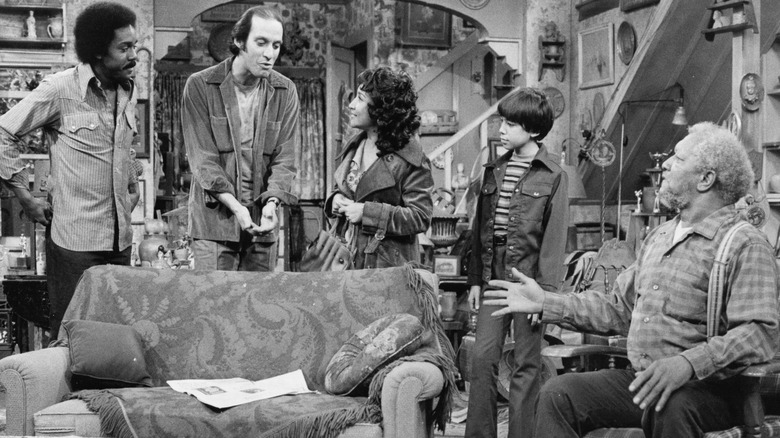 Michael Ochs Archives/Getty Images
An additional nickname, "Foxy," came about in Harlem, where he dressed sharp while on stage and about town (per Historic Missourians), gaining a reputation as a ladies' man. When he moved to Baltimore, Maryland, and became an emcee at a club in 1945, he combined both nicknames into the memorable stage name, "Redd Foxx," with the double consonants as an homage to a beloved baseball player, Jimmie Foxx.
Foxx was approached to record some comedy albums in Newark, New Jersey, but they didn't do so well. However, from those ashes would come a successful pairing with fellow comedian Slappy White; the duo, under the name "Foxx and White," toured nationally in the 1940s and early '50s. Mind you, the United States was under the crushing thumb of the Jim Crow laws — in a very tiny nutshell: legalized racism and segregation – until 1968 (per History).
The duo's appearances followed what black entertainers called the "Chitlin' Circuit." As the Atlanta Journal-Constitution explains, the Chitlin' Circuit was named after a dish made of pig intestines that originated in the American South during slavery; the circuit was a network of nightclubs, dance halls, and theaters known to be safe and welcoming to Black performers, who were often barred from performing in white-owned venues. The comedy duo enjoyed great success on this circuit, and moved to Los Angeles in 1952. Though the act soon broke up, the two would remain friends. And as we all know, Foxx's ascension to fame was just starting in earnest.