How NBA Player Clifford Ray Saved A Dolphin's Life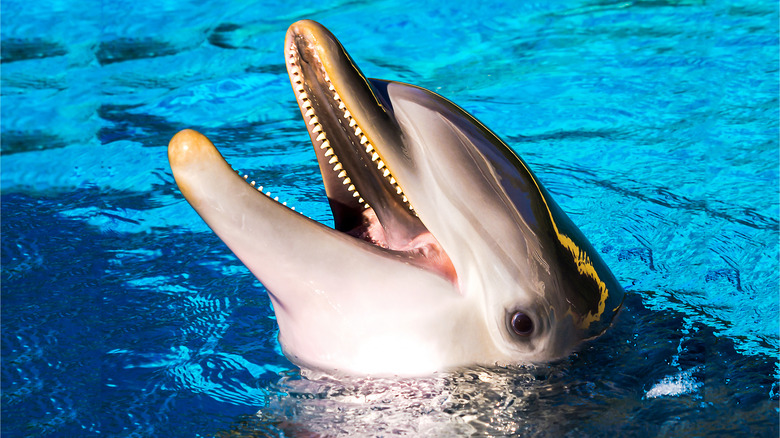 Svetlana Orusova/Shutterstock
Clifford Ray was born in Union, South Carolina, in 1949, and played college basketball at the University of Oklahoma, where he also was a formidable woodwinds musician (per Celtics Life). But you'd probably know him better from his career playing center for the NBA for 10 years. The Chicago Bulls snagged Ray in 1971, in the third round of the NBA draft. He played for the Bulls for three seasons, until 1974, at which point he was traded to the Golden State Warriors, where he stayed until his retirement as a player in 1981, after an amazing 784 games total, according to Basketball Reference. He helped the Warriors clinch a title in 1975.
After retiring as a player, Ray went on to a successful coaching career with teams including the Dallas Mavericks, New Jersey Nets, and none other than the Golden State Warriors, among others. He was also assistant coach for the Orlando Magic and the Boston Celtics (via the NBA) for several years. All of this is barely scratching the surface of his accomplishments as a player, coach, consultant, and proponent of the game. And in 1978, Ray added another title to his resume: Dolphin Friend.
Reaching out, and then some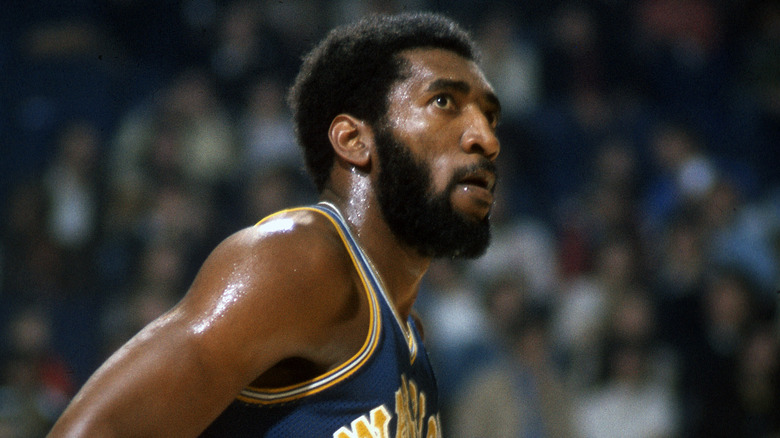 Focus On Sport/Getty Images
Clifford Ray was a lauded Center on the Golden State Warriors in 1978, having helped the team win an NBA title in 1975. He was also a friend of Mary O'Heron, the public relations director of Redwood City, California's Marine World, according to The New York Times. One day, some Marine World staff were cleaning the dolphin tank when a large bolt got loose and fell into the water. One of the dolphins, Mr. Spock, saw the movement before the others, understandably thought the bolt was a fish, and down the dolphin hatch it went. Mr. Spock was soon thereafter removed from the tank because his swimming motions would swish the bolt around and cause him serious internal injuries. Veterinarians were reluctant to perform potentially traumatic surgery, but didn't have an instrument long enough to reach down into Mr. Spock's stomach to retrieve the troublesome bolt.
O'Heron immediately thought of her friend, Ray, whose arms were said to be just under four feet long each. Ray explained to USA Today Sports that his long arms gave him an advantage on the court. "I wasn't 6-10 or 6-11," he said, "so my wingspan enabled me to play with a lot of bigger guys." Ray was recently out of rehab for an injury, and was about to rejoin his Warriors teammates when he got the call requesting him and his formidable wingspan at Marine World.
A formidable wingspan
When Clifford Ray got there, they asked him to put his hand down the dolphin's throat, and hopefully save the creature's life. In a video interview at USA Today Sports, Ray said that he agreed, and they lubed up his arm. He said they explained the dolphin's breathing, and told him how long he'd be able to keep his arm and hand in there. Then they told him in more detail what to expect, including the fact that a dolphin has two stomachs. Ray got through the first stomach, and found nothing. "It was a little ... interesting," he said, explaining that his arm was in the dolphin all the way to his chin. But he found the rogue bolt in the second stomach on his first try, and said the dolphin was surprisingly chill the whole time. He admitted, though, that if it had been a shark, he wasn't sure if he would have tried it. Fair enough.
According to The New York Times, Marine World staff had the bolt bronzed and a plaque made with Ray's name in honor of the occasion. His father kept the memento in Oklahoma. And Marine World staff weren't the only ones eternally grateful for what he did. "After that whole incident, whenever I would go to the park, [Mr. Spock] would always recognize me," he said. "He would come right up to me without being prompted."