How Dan Lafferty From Under The Banner Of Heaven Managed To Avoid The Death Penalty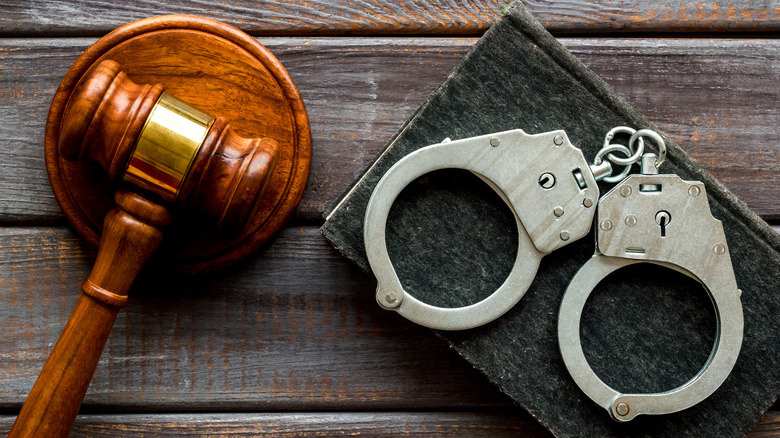 9dream studio/Shutterstock
On July 24, 1984, a young wife, Brenda Lafferty, and her baby were found gruesomely murdered inside their Utah apartment (via E! Online). According to A&E, Brenda's husband, Allen Lafferty, was the one who made the unspeakable discovery. Brenda was 24 years old, and their child, Erica, was only 15 months. Although police suspected that Allen was the killer, he quickly pointed the finger at his brothers, Ron and Dan Lafferty (per All That's Interesting). The Laffertys grew up as devout members of the Church of Jesus Christ of Latter-day Saints. However, they had recently ventured away from the mainstream church and into fundamentalism. This came as both brothers had been excommunicated from the church in which they had been raised.
Investigation Discovery writes that Ron and Dan believed in polygamy, a practice that had long been abandoned and prohibited by the Latter-day Saints. A&E reports that the two brothers quickly became radicalized and encouraged their four other brothers to join the School of Prophets, a cult-like breakaway sect they were involved in. By 1984, Deseret News reports that Ron and Dan alleged they had been receiving messages from God. One of these messages later became known as the "removal revelation." Ron claimed that God had told him to kill Brenda, Erica, and two others. He told Allen, who did not believe his brother, nor did Allen tell Brenda what Ron had told him.
Brenda Lafferty represented everything the Lafferty brothers hated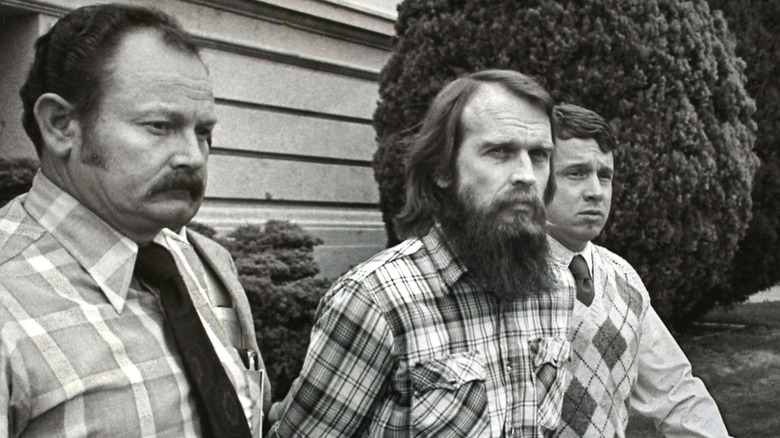 George Frey/retired/Getty Images
As explained by A&E, Brenda did not get along with Ron or Dan. Although she was also a devoted member of the Latter-day Saints, Good Housekeeping writes that she disagreed with the Lafferty brothers' newfound fundamentalist beliefs and prevented Allen from joining the School of Prophets. This is believed to have enraged both Ron and Dan. Moreover, Ron's wife, Diana left him when he became overly zealous. As Diana and Brenda were close, it was reported that Brenda supported Diana's decision to divorce Ron (per Deseret News). Ultimately, Ron blamed Brenda for the split. According to E! Online, Brenda was known for her independent nature.
She had been a pageant contestant and a news anchor while she was a student at Brigham Young University, college-educated and not a typical submissive wife (via All That's Interesting). On that fateful July day, Ron (pictured above in center) and Dan decided it was time for them to accomplish the mission Ron claimed to have received from God.
Per Investigation Discovery, the Laffertys entered Brenda's apartment where they proceed to strangle her with a cord from a vacuum cleaner. Ron and Dan then slashed Brenda and Erica's throats. Another article from Deseret News states that they fled the scene and made their way into Nevada, where they were caught and arrested. In August 1984, Ron and Dan were charged with two counts of criminal homicide, two counts of aggravated burglary, and two counts of conspiracy to commit homicide.
Brenda Lafferty's sister opposes the death penalty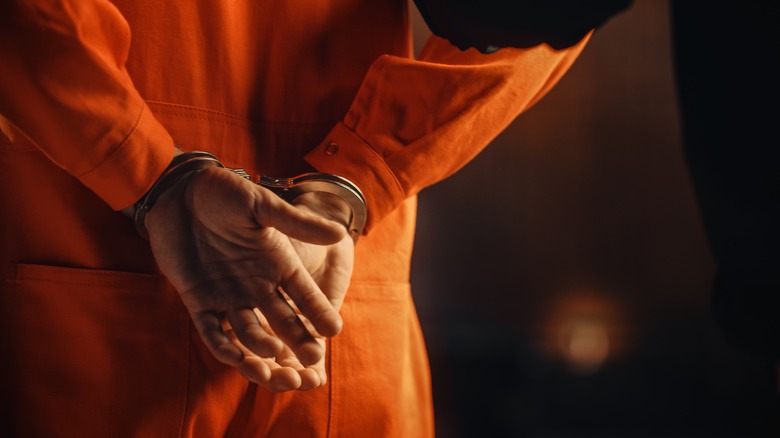 Gorodenkoff/Shutterstock
Although the brothers were going to be tried together, Ron attempted suicide, which delayed the trial (via Newsweek). Ron was later found guilty of Brenda and Erica's murder in 1985 and was sentenced to death, per Deseret News. However, in 1991, A&E writes, the 10th Circuit Court of Appeals found that the judge had not given Ron a fair trial, as it had not been ascertained if he was competent to stand trial after his suicide attempt.
Nonetheless, Deseret News reports, Ron was once again found guilty and given the death penalty at his resentencing in 1996. He asked to be executed by firing squad but instead, Ron Lafferty died in 2019 while he was on death row (per A&E ). As for Dan, All That's Interesting explains that he represented himself at his trial and was found guilty of two counts of murder. Unlike Ron, Newsweek states that Dan was spared the death penalty because the jury was split 10-2 on the decision. Nonetheless, he received a life sentence and remains incarcerated at the Utah State Prison.
Sharon Wright Weeks, Brenda's sister, has become an advocate for abolishing the death penalty in Utah, as Deseret News reported. Per A&E, she supported a bill titled HB 147, which strove to make capital punishment illegal in the state. In February 2022, the measure failed to pass. The crimes of the Lafferty brothers are now portrayed in "Under the Banner of Heaven," a Hulu series based on the 2003 book by Jon Krakauer. The trailer is on YouTube.