Johnny Rotten Was Almost Attacked By A Famous Band On Late Night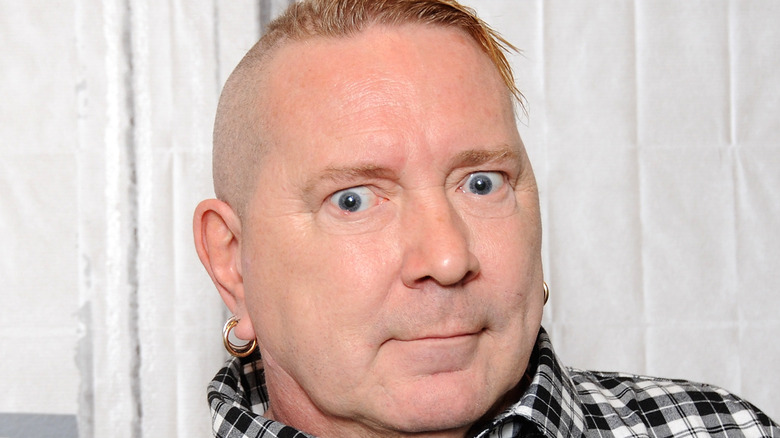 Desiree Navarro/Getty Images
From 1975 to 1978, the Sex Pistols disrupted things with bare-bones arrangements, angry and nihilistic lyrics, and a whole lot of attitude that would help define the nascent punk rock scene. They were also a band that had a notable disdain for the rock music status quo of the time — it's been said that frontman John Lydon, aka Johnny Rotten, made his, um, rottenness known to his bandmates early on by wearing a Pink Floyd T-shirt that had the words "I hate" written above the band logo. Then you've got the story of why original bassist Glen Matlock left the Pistols. Manager Malcolm McLaren infamously claimed that Matlock was fired because he "liked the Beatles," though, in reality, he departed the band by "mutual consent."
In the years that followed the Pistols' disbandment, Rotten reverted to his real name and formed Public Image Ltd, Matlock's replacement Sid Vicious fatally overdosed, and the band's legacy lived on as their ever-so-brief discography influenced scores of younger musicians in one way or another. But even when he was using his birth name and nearing middle age, Lydon was still very much the provocateur, as proven by the time a well-known band nearly attacked him for some comments he made while promoting his autobiography on "Late Night with Conan O'Brien."
The Allman Brothers Band was upset by Rotten's negative comments when they performed on Late Night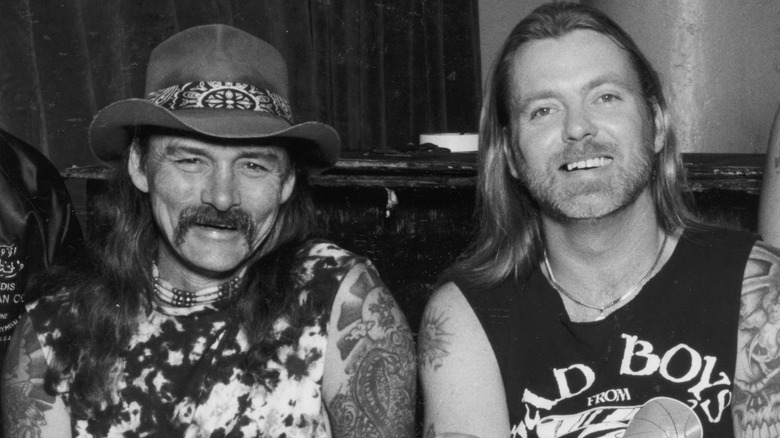 Los Angeles Times/Getty Images
Based on their sound alone, the Allman Brothers Band were one of those acts that mid-'70s bands like the Sex Pistols were rebelling against — their penchant for 30-minute live jams and reputation for virtuoso musicianship certainly was miles away from the Pistols' three-chord minimalism and three-minute songs. But the altercation the Allmans had with Johnny Rotten/John Lydon took place well after their 1978 breakup at the tail-end of a disastrous U.S. tour. Rather, it happened a few years ahead of the Pistols' short-lived mid-'90s reunion, during the April 11, 1994 episode of "Late Night with Conan O'Brien."
During Gregg Allman's 2012 appearance on "Late Night," O'Brien (while being off by one year) brought up the time when the Allman Brothers Band appeared on the show, mentioning that Lydon was the guest right before the Allmans came on. "He came on and he was saying things just to try and be outrageous, and he started trashing the Allman Brothers Band," O'Brien said. "He was talking about you guys and saying very negative things," the host continued, further recalling how Allman and guitarist Dickey Betts, who were backstage, reacted to Lydon's comments by plotting to "get that English fella."
As O'Brien related, Allman and Betts kept frantically looking for Lydon, but when the Sex Pistols frontman found out that two members of the Allmans were after him, he "ran out of the studio and fled the building" during the commercial break. When asked by O'Brien if he and his bandmates would have really tried to attack Lydon for dissing them, Allman laughed and quipped, "[there's] nothing like a good set of fisticuffs every now and then." 
What did the Pistols frontman say about the Allmans, anyway?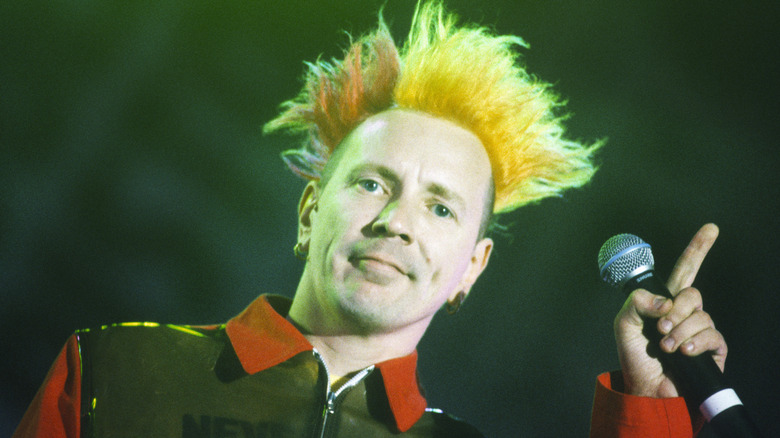 Gie Knaeps/Getty Images
The above clip of Gregg Allman guesting on "Late Night with Conan O'Brien" does not include any mention of the exact words John Lydon said to provoke Allman and Dickey Betts to hunt him down backstage. But this video of the episode where Lydon guested shows that the Sex Pistols/Public Image Ltd singer did mention the Allman Brothers Band early in the interview when O'Brien asked him which major bands the Pistols "despised" during their heyday. Lydon specifically named three acts — prog-rockers Emerson, Lake & Palmer and Yes, and the Allmans, who were Southern rock mainstays at the time the Pistols first started causing a stir in their native England.
With the crowd reacting as expected when Lydon name-checked the show's musical guests for the night, the frontman snarked that he "couldn't resist" bringing up the Allmans. O'Brien then warned him that there are "like nine of those guys back there," to which Lydon responded that they must have "22 roadies" as well and that he likes "living dangerous." Apparently, Allman and Betts saw Lydon's remarks as fighting words, though to be fair, he didn't bash them any further, rather focusing his energy on discussing his then-recently released autobiography, "Rotten: No Irish, No Blacks, No Dogs" and commenting on his relationship with Sid Vicious, among other topics.