These Seven NFL Teams Don't Have Cheerleaders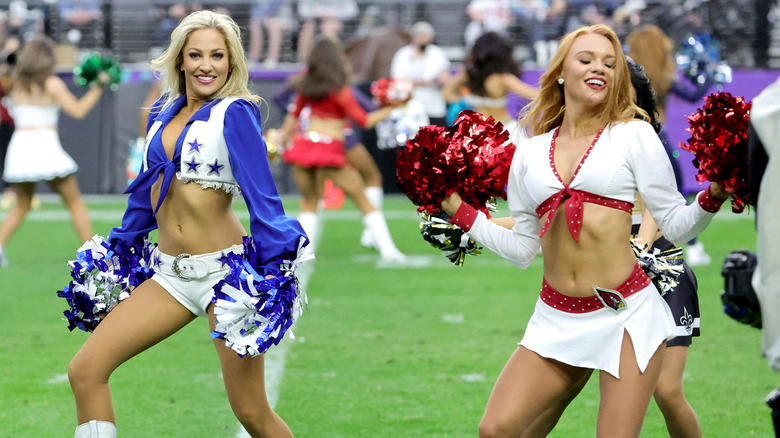 Ethan Miller/Getty Images
For decades, NFL fans have enjoyed watching not just the action on the field, but the actions of groups of women (and a handful of men) dancing and gyrating. Cheerleading had, of course, existed for decades before the NFL brought the sport on board as a sort of sideshow, particularly at the high school and collegiate level. But it wasn't until 1954 that the Baltimore Colts brought them on, marking the first time that cheerleaders were part of the NFL landscape, as Stadium Talk reports.
It was the Dallas Cowboys, however, who made NFL cheerleading what it is today, as Sportscasting reports. The team put its cheerleaders in the same colors as its players, put them in revealing outfits, and they became a sort of cultural touchstone.
Despite their huge popularity, however, seven NFL teams don't have cheerleaders, for reasons ranging from weather conditions at the home field to lawsuits.
The Buffalo Jills Were Disbanded Following A Lawsuit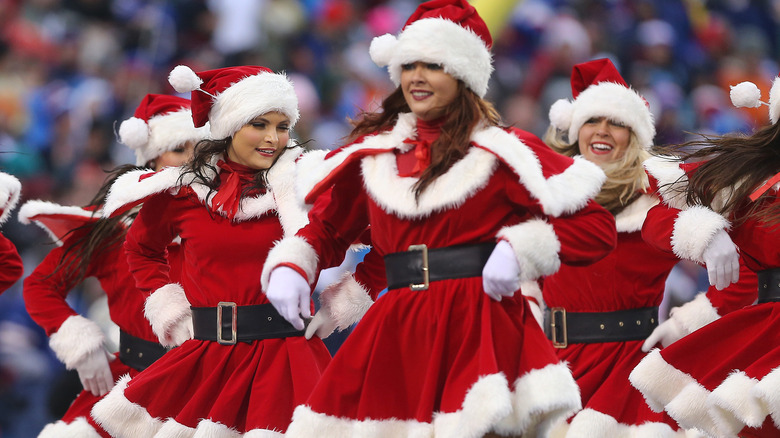 Tom Szczerbowski/Getty Images
The Buffalo Bills' cheerleading squad — the Jills, get it? — were founded in 1967, according to ESPN. In addition to dancing on the field, they did things that other professional cheerleading squads do, NFL cheerleading squads in particular, such as selling a swimsuit calendar or visiting troops in Iraq.
However, like other NFL cheerleaders in other NFL cities, the Jills were underpaid, forced to work long hours for money that, when practice and other factors were considered, amounted to less than minimum wage. Further still, they alleged in a lawsuit that they were subject to sexual harassment, including groping and having to submit to a "jiggle test" to make sure their bodies were up to snuff.
The cheerleaders filed a lawsuit, and in response the group simply folded. ESPN notes that the Jills were never strictly a part of the Bills' operations, but rather a separate entity that functioned on its own. After the Jills disbanded, the team was left without a cheerleading squad, and as of May 2022, does not have one.
It's Too Cold For Cheerleaders In Chicago, Green Bay, Pittsburgh...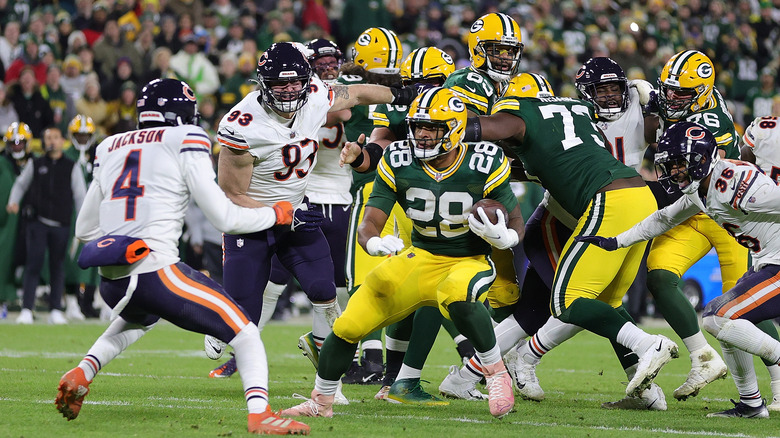 Stacy Revere/Getty Images
If you've ever been to Chicago, particularly during the winter (viz, much of the NFL season and postseason), you know that the city can be a bit chilly, and that's putting it mildly. A few hundred miles northwest is Green Bay, which is even colder (if that's possible). Pittsburgh isn't as famously cold as Chicago and Green Bay, but it can get chilly there, too. And all three teams play in open-air stadiums where climate control is nonexistent.
Needless to say, those three cities do not employ scantily-clad women to dance about, according to Sportscasting. The Bears had cheerleaders until 1983, when a change of ownership ended their contract. The Steelers had a cheer squad until 1969. The Packers, meanwhile, use collegiate cheer squads consisting of men and women, and if this photo, via Wikipedia, is any indication, they're dressed for the Green Bay climate.
The Cleveland Browns and New York Giants have never had official cheerleading squads. The L.A. Chargers had a squad, the Charger Girls, but they disbanded, according to AS, although they may yet come back in a later season.