This Is The Book Elvis Presley Was Reading At The Time Of His Death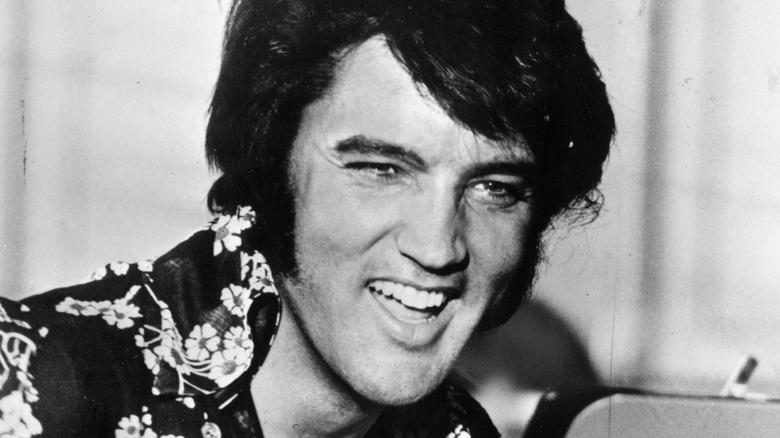 Keystone/Getty Images
It's sometimes hard to tell what stories about Elvis Presley are the real deal and which ones are nothing more than urban legends because even the verifiably true stories were so bizarre that they blurred the line between fact and fiction. For instance, according to Far Out, Elvis wanted to turn his Memphis abode, Graceland, into a zoo. First, he bought a spider monkey named Jayhew, and a few years later he bought his more well-known primate, a chimpanzee named Scatter. Scatter liked to drink booze and was known to cause a lot of trouble, even at times getting violent.
According to Express, Elvis also thought he had superpowers which his former bodyguard discussed in a memoir. The superpower the King thought he possessed was the ever-useful ability to move small clouds with his mind. There was also the time that Elvis whipped out a gun and shot a TV screen that was showing a performance by crooner Robert Goulet, not because he didn't like Goulet but because "Elvis just shot out things on a random basis," a representative for the museum at Graceland said, per PBS.
The untimely death of Elvis Presley has its own set of urban legends associated with it. However, according to Outsider, one fact of the King of Rock 'n' Roll's death was that he was reading the book "The Scientific Search for the Face of Jesus" by Frank O. Adams.
The book deals with the Shroud of Turin
Paolo Gallo/Shutterstock
According to Outsider, Adams' focuses on the Shroud of Turin, a cloth that is said to have been used as Jesus Christ's burial cloth. This stems from 14th-century reports that bloodstains on the cloth seem to show the image of a man, and his wounds are in the same place as those Jesus received in the biblical account of the crucifixion.
Since 1578, the Shroud of Turin has been kept in — where else? — Turin, Italy, specifically in the cathedral of San Giovanni Batista. The roughly 14-foot-long by 3-foot-wide shroud has been at the center of attention for centuries with both believers and skeptics alike. The shroud has only been put on public display sporadically over the years, typically for special events or occasions, per Britannica. While church officials are of the mind that the shroud is the genuine article, scientists have been searching for ways to find out for sure since the 1800s. According to Paperback Swap, Adams' book is about his search to locate an exact image of Jesus' face and that's what led him to eventually focus on the Shroud of Turin.
The book has gone on to become more well known for its connection to Elvis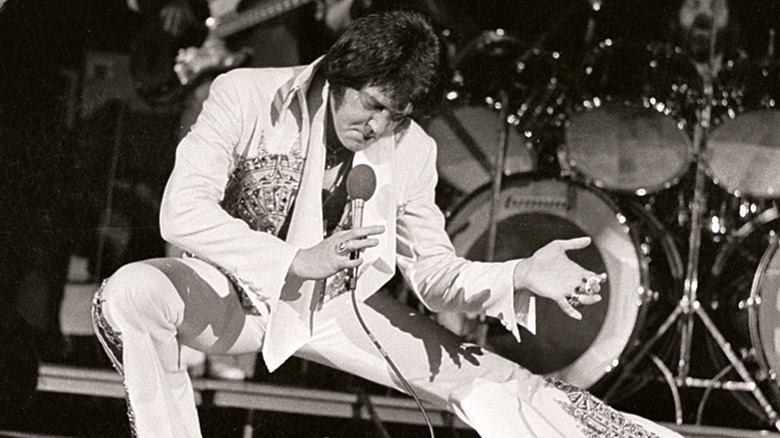 Ronald C. Modra/Getty Images
Frank O. Adams' scant 82-page book has gone on to have a bigger association with Elvis than it does with any breakthroughs concerning its subject matter. The book is currently out of print and hard to come by, and those that are available often come with a hefty price tag. Some listings — like this one on Worth Point — list the details about the book's connection to Presley before even mentioning what it's about.
If it seems surprising that Elvis would die reading a book about a religious artifact, it shouldn't. Despite being painted early in his career as a man who played "the devil's music" in some peoples' minds (via The New York Times), Elvis was a devout Christian. Gospel music was an early influence on his work. According to Outsider, he was baptized twice during his lifetime and a third time posthumously.
According to the book "The Seeker King" by Gary Tillery, Elvis once told a friend that all wanted out of life was to "know the truth, to know and experience God. I'm a searcher, that's what I'm all about." He also reportedly went on to read a variety of books on religion and spirituality including "The Prophet" by Kahlil Gibran and "The Autobiography of a Yogi," and the Torah (via the Los Angeles Times).