The Disturbing Thing Jamie Foxx Did For His Role In Ray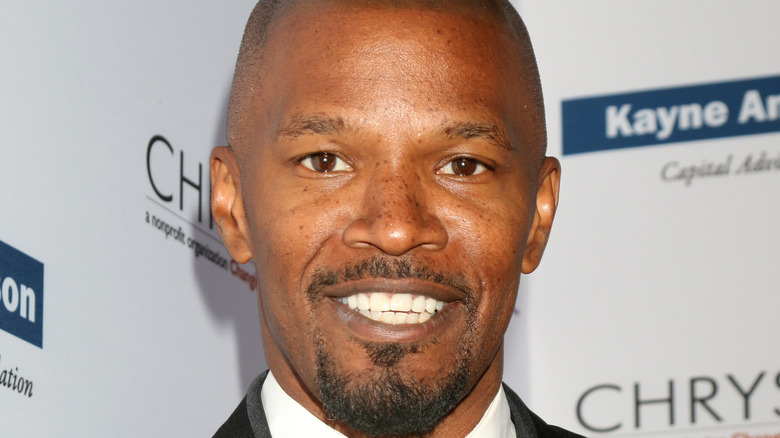 Kathy Hutchins/Shutterstock
The Ray Charles biopic titled "Ray" was released in theaters in October 2004, with actor Jamie Foxx playing the titular role. It won many awards in various ceremonies, including best sound mixing and best actor in a leading role at the 77th Academy Awards. Many were blown away by Foxx's acting, especially since he started his career in comedy. Foxx prepared well for the role, but first, he wanted to get approval from the man he was going to portray.
Foxx was fortunate to have met the singer before he died in June 2004 at the age of 73. In an interview with SF Gate, Foxx recalled the meeting and likened it to "waiting in a doctor's office." He was nervous about whether he had the ability to play the role or not. Charles then told him that if he could play the blues, he could certainly do it. The two men had a jam session and took turns playing on the piano. At a certain point, Charles questioned Foxx's choice of notes and commented, "The note is right underneath your fingers. All you got to do is take time out to find out which note it is to play." When Foxx finally got it, he got Charles' seal of approval.
Jamie Foxx's preparation for the role
Jamie Foxx worked hard to prepare to get into the character of Ray Charles. Fortunately, the actor is a trained pianist, so he didn't have to fake playing the instrument. He was raised by his grandmother, and she insisted on young Foxx taking piano lessons. As reported by VOA News, Foxx explained that he prepared for filming by practicing songs for hours and getting it in his mind that he had a gig to perform.
Foxx also had to look the part of a young Charles, who had a slim build. He lost 30 pounds for the role, which he said in an interview with Chuck the Movieguy was the hardest part. The actor found his background in comedy helpful when it came to impersonating Charles' mannerisms and behavior. He listened to voice recordings of Charles and used that as training material for his role. Apart from these, Foxx took his preparation a notch further as he prepared to play the role of a blind man.
Going blind
Ray Charles wasn't born blind. Per Smithsonian Music, he slowly started losing his eyesight at 4 years old due to glaucoma, an eye condition that damages the optic nerves. Although it was difficult for the young boy to adjust to losing his vision, his mother taught him that he could do anything he set his mind to; she told him that he may be vision-impaired, but he wasn't dumb. Charles went completely blind at 7 years old when his right eye had to be removed due to pain.
Jamie Foxx had to embody Charles' blindness and to make it more genuine, he went blind at the suggestion of "Ray" director Taylor Hackford. Instead of just wearing Charles' signature sunglasses, Foxx's eyes were glued together, and he was made to wear prosthetics of Charles' eyelids, as noted by the New York Times. The first few weeks of filming were difficult for Foxx, who said that he had his eyes glued shut for about 14 hours straight on shooting days. Initially, he felt claustrophobic and panicked but eventually got used to the feeling. All his hard work paid off when he won best actor at the 77th Oscars and in his speech, he thanked Charles "for living" (via Billboard).