Eric Clapton's Hit Song That Was Inspired By A Sad True Story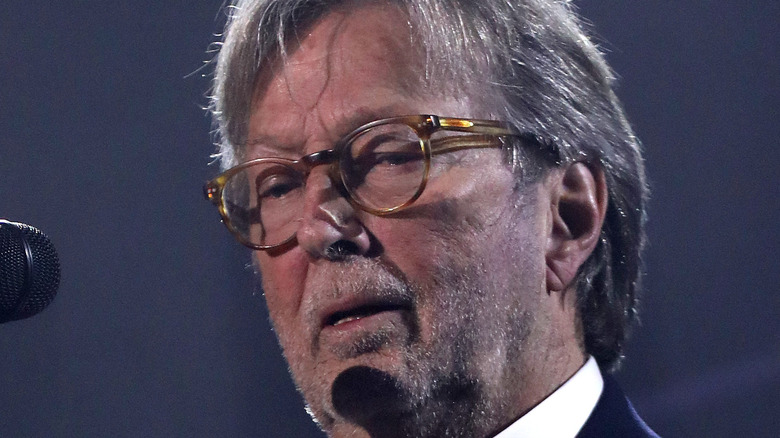 Larry Hulst/Getty Images
Most Eric Clapton fans are familiar with the tragic backstory behind his beautiful and heart-wrenching ballad, "Tears in Heaven." On March 20, 1991, Clapton's 4-year-old son Conor was passing the morning at his mother's New York City apartment when he tumbled from an open window and fell 53 stories to his death. The window had been accidentally left ajar by a janitor doing work within the residence. "I was actually getting ready to go out of the hotel room to go and pick him up for lunch. Lory [Conor's mother] was on the other end of the phone, and she was hysterical, saying he was dead. And I could not let myself believe it," the British musician later recalled (via Biography).
Despite the agonizing circumstances of Conor's death and the cumbersome despair that enveloped his father afterward, the singer channeled his pain into "Tears in Heaven," which remains one of the most woefully spellbinding songs ever written. For better or worse, a broken heart beats at the core of a lot of great songs. Artists are able to do something with anguish that the average person cannot — they eventually turn it into something beautiful. However, "Tears in Heaven" wasn't the first time Eric Clapton got up close and personal with his misery through the prism of a song. In 1986, he released "Holy Mother" on the album "August." The track is another one of Clapton's tearjerkers that has a rather sad story behind its conception, according to Song Facts.
Holy Mother was inspired by Prince's Purple Rain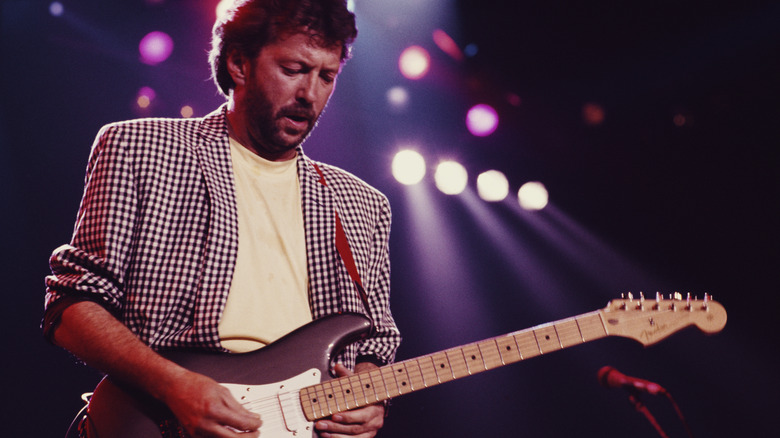 Michael Putland/Getty Images
Years before his son died, Eric Clapton was grappling with demons of another breed. His problems with drug and alcohol abuse had dominated a good part of his personal life for a long time, and there wasn't much solace to be found in the fast-paced world around him. It wasn't until he took an evening to himself away from all the madness and confusion that he found reprieve in a peculiar place. "In the '80s, I was out on the road in a massive downward spiral with drink and drugs, I saw "Purple Rain" in a cinema in Canada. I had no idea who he [Prince] was, it was like a bolt of lightning!" Clapton later shared (per Song Facts). 
Prince appeared before Eric Clapton on the big screen like a purple beam of ethereal light. Aside from the superb original soundtrack and vibrant exhibition of musical exceptionalism, "Purple Rain's" narrative explores themes of suffering, redemption, forgiveness, and healing. If even for a moment, the film offered something of an antidote to Clapton's tumultuous and unmanageable life at the time. It also gave him the creative ammunition and emotional fodder to write a hit song. "In the middle of my depression, and the dreadful state of the music culture at that time it gave me hope, he was like a light in the darkness...I went back to my hotel, and surrounded by empty beer cans, wrote "Holy Mother,"" (via Song Facts).
Holy Mother, hear my prayer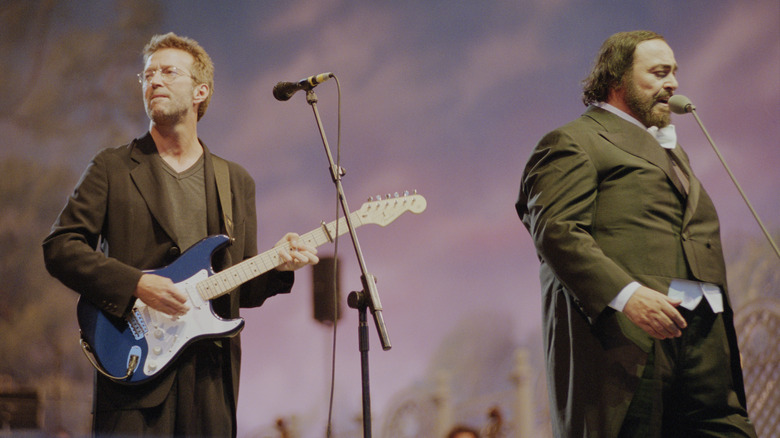 Brian Rasic/Getty Images
"Holy Mother" was summoned from a place of emotional exile and desolation. For Eric Clapton, it was a way to rectify a multitude of tribulations that were plaguing him at the time. Drugs and alcohol had enraptured him in a way that stripped him of all peace and comfort. The lyrics read like a solemn lullaby that begs for refuge from an external ally of mercy. "Holy Mother, hear my prayer, Somehow I know you're still there. Help me please find peace of mind. Take away this pain." It also came shortly after Richard Manuel (The Band), one of Clapton's dear friends, had passed away, according to Herald-Mail Media. 
Later on, Clapton invited fellow songwriter/guitarist Stephen Bishop to help him complete the song. "Eric asked me if I wanted to work on this idea he had called "Holy Mother." I went upstairs to my room and started working on the idea — played what I had for him and he worked on it later and he recorded it on his "August" album with Phil Collins producing." Bishop recalled (via Song Facts). An iconic duo performance of "Holy Mother" with Clapton and the late Luciano Pavarotti was one of the most famous renditions of the song. Turmoil and internal strife are inevitable hurdles one must scale in life, and with the outlet of music, devout songwriters will always have something to turn to. Songs like "Holy Mother" are a grand testimony to this fact.