Scorsese's The Last Waltz Was Actually Criticized By A Featured Musician
"The Last Waltz" is one of the most iconic and supremely adored music documentaries of all time. The spellbinding final concert performance from The Band in San Francisco, California on November 25, 1976, was captured by Martin Scorsese and became a monumental installment in the group's timeless legacy. It was also a major feat for Scorsese who, up until that point, had never taken a stab at music documentary filmmaking. "We wanted it to be more than just a concert. We wanted it to be a celebration." said guitarist Robbie Robertson (via IMDb). 
The film showcases the talents of masterful spectacles like Joni Mitchell, Van Morrison, Neil Young, and the legendary Bob Dylan, all of whom make cameos on stage. The guest list of musicians who participated in paying sincere homage to The Band was astonishing. It was a starry-eyed music lover's dream come true. However, there was one name on the roster that seemed out of place amongst the others, and nobody felt this way more than The Band's late drummer/vocalist Levon Helm. 
Levon Helm objected to Neil Diamond's presence
Larry Busacca/Getty Images
Apparently, when Levon Helm caught wind of pop singer Neil Diamond's intended guest appearance, he had a few choice words for his compatriots. "I asked, 'What the hell does Neil Diamond have to do with us?' What does he represent to The Band?'" Helm remarked in his 1993 memoir "This Wheels on Fire: Levon Helm and the Story of The Band." It stands to reason that figures within the blues, rock, and bluegrass categories would join the group for the evening, but Diamond's seemingly arbitrary recruitment appeared out of place and nonsensical to Helm (per Showbiz Cheat Sheet). 
Diamond was more or less viewed as a pop artist whose work didn't necessarily invoke or represent what The Band stood for musically, but Robbie Robertson motioned to justify his presence by reminding Helm that he had previously produced one of Diamond's records (via Ultimate Classic Rock). All the same, Helm wasn't having it, and despite the fact that Diamond's performance of "Dry Your Eyes" is looked back on favorably, as Rolling Stone notes, but in the context of the film, the group's late forefather never accepted Robertson's reasoning behind it all. 
Levon Helm criticized The Last Waltz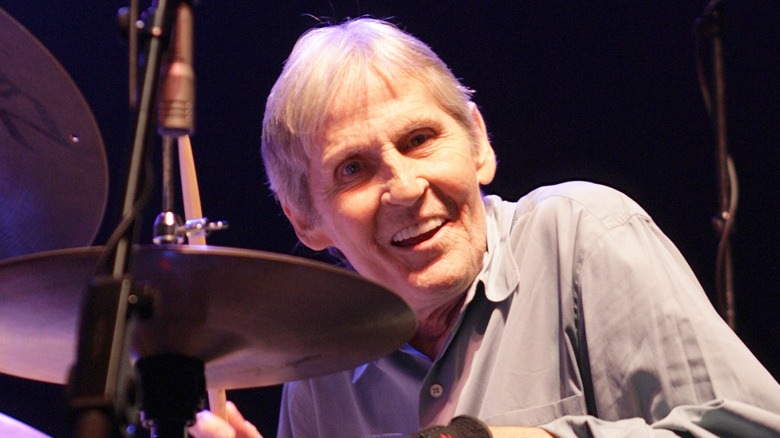 Anthony Correia/Shutterstock
"The Last Waltz" was undoubtedly a magical experience for everyone involved. The conglomeration of superb musicians was otherworldly, each one shining like a separate crystal adornment on a grand chandelier, and the audience members were granted an unparalleled experience that they would never forget. So why did Levon Helm later describe "The Last Waltz" as "the biggest f****** rip-off that ever happened to The Band without a doubt," (via American Blues Scene)? Essentially, Helm criticized Martin Scorsese and Robbie Robertson for their organization of the film and the general depiction of the entire show. 
Helm also claimed that Robertson's microphone was switched off, despite Roberston being portrayed as the frontman, according to "This Wheels on Fire: Levon Helm and the Story of The Band," and Showbiz Cheat Sheet.  Furthermore, Helm claims that "Warner Brothers charged the movie and record against advances [they'd] been paid."