Priscilla Presley Got Elvis Obsessed With This Unexpected Hobby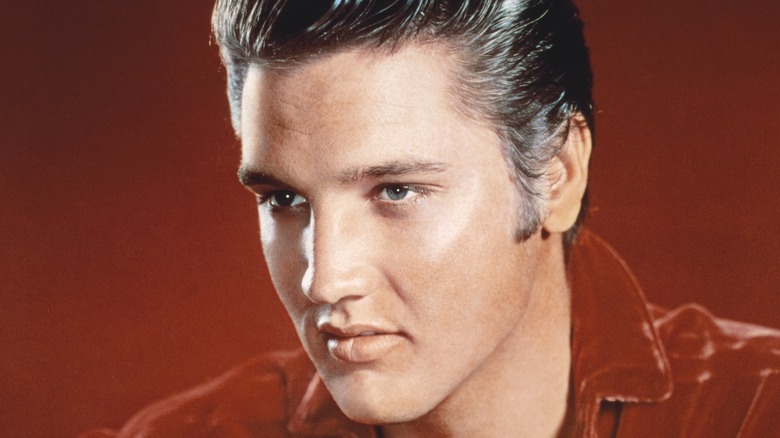 Michael Ochs Archives/Getty Images
Elvis Presley is the King of Rock and Roll, but when not busy performing, he has a variety of hobbies that keep him occupied. According to Graceland, the singer and actor had a fascination with football and racquetball, and he also enjoyed visiting carnivals. But there was one hobby that he got into because of his wife, Priscilla Presley.
Elvis is an animal lover and owned a variety of pets during his lifetime. He owned more than 13 acres of farmland where he housed chickens, birds, turkeys, and even some less common creatures such as wallabies and a squirrel monkey (via Outsider). At some point in the 1960s, Elvis purchased a horse named Domino for Priscilla, who was then his soon-to-be wife. The King himself wasn't initially interested in horses because of an incident with one on the set of one of his movies, per Cowboys and Indians. As explained by Arlene Alexander, the stable supervisor at Graceland — Elvis' estate in Tennessee — a horse that carried Elvis ran away during the shooting, which made the star a bit scared of them. However, he eventually got over his fear and learned to love them after purchasing Domino.
Elvis Presley owned many horses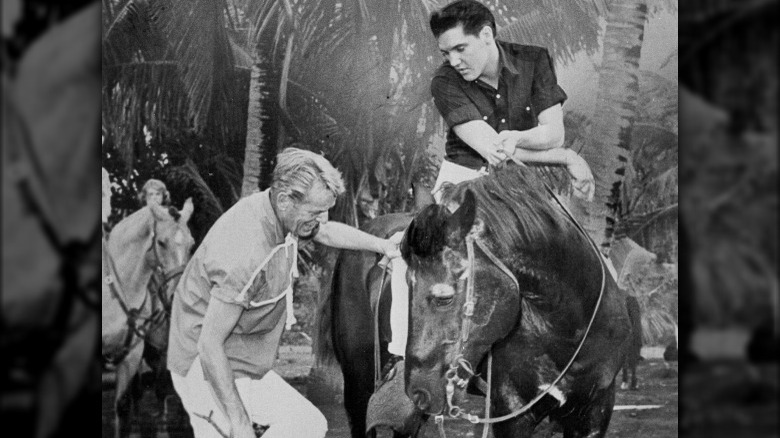 Michael Ochs Archives/Getty Images
Elvis Presley wanted a horse for himself, and he specifically wanted a golden palomino, also known as the "golden horse." Per Horse Racing Sense, it is a highly-coveted type of horse because of its beautiful and shiny coat. Arlene Alexander said that Elvis wanted one so bad, that he himself went out with his entourage to knock on horse owners' doors to ask whether they had what they were looking for. He eventually found one and named it Rising Sun, and his barn at Graceland was named House of the Rising Sun thereafter (via Graceland).
Elvis started purchasing more and more horses. Some of them include Sun Down, Thundercloud, Buckshot, Lady, and Memphis, just to name a few, and the barn at Graceland was running out of space. The King of Rock and Roll thought it would be best to purchase additional property for his growing family of equines. As reported by Memphis Magazine, Elvis purchased 160 acres of land in 1967 that was eventually named Circle G Ranch. He filled the ranch with about 40 horses and all the equipment and tools needed to care for them. After Elvis and Priscilla married, they spent time at the ranch riding horses, which was a way for the entertainer to relax and just be his regular self when not busy working.
Graceland today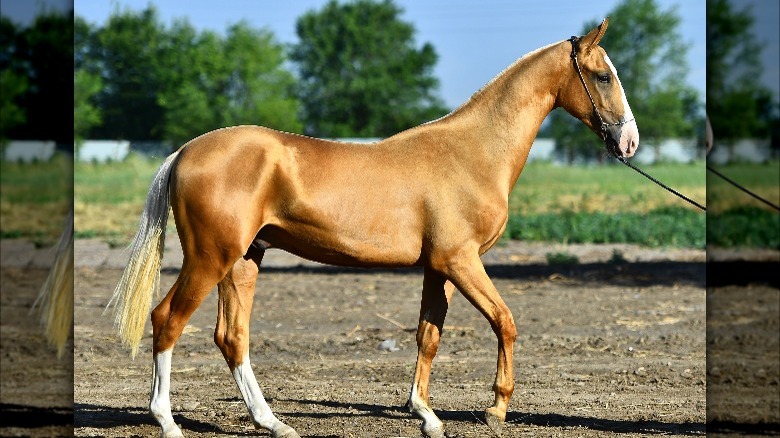 arthorse/Shutterstock
Arlene Alexander told Cowboys and Indians that Elvis Presley loved Rising Sun. He spent time hanging out with the horse and even took care of it himself. Priscilla also revealed how caring Elvis was toward Rising Sun and said that he would let his horse walk to cool down for an hour after a 15-minute ride to make sure that he was okay. But he didn't stop there. He also spread his love of horses to other people close to him and bought them their own horses. "It didn't matter whether they knew how to ride or even liked horses — you were getting a horse," Priscilla stated.
Elvis sold Circle G Ranch in 1969, but Graceland's barn still houses horses to this day, some of them rescued. According to Priscilla, as reported by Horse Illustrated, the presence of horses at Graceland is important, as it was one of the most important parts of Elvis' life. Rising Sun died in 1986 but Graceland makes it a point to always have a golden palomino residing in the barn as a tribute to the horse that the King of Rock and Roll loved.