Gene Kelly Completely Horrified His Young Co-Star On Singin' In The Rain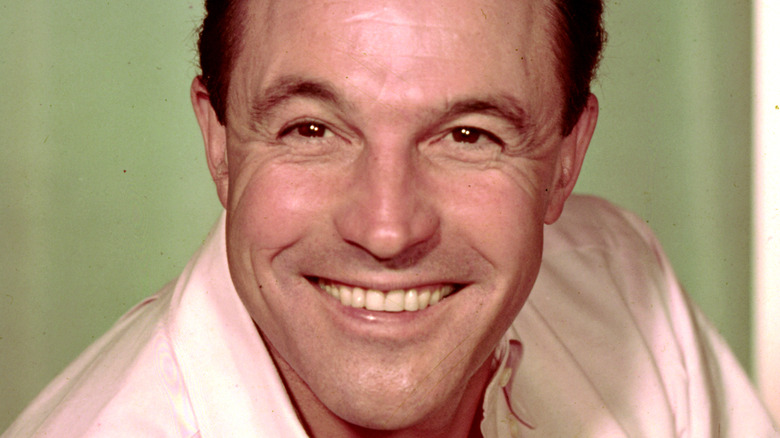 Michael Ochs Archives/Getty Images
Released in 1952, "Singin' in the Rain" is considered to be one of the greatest films ever made. IMDb writes that the musical stars legendary dancer Gene Kelly, Debbie Reynolds, and Donald O'Connor. Additionally, Kelly co-directed the film, with Stanley Donen. According to MeTV, "Singin' in the Rain" takes place in the 1920s and centers around the film industry adapting from silent films to "talkies," otherwise known as movies with sound. As Britannica explains, Kelly portrays Don Lockwood, a seasoned actor who falls in love with Kathy Selden, an amateur actress played by Debbie Reynolds. Upon its release, the film made Reynolds a star.
Despite this, Showbiz Cheatsheet reports that her memories of filming "Singin' in the Rain" were anything but cheery. PopCulture states that Reynolds was 19 when she signed on to do the film. Some reports indicate that Kelly did not want Reynolds in his film. Although she had prior experience as an actress, she was not a dancer. Kelly and O'Connor, on the other hand, had years of training under their belt.
Even so, this fact did not deter Kelly. Per Mental Floss, Reynolds had previously trained as a gymnast. In other words, Kelly believed she had the endurance needed to train as a dancer. He was right, but it came with a price for the young Reynolds.
Gene Kelly mistreated Debbie Reynolds while filming Singin' in the Rain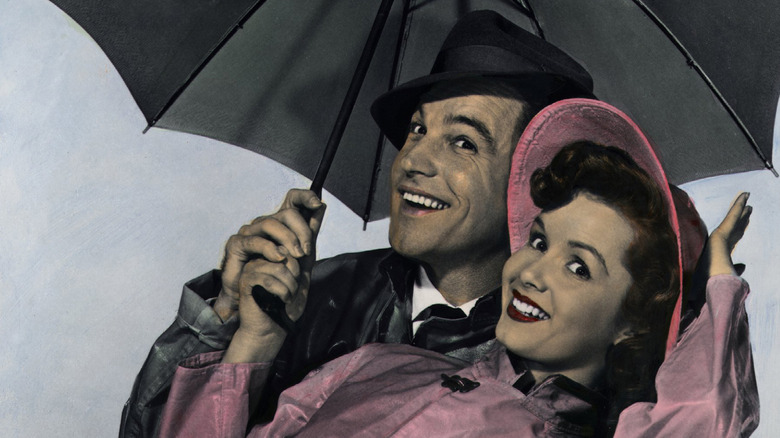 United Archives/Getty Images
According to Far Out Magazine, Kelly was known for his tyrant-like behavior on movie sets. This attitude extended to his co-stars, especially when it came to Reynolds. In an interview with TCM, Reynolds explained that she understood Kelly's pressure because he was one of the film's directors (per Showbiz Cheatsheet). However, as a newcomer, she thought Kelly could become a mentor. Instead, he became her bully. As Reynolds explained in her 2013 memoir "Unsinkable," she only had three months to learn the dance routines for "Singin' in the Rain" (via Country Living). Even so, she stated that Kelly "came to rehearsals and criticized everything I did and never gave me a word of encouragement."
Moreover, Kelly pushed Reynolds to the limit. Country Living states that the film's "Good Morning" number (as seen on YouTube) took 15 hours to complete. By the end of it, Reynolds' feet were bleeding and she was unable to move. She was reportedly put on bed rest for two days. In a 2013 interview with Express, Reynolds went on to explain that Kelly would yell at her to clean up the blood from her battered feet. Additionally, he insisted that she smile more.
Per PopCulture, the pressure became too much for the young actress and she hid under a piano on set and cried. Celebrated dancer Fred Astaire, who was also at MGM studios making a different film, found Reynolds and reassured her. Astaire told her that "You're not going to die" and explained that the blood, sweat, and tears were part of the learning process.
Off-screen, the pair had little chemistry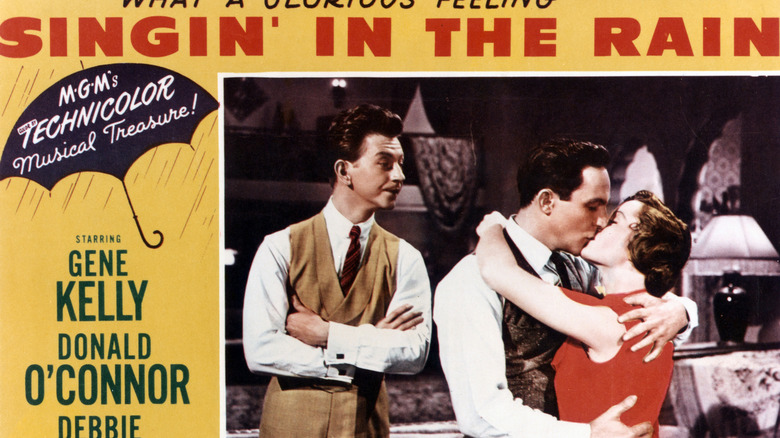 United Archives/Getty Images
Country Living reports that Kelly was 20 years older than Reynolds, playing her love interest in the film. Reynolds believed that this age gap only fueled their differences as they "didn't have a lot in common" (via Showbiz Cheatsheet). Although they eventually became friendly with one another, Kelly did something that completely repulsed Reynolds. In "Unsinkable," Reynolds wrote that during a kissing scene, Kelly "shoved his tongue down my throat" (via PopCulture). This action, as she put it, "felt like an assault." She went on to say that "I was stunned that this 39-year-old man would do this to me."
Despite Kelly's harshness towards Reynolds, another article from Showbiz Cheatsheet writes that she was ultimately thankful for the experience, as he helped transform her into a performer. Per Mental Floss, Reynolds later said that "The two hardest things I ever did in my life are childbirth and 'Singin' in the Rain.'" As for Kelly, he expressed his disbelief that they were able to become friends. In his words, "I wasn't very nice to Debbie. I'm surprised she still speaks to me" (per Country Living).
Gene Kelly died in February 1996, while Debbie Reynolds died in December 2016. In a recent article from Yahoo! Entertainment, Kelly's widow, Patricia Ward Kelly, exclaimed that all of Reynolds' claims about Kelly were widely exaggerated. She also stated Kelly did want Reynolds in "Singin' in the Rain" and that he chose her specifically for the role.