The Iconic Actor You Forgot Showed Up In Michael Jackson's Bad Music Video
Michael Jackson's song "Bad" was released in 1987 as the second single from his seventh studio album of the same title. The song's music video was done in an 18-minute short film format, and Martin Scorsese was hired to direct the project (via Michael Jackson). The video's story was inspired by Edmund Perry, a 17-year-old who was shot to death by an officer in what was described by reports as police violence against a Black individual, as reported by The New York Times.
The short film was shot in black-and-white, while the musical portion of the film was in color. Jackson played the role of Darryl, a student who had just finished a semester of school in a class with white students. Upon returning to his home in the city, Darryl is teased by his friends and berated after his refusal to go with them to commit robbery. One of those friends was played by Wesley Snipes.
How did Wesley Snipes end up in the video?
Wesley Snipes played the character of Mini Max, and he was chosen from hundreds of people who auditioned for the role, as Rolling Stone reports. In 1987 during the shooting of the "Bad" music video, Snipes was an unknown actor who had just appeared in his first movie titled "Wildcats" the year prior. In an interview with Conan O'Brien, Snipes recalled how Michael Jackson assumed that he was part of a gang in real life.
"Bad" was filmed in Harlem, New York, and according to Snipes, the King of Pop was nervous during the filming. There was a crowd of people that had gathered and while some of them were ecstatic to see Jackson, others weren't so welcoming. It was then when Jackson asked Snipes if he was scared, to which the actor replied, "No, Mike, this is Harlem, baby! This is where we grew up." Snipes shared how he put the singer at ease by holding his hand as they walked down the streets, per GQ. That was the beginning of the friendship between the two, and they reconnected a few times throughout the years just to talk about their interests.
Prince was supposed to play Wesley Snipes' role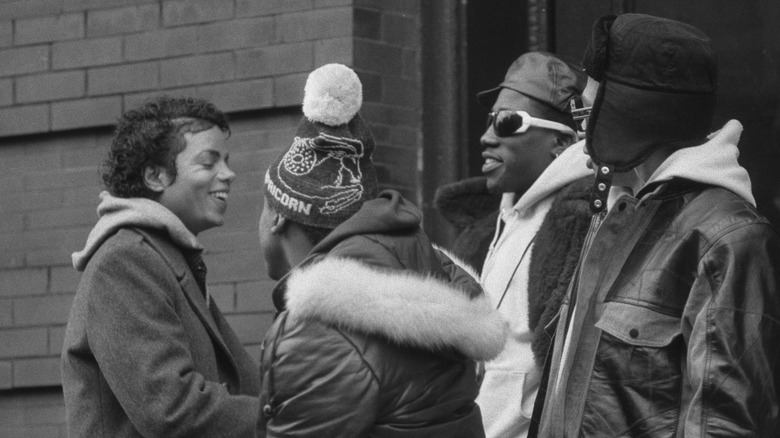 Michael Ochs Archives/Getty Images
During the interview with Conan O'Brien, Wesley Snipes also revealed that singer Prince also auditioned for the same role as he did but in his words, he "blew Prince out of the water" (per Rolling Stone). Prince, however, remembers it differently. In an interview with Chris Rock in 1997, Prince admitted that he was supposed to play Mini Max, but he declined upon reading the first line of "Bad," which says, "Your butt is mine."
The music video was inspired by the musical "West Side Story," and Jackson combined it with street dancing. Martin Scorsese said that the dance sequence alone took two weeks to shoot, and he was captivated by the dancing. The director said that Jackson was very specific about the choreography, but he was open to his ideas, via Rolling Stone. Scorsese also lauded Snipes' acting and said that he had a "strong presence." The video quickly gained attention upon its release and has more than 74 million views on YouTube.