This Was Hattie McDaniel's Final Request Before Her Death
Born in 1893 to formerly enslaved parents, Hattie McDaniel made her mark in history when she won an Academy Award for best supporting actress in 1940 (via Vanity Fair's review of McDaniel's biography "Hattie McDaniel: Black Ambition, White Hollywood"). Even so, the star's life was far from easy. As McDaniel was a Black woman, NPR writes, she endured a career fraught with bigotry and intolerance. According to Biography, McDaniel began performing while she was still in high school. By the 1920s, Entertainment Weekly reports, she was touring the vaudeville circuit and appearing in minstrel shows. McDaniel made her way to Los Angeles in the 1930s, where she quickly gained a reputation for portraying defiant servants in several films.
Although she received backlash for taking on stereotypical roles, the actress proudly stated that "I'd rather play a maid than be one" (per Mental Floss). In 1937, Vanity Fair explains, she was cast as Mammy in "Gone with the Wind" after Bing Crosby suggested McDaniel for the role to producer David O. Selznick. Ultimately, the film changed her life and cemented her place in cinema. On February 29, 1940, The Washington Post states, McDaniel became the first African American in history to win an Oscar for the role.
Because of her skin color, she was nearly barred from the award ceremony (via Entertainment Weekly). In the end, she was able to attend as long as she sat away from her white co-stars Clark Gable and Vivien Leigh. Upon receiving her award, McDaniel said, ​​"I sincerely hope I shall always be a credit to my race and to the motion picture industry."
Hattie McDaniel had two last wishes
"Gone with the Wind" was one of the most successful productions in Hollywood history — per Britannica, it racked up eight competitive Academy Awards (plus two honorary Oscars) and was the top box office earner for some 30 years, even with a four-hour running time. However, as The Washington Post explains, McDaniel's Oscar win did little to enhance her career. Although she believed it would lead her to better roles — and fewer archetypal roles — that simply was not the case (per NPR). Vanity Fair states that she lacked the support of the Black community, as they believed the roles she did take were degrading. Ultimately, Biography writes, she was unable to find film work and made the decision to return to radio, where she had worked in the early 1930s. In 1947, she once again made history when she became the first Black star on "The Beulah Show" (via Entertainment Weekly).
Sadly, this was the beginning of the end for McDaniel. According to NewsOne, she became ill not long after the show's premiere. McDaniel had a heart attack and was subsequently diagnosed with breast cancer (via Biography). On October 26, 1952, 57-year-old Hattie McDaniel died. Per Entertainment Weekly, her last wishes were to be buried at the Hollywood Forever Cemetery and for her Oscar to be donated to Howard University, a prestigious and historically Black institution.
Per Culture Trip, Hollywood Forever was founded in 1899 and is located on Santa Monica Boulevard in Los Angeles. The cemetery is known for being the final resting place of numerous stars, including Rudolph Valentino, and for denying McDaniel's burial request.
Hattie McDaniel's wish came true ... sort of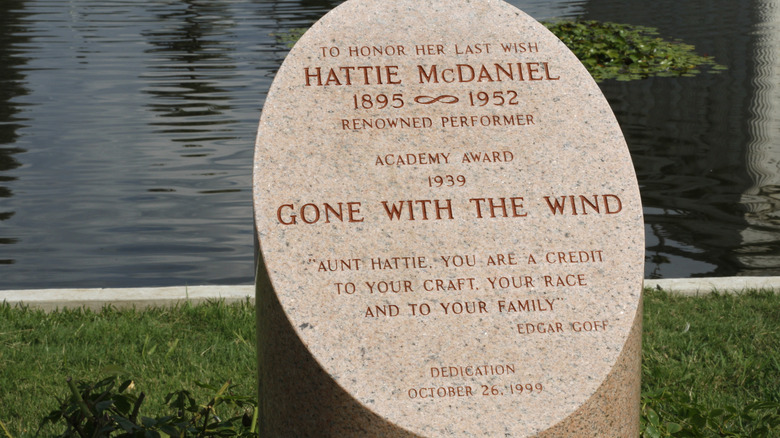 Amy T. Zielinski/Getty Images
In 1939, Culture Trip writes, the Hollywood Forever Cemetery was purchased by Jules Roth. He prohibited people of color from being buried on the grounds and refused McDaniel's final request. As a result, she was buried at the Angelus Rosedale Cemetery, where her funeral was reportedly attended by thousands (via Find a Grave). Tablet Magazine reports that Roth left behind an insidious legacy regarding Hollywood Forever. He bankrupted the cemetery by using the funds on himself, which led to its dilapidation. In 1998, Roth died and Hollywood Forever was subsequently purchased by Tyler Cassity (per Cemetery Guide).
Cassity asked McDaniel's family if they wanted to move her remains into the cemetery but they declined. Instead, they chose to erect a memorial made of pink granite in her honor (via Hollywood Forever). Per the BBC, the memorial was unveiled at the cemetery in October 1999, nearly 50 years after McDaniel's death. The obelisk reads, "Aunt Hattie, you are a credit to your craft, your race, and to your family." The quote is from Edgar Goff, McDaniel's grandnephew. As for her other final request, Mental Floss states that her Oscar did eventually make it to Howard University. However, the award was lost sometime in the 1960s and remains unaccounted for to this day.