How Chumbawamba Got Their Name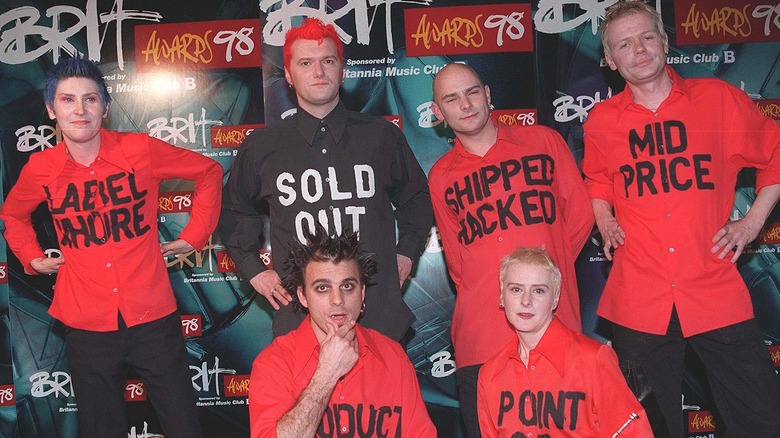 Brian Rasic/Getty Images
Sometimes all it takes to earn considerable wealth and acclaim in the music business is one hit song. Just one hit can keep an artist in the hearts of millions long after that artist has faded from the spotlight. One of the most famous — or infamous– songs of the 1990s was "Tubthumping" by Chumbawamba. Released in 1997, the anthemic song (posted on YouTube) that repeats "I get knocked down, but I get up again. You are never gonna keep me down" is strangely inspiring. It spent 31 weeks on the Billboard song charts and the album "Tubthumper" sold three million copies (per Yahoo FInance).
Though "Tubthumping" was the only big hit that Chumbawamba scored, the band turned heads, and more than two decades later, "Tubthumping" can still get a party going. Perhaps some of the band's lasting allure is their name. They were hardly the first band to have a rather bizarre name. Even The Beatles often got asked about how they landed on their band name.
The name doesn't really mean anything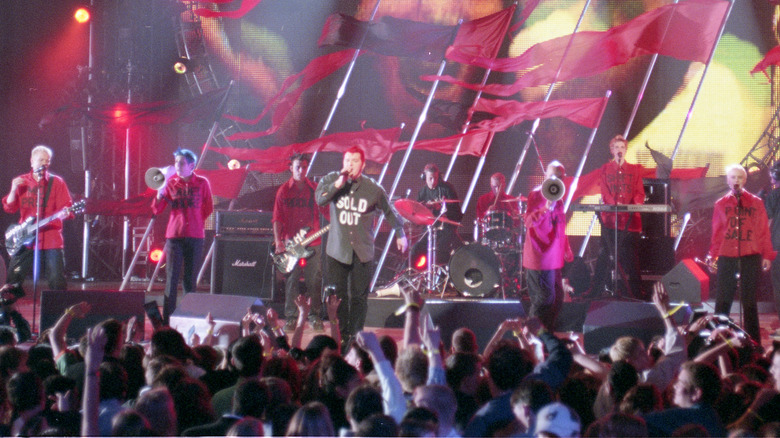 Jmenternational/Getty Images
With a name like Chumbawamba, band members Jude Abbott, Dunstan Bruce, Alice Nutter, Lou Watts, Boff Whalley, Danbert Nobacon, Harry Hamer, and Mavis Dillon were bound to be asked about their collective name. According to Band Camp, in the band's early years, the members gave a different answer when asked about their name. One story was that a monkey typed it. However, Whalley eventually explained that they overheard North African drummers in Paris singing "chum chum ba wailan." He liked the idea of having a name that "doesn't mean anything and was open-ended." Chumbawailan became Chumbawamba simply because it was "snappier off the tongue."
Chumbawamba was not the original name. When the band formed in 1982 and began performing around the United Kingdom, they used the name Chimp Eats Banana. This name likely raised the same number of questions from the press. This was still their name when they heard the drummers in Paris as well (per Jacobin).
The band called it quits in 2012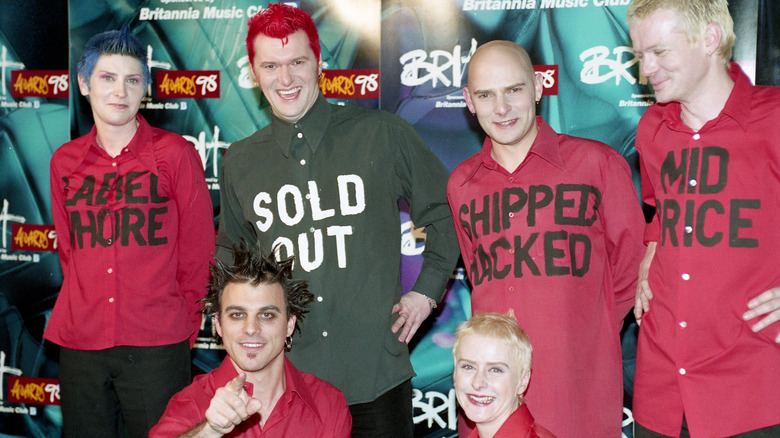 Jmenternational/Getty Images
Chumbawamba did not begin or end with "Tubthumping." They began as an anarchist punk group. Even the titles of their early albums, such as "Pictures of Starving Children Sell Records" and "Anarchy" in the 1980s, point to that theme. They protested both in their music and in person, taking stands against capitalism and animal experimentation. The album title "Pictures of Starving Children Sell Records" was inspired by the Live Aid concert that took place to support those facing famine in Ethiopia just a year before Chumbawamba released the album (per Band Camp).
Spotify shows that the last album that the band released together was "ABCDEFG" in 2010. They broke up just two years later, in 2012. They announced the dissolution on their website, stating, "We felt we'd got to a point where what we did as a band — and specifically the writing, recording, touring cycle — wasn't doing justice to what Chumbawamba set out to do in the first place." They join a long list of 1990s one-hit-wonders, including the likes of Right Said Fred, Vanilla Ice, and Lou Bega.