Inside The Friendship Between Johnny Depp And Jeff Beck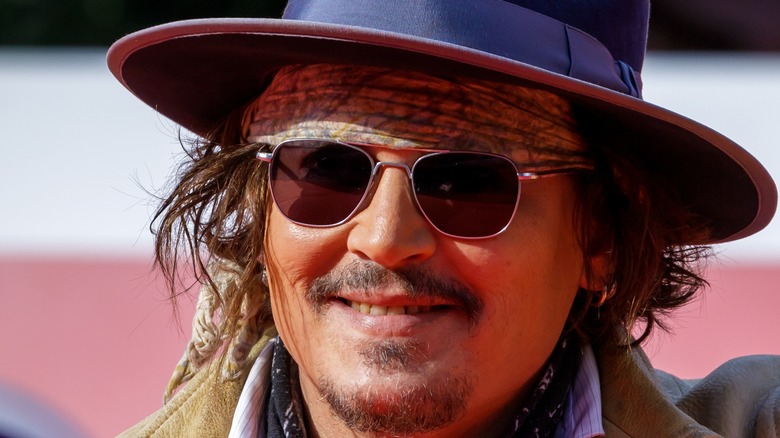 Gennaro Leonardi Photos/Shutterstock
Jeff Beck is a renowned guitarist who was once part of the English rock band Yardbirds. He left the group after a couple of years and formed The Jeff Beck Group in 1967, but they broke up after only a few years. Throughout the years, as noted by All Music, Beck had been in and out of the spotlight, doing collaborations with various artists, and one of his many projects was with actor Johnny Depp.
Depp has been acting since the '80s, but his first love has always been music. In fact, the actor moved to Los Angeles with his band to pursue a career in music, but the gigs didn't pay enough to make a decent living, according to Biography. It was during that time that he pursued acting, and his first big movie role was in Wes Craven's classic slasher film "A Nightmare on Elm Street." Depp's band broke up in 1985, and he concentrated on his acting career thereafter. Depp is known as a versatile actor who is capable of taking on various characters including Edward Scissorhands, Whitey Bulger, Willy Wonka, Donnie Brasco, and Captain Jack Sparrow.
Johnny Depp and Jeff Beck collaboration
In 2020, Jeff Beck and Johnny Depp released the single "Isolation," which is a cover of John Lennon's 1970 song from his first solo album. As reported by Rolling Stone, Beck and Depp had been collaborating for a few years before the single was released. According to Beck, Depp found it fitting to release the song amid people around the world isolating themselves due to the coronavirus pandemic. An official music video of the song was also released, and it features the duo performing the song in one of the live concerts that they played together before the single's official release.
In 2021, The Daily Mail reported that Depp had been spending time with Beck at his studio in Sussex. They worked on songs together, and it was also a way for Depp to step away from the spotlight in Hollywood amid the controversy surrounding his divorce from Amber Heard and her allegations against him. According to the report, Beck served as a great friend to Depp amid the challenging time in his life, and their work together allowed the actor to focus on his love for music.
Johnny Depp's surprise appearances at Jeff Beck's concerts
In April 2022, the Johnny Depp vs. Amber Heard trial began. The "Pirates of the Caribbean" actor sued his ex-wife for $50 million in a defamation case over an op-ed she wrote for The Washington Post in 2018. Heard countersued for $100 million, claiming that Depp's attorney, Adam Waldman, made defamatory statements against her (via NBC News). The trial was watched by millions all over the world, and it concluded after six weeks on May 27.
While waiting for the jury to give their verdict, Depp made a surprise appearance at Jeff Beck's concert in England where they performed "Isolation" and two other cover songs: Jimi Hendrix's "Little Wing" and Marvin Gaye's "What's Going On," as reported by Metro UK. Beck introduced his friend by saying that Depp knocked on his dressing room years ago, and they "haven't stopped laughing since." It's safe to say the friendship between the two goes beyond their music projects.
On June 1, the jury found both Depp and Heard liable for defamation, but Depp was awarded more in damages. He was awarded $10 million in compensatory damages and $350,000 for punitive damages, while Heard was awarded $2 million for compensatory damages and nothing for punitive damages.