The Truth About Chrissie Hynde And The Sex Pistols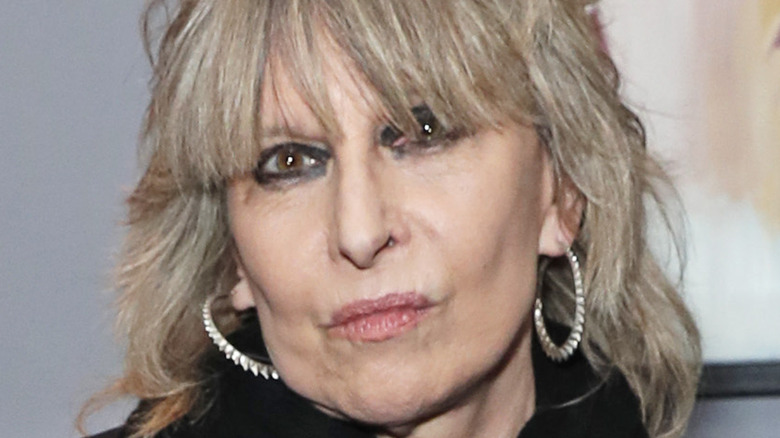 David M. Benett/Getty Images
Among the thick British accents that pepper Hulu and FX's series "Pistol," a dramatized accounting of the early days of the British punk band the Sex Pistols, there's one unmistakably American voice in the mix. That voice belongs to Chrissie Hynde, played by American actress Sydney Chandler in the show, per IMDb. The inclusion of Hynde is an important aspect of the band's story. She really did know the Sex Pistols early on, and went on to form her own band, The Pretenders, where she served as songwriter, guitarist, and lead vocalist.
Here's a closer look at how the future Pretenders' singer ended up in London and how she really met several members of the Sex Pistols. It seems she really was close to two members of one the most notorious punk band's in history.
"Pistol" is loosely based on Pistols' guitarist Steve Jones' 2016 memoir of his life and his time in the band, "Lonely Boy: Tales from a Sex Pistol." All episodes are now streaming.
Chrissie Hynde really did live in London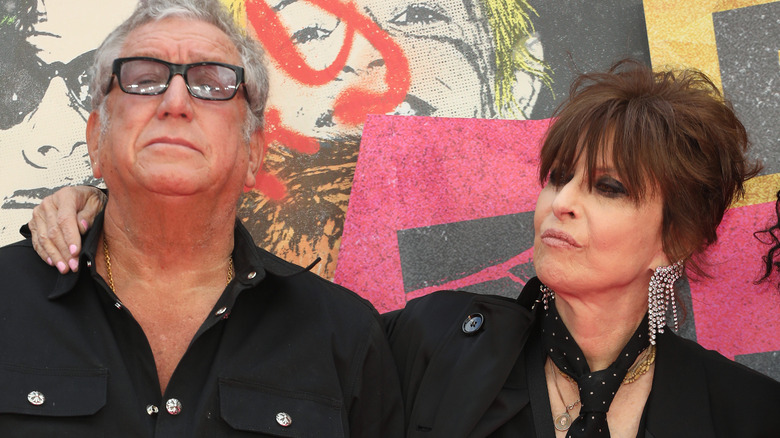 Lia Toby/Getty Images
Just as its portrayed in "Pistol," directed by Danny Boyle, Chrissie Hynde really did move to London from her native Ohio around the same time that "Pistol" takes place. While there, she worked for a time with acclaimed rock journalist from the era, Nick Kent, at NME, as Metro explains. After her brief stint in journalism, Hynde, with dreams of rock stardom of her own, found herself out of work, as the musician's biography on AllMusic notes.
Unemployed, Hynde made her way to Malcolm McLaren and Vivienne Westwood's influential fashion shop at the time, simply called SEX. (McLaren and Westwood are played in "Pistol" by Thomas Brodie-Sangster and Talulah Riley respectively, according to IMDb). While there, she met Pistols guitarist Steve Jones (above), singer Johnny Lydon, and the band's bassist, Sid Vicious.
The real Chrissie Hynde was so close to two members of the Sex Pistols, in fact, she nearly married two members of the band: singer Johnny Rotten and bassist Sid Vicious, just so she could stay and work in the country, as Metro also notes.
Chrissie Hynde nearly married two Sex Pistols members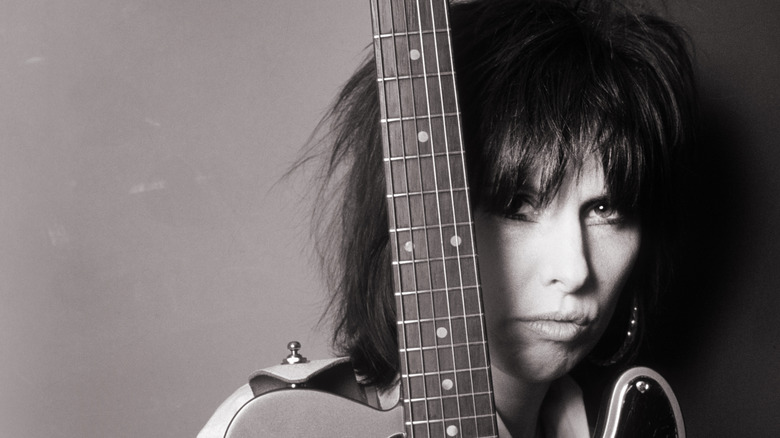 Gie Knaeps/Getty Images
The marriage to Vicious was so close to happening, in fact, it was only stopped when the couple found the local registrar's office was closed, as Ultimate Classic Rock explains. (Rotten and Vicious are played by Anson Boon and Louis Partridge in the series.) 
Given her background with the Pistols, the real Chrissie Hynde, aged 70 when the "Pistol" series came out, acted as an advisor while the show was in development. Partridge even turned to Hynde for advice before playing Vicious. Partridge said (via Metro), "'She spoke very fondly of Sid." In Hynde's 2016 memoir "Reckless: My Life as a Pretender," Hynde remembered this period. "A teenage west London delinquent, Steve Jones, hung out around the shop. (I had no idea he had aspirations to play guitar; he had no idea I did, either.) Malcolm and Viv seemed to have taken him under their wing for some reason, to help keep him out of trouble," the Pretenders singer wrote.
In 2005 Hynde and her band were inducted into the Rock & Roll Hall of Fame, according to the Hall of Fame website.