What Marlon Brando Believed About Marilyn Monroe's Death
Keystone Features/Getty Images
"She had been beaten down, but had a strong emotional intelligence — a keen intuition for the feelings of others, the most refined type of intelligence," Marlon Brando once said about his close friend and dearly departed ex-lover Marilyn Monroe. In a star crossed moment of fabled chance, the two met at a New York cocktail party in the early 1950s while the "Gentlemen Prefer Blondes" star was softly tapping away at a piano. When she reached out to tap Brando on the shoulder as he passed by, he accidentally elbowed her in the face as he turned, startled. Despite his barrage of profuse apologies, Monroe appeared unperturbed, calmly insisting that "there are no accidents" (via Showbiz Cheat Sheet).
That night in New York City turned out to be the commencement of a deep and abiding connection between the two stars that flickered between friendship and romance for several years to follow. After her divorce with legendary baseball icon Joe DiMaggio, Monroe started spending a significant amount of time with Brando, and rumors of a more lasting and serious relationship fluttered about the newsstands in 1955, according to People Magazine. Though it's unclear how intimately involved the two became, Brando revealed that they spent enormous amounts of time together, and they'd often talk on the phone together for hours. Throughout her subdued struggles, Monroe sought consolation in her dear friend and fellow Hollywood pioneer up until her tragic death on August 4, 1961 (per Showbiz Cheat Sheet).
Marilyn Monroe's death in 1962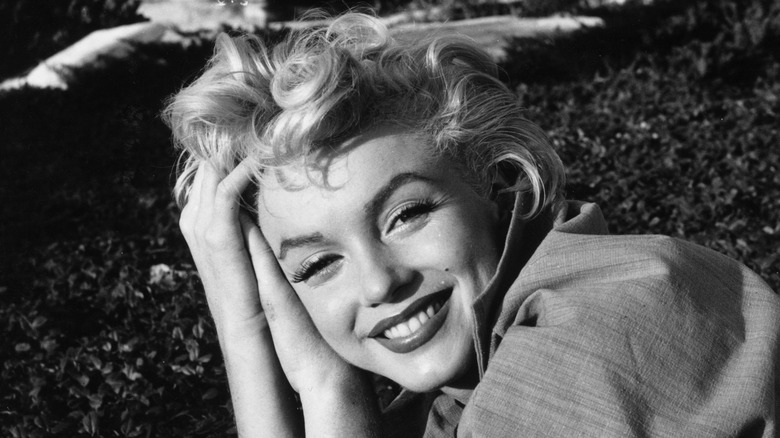 Baron/Getty Images
On August 6, 1962 (two days after Monroe's death), a Los Angeles Times report opened with, "Marilyn Monroe, a troubled beauty who failed to find happiness as Hollywood's brightest star, was discovered dead in her Brentwood home of an apparent overdose of sleeping pills Sunday." The tragedy was ruled a likely suicide via lethal overdose by Coroner Theodore J. Curphey of County Morgue, though much dialogue about Monroe's death and those final days leading up to it has been exchanged throughout decades past. However, one thing was widely understood by her peers and other Hollywood contemporaries: She was in pain. Despite being a golden-haired flame of the silver screen, Monroe endured a tremendous amount of depression and emotional strife. 
As a child and all throughout her teenage years, Marilyn Monroe (originally Norma Jean Mortenson) was raised in the foster care system and in various orphanages throughout southern California. Her mother, who was routinely committed to psych wards because of her tumultuous mental/emotional condition, was never truly a part of her life, and at the age of 16, Monroe was married for the first time. The courtship ended in divorce, as would her two subsequent marriages (Joe DiMaggio in 1954 and Arthur Miller in 1956). Near the end, Monroe was under the near-constant observation of her psychiatrist and rarely left her Brentwood, California, home. When Monroe didn't answer her housekeeper, the housekeeper called the psychiatrist, who broke into Monroe's bedroom, according to History. She was dead, age 36.
Marlon Brando believed that foul play was involved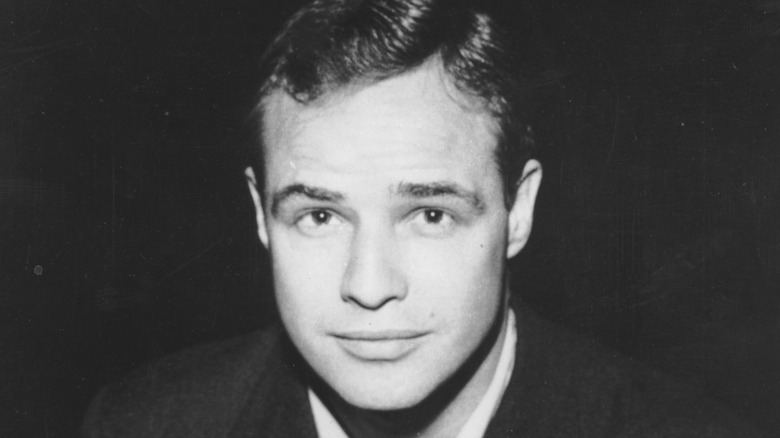 Keystone/Getty Images
"I'm pretty good at reading people's moods and perceiving their feelings, and with Marilyn, I didn't sense any depression or clue of impending self-destruction during her call. That's why I'm sure she didn't commit suicide." This passage appears in Marlon Brando's 1994 autobiography "Songs My Mother Taught Me." In it, he is referring to a phone call that took place between him and the actress just days before her alleged suicide. According to Brando, it was more or less a light-hearted conversation in which they caught up, jested, and discussed plans to have dinner together in the near future (via Showbiz Cheat Sheet). 
Rumors about a possible relationship with Robert F. Kennedy gone awry being the reason behind Marilyn Monroe's suicide abounded, though Marlon Brando believed this to be categorically untrue. He asserted that his friend would not have invited him out to dinner if she'd been involved with another man, and that it was a mere cover for a much bigger, more unnerving truth that nobody else was willing to discuss. "Maybe she died because of an accidental drug overdose, but I have always believed that she was murdered," Brando stated in his book (per Showbiz Cheat Sheet). According to People Magazine, Frank Sinatra also believed that she had been murdered, blaming Robert Kennedy and various factions of the mafia for her demise. However, no sufficient investigation was ever carried out nor substantial evidence discovered to support those suspicions.