How Duane Allman's Fall From A Horse Changed The Way He Played Guitar Forever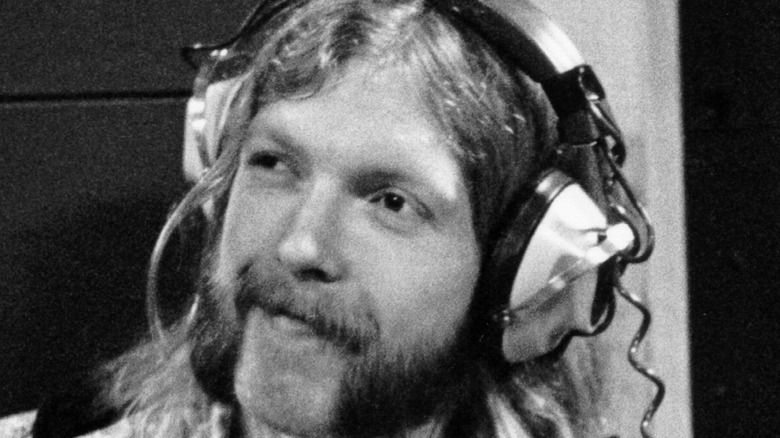 Michael Ochs Archives/Getty Images
Though he was only part of the Allman Brothers Band for a few years, Duane Allman left an indelible legacy as one of the greatest guitarists of his generation. He was only 24 years old — a month shy of his 25th birthday — when he was killed in a motorcycle accident on October 29, 1971, and while most bands would have likely thrown in the towel after such a heartbreaking loss, the Allman Brothers kept pushing forward, recording several more albums and even crossing over to the pop charts a few times before they finally called it a day in 2014. Regardless of whether or not 30-plus-minute extended live jams (of which they had plenty) are your cup of tea, you can't deny the Allman Brothers Band's importance to Southern rock — and classic rock in general.
Of course, no discussion about the Allmans is complete without a mention of Duane Allman's distinctive guitar playing style. He was certainly not the first slide guitarist to gain fame through that technique, but he was an innovator in his own right, as proven during his comparatively brief time in the spotlight. None of that would have happened had it not been for a freak accident that took place a few years before he and his younger brother Gregg formed the Allman Brothers Band.
The accident: Duane Allman suffered a hairline fracture after falling from a horse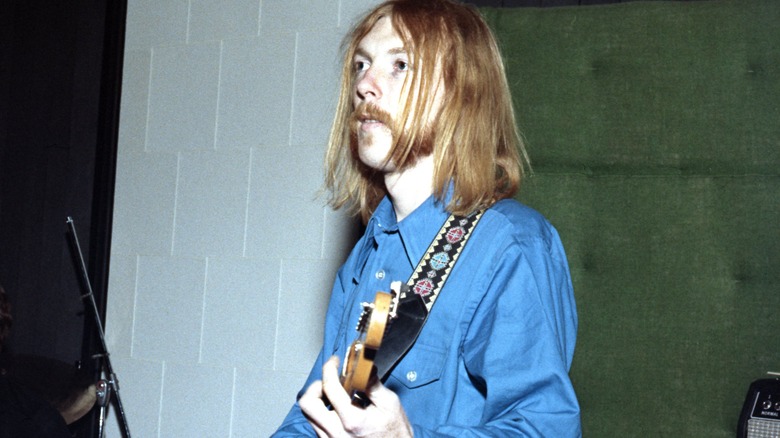 House Of Fame Llc/Getty Images
Our story begins in the late 1960s when Duane and Gregg Allman were based in Los Angeles — this was likely during the time that they were part of a band called Hour Glass, which ended up releasing two unsuccessful albums (via Southern Garage Bands). As Gregg Allman recalled in November 2016, just a few months before his death, life in L.A. was anything but exciting, as his group's manager at the time didn't have any gigs — or anything else productive to do — for them. As such, he decided one day to head to the location where "The Lone Ranger" and other Western films were shot. Renting horses, he said, was just as easy as taking one of them, with nobody there to provide supervision or offer safety-related guidance to would-be riders.
According to Gregg, he had to talk Duane into joining him at the location. "The stable was up this hill and you had to ride your horse down the hill and cross this paved highway," he continued. "I said, 'Man, be careful, because the horse is shod. If he falls, he'll bust both of your a**es.' Well, guess what happened. The horse got spooked and fell over on its side."
As a result of the fall, Duane Allman suffered a hairline fracture, leaving him temporarily unable to play the guitar. Combine that with the fact he also had a bad cold at the same time, and there was no brotherly love in the Los Angeles air — apparently, Duane blamed his younger brother for dragging him out for some horseback riding. 
Duane found a cool new use for a bottle of cold medicine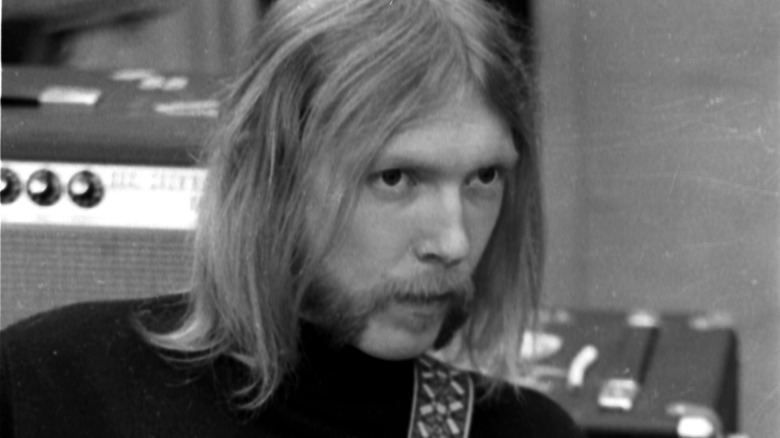 Michael Ochs Archives/Getty Images
As he recovered from his horseback riding accident, Duane Allman continued to give his brother Gregg the cold shoulder. In an attempt to make things right on Duane's birthday, Gregg bought two gifts for his big brother — a copy of bluesman Taj Mahal's debut album and a bottle of Coricidin pills for his cold. Not wanting to risk Duane's wrath, Gregg left the gifts by his door and quickly left after knocking. Two hours later, he received a call from Duane, who was in very high spirits as he excitedly told him to drop by.
"He had his arm in a sling," Gregg Allman told The 11th Hour (via DuaneAllman.info). "He was listening to the album, and I saw all of these cold pills all over the coffee table. He told me he had washed the label off of the pill bottle. Then he said, 'Listen to this.' He was already pretty well burning it up."
Thanks to Duane Allman's MacGyver-esque innovation of using the empty Coricidin bottle as a slide, he found a new way to play guitar, and the rest was history. He also wasn't the only guitarist to use such a gadget when playing slide guitar; Lynyrd Skynyrd's Gary Rossington was one prominent example (via Uncut), as he used that same technique when playing the slide solo on "Free Bird," effectively paying tribute to the late axeman a few years after his death.