Where Is Bob Ross Buried?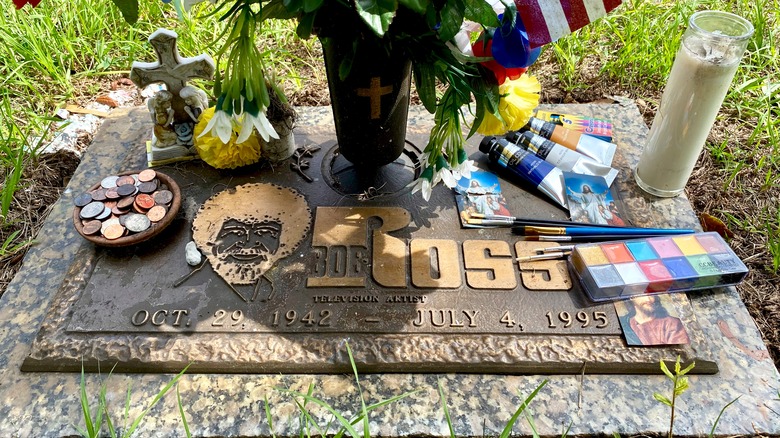 EWY Media/Shutterstock
In 1983, "The Joy of Painting" made its debut on PBS. The show was short and simple; PBS explains that each episode was 30 minutes long and consisted of the host, Bob Ross, painting a nature-filled scene. With his calm demeanor and easy step-by-step instructions, both the show and Ross became a hit. Born in Daytona, Florida in 1942, Britannica writes that Ross dropped out of high school in the 9th grade. He subsequently worked as a carpenter before joining the Air Force at 18. Ross would spend the next 20 years in the military.
However, as he later explained to the Orlando Sentinel in 1990, the military wasn't an accurate reflection of who he was. As he put it, "The job requires you to be a mean, tough person. And I was fed up with it. I promised myself that if I ever got away from it, it wasn't going to be that way anymore"(via CS Monitor). Needless to say, Ross kept his promise.
While stationed in Alaska, Biography reports that he took up painting. Soon after, he met William Alexander, the man who became his mentor. According to Britannica, Alexander taught Ross his signature wet-on-wet painting technique. Alexander had his own show titled "The Magic of Oil Painting" on PBS. When his show ended in 1982, Ross took over and eventually became his permanent replacement.
How Bob Ross became a cultural icon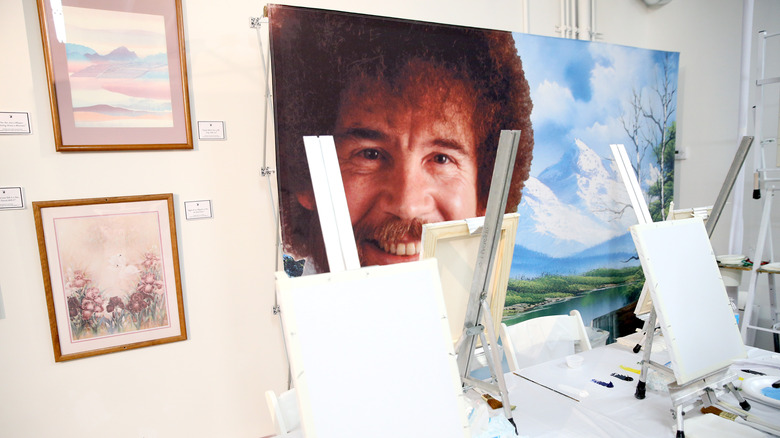 Robin Marchant/Getty Images
According to NPR, Ross' artistic career took off when he met Annette Kowalski. She was a fan of Alexander's show and signed up to take one of his art classes. Instead, however, Ross was the one who taught the class. Although Kowalski wasn't eager about it, she soon realized that Ross was something special. She asked to be his manager and soon after, Ross made a TV deal with PBS. When "The Joy of Painting" premiered, All That's Interesting reports that several factors contributed to its popularity. For one, there was Ross' sweet and patient aura.
In fact, Biography states that 90% of people who watched the instructional-based show did not paint along with him. However, if they did want to paint, Ross used inexpensive tools and regular paper (via All That's Interesting). In other words, anyone could participate. His signature catchphrases and sayings also stuck with audiences. These included "happy little clouds" and "happy accidents." 
Britannica reports that Ross capitalized on his newfound fame by establishing Bob Ross Inc. to sell merchandise, art supplies, and more. Eventually, "The Joy of Painting" was internationally distributed, exposing Ross to a legion of newfound fans that adored his soothing presence. All in all, the show ran for 11 years. In 1994, shortly after the death of his wife Jane, Ross was diagnosed with non-Hodgkin's lymphoma, per The Atlanta-Journal Constitution. 
Bob Ross' final days
At first, Ross did not let his cancer diagnoses get in the way of working on "The Joy of Painting" (Per The Atlanta Journal-Constitution). When he lost his hair from treatment, Biography writes that he wore a wig to maintain his signature permed hairstyle on-screen. Eventually, however, Ross had to step away from his beloved show to focus on his health. Outsider states that the final episode of "The Joy of Painting" aired on May 17, 1994. Those who knew Ross believe that his cancer may have resulted from years of using paint thinner. Others, however, blame years of smoking (via All That's Interesting).
According to Britannica, Bob Ross died in Florida from lymphoma on July 4, 1995. He was only 52-years-old. Ross, who was notoriously a private and humble man, requested that only his loved ones attend his funeral. Per Find a Grave, he is buried at Woodlawn Memorial Park in Gotha, Florida. His plot can be found in section O in lot 53. Moreover, his headstone features an engraved portrait of Ross with his signature afro that reads "television artist." Roadside America reports that Ross' grave is incredibly popular with tourists and fans alike. Mementos, paintings, and more are often found at the site to honor the late artist.
Upon his death, Ross' son Steve and his managers, the Kowalski family, became embroiled in a battle over his estate. In 2019, The Atlanta Journal-Constitution explains that a court ruled against Steve's case. To this day, the Kowalskis have control of Bob Ross Inc. (via NPR).