Why Did It Take Three Years For The Nipsey Hussle Murder Trial To Begin?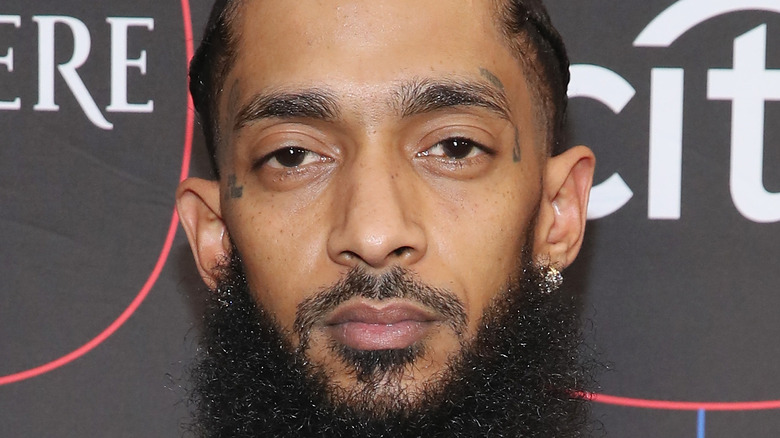 Randy Shropshire/Getty Images
Posthumous Grammy-Award winning rapper Nipsey Hussle was shot dead in front of his Los Angeles clothing store on March 21, 2019. The trial of Eric Holder, the alleged killer, began in June of 2022, more than three years after the musician was killed, based on reporting from Rolling Stone. Holder, who was acquainted with Hussle, shot the "Blue Laces" rapper (via Rolling Stone) after Hussle allegedly confronted the suspect over snitching, according to the prosecution in the case. Holder lives with a history of mental health challenges and was despondent over the recent death of his mother when the murder took place, according to Holder's defense, as New York Daily News also reports.
Though a grand jury indicted Holder for the crime in 2019, Holder pleaded not guilty, according to Essence. As well as the murder charges, Holder is accused of two counts of attempted murder with a firearm for hitting a bystander in the melee, and one count of a felon in possession of a firearm, as Essence also notes.
If not for a series of unpredictable circumstances, the Nipsey Hussle murder trial may have already concluded. After court proceedings finally commenced, Los Angeles County Deputy District Attorney John McKinney said (via Rolling Stone), "We have been looking forward to the day that we could present evidence in court on this case."
The Nipsey Hussle trial was first delayed due to the pandemic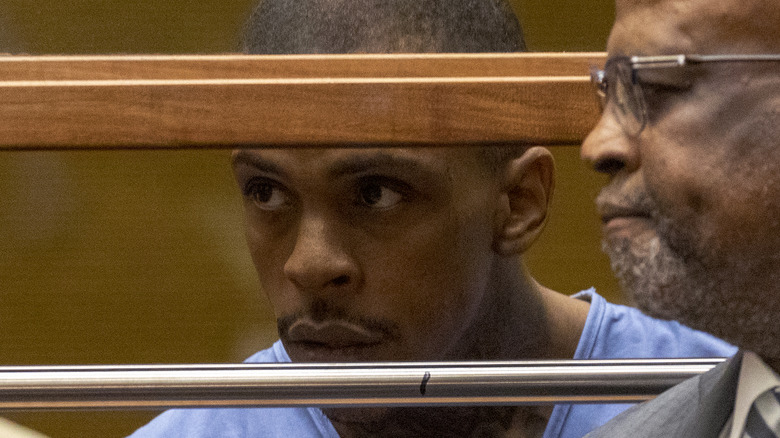 Pool/Getty Images
The first major issue preventing the trial of accused Nipsey Hussle killer Eric Holder was the COVID-19 pandemic, which caused significant lockdowns to mitigate spread of the virus all throughout California, per NBC Los Angeles. Although a three-year gap before a trial begins is not unusual, the suspect's defense attorney, Rachel Fiset, expressed misgivings about the delay (via Los Angeles news outlet ABC7). "​​Witnesses may forget things, witnesses' memories become hazy, people move away, that's generally the issues with a longer trial," she said. More time before appearing in court also gives both the defense and the prosecution time to better prepare for the case, Fiset added.
If convicted, Holder (pictured) could be sentenced to life in prison. Several eyewitnesses testified they saw Holder commit the shooting. The musician's death was not premeditated, nor were the injuries of a nearby man, according to Holder's defense. Holder's mental health should also be taken into account in the trial, his possible conviction, and in his potential sentencing, his defense attorneys also assert, according to NBC News.
A judge in the case retired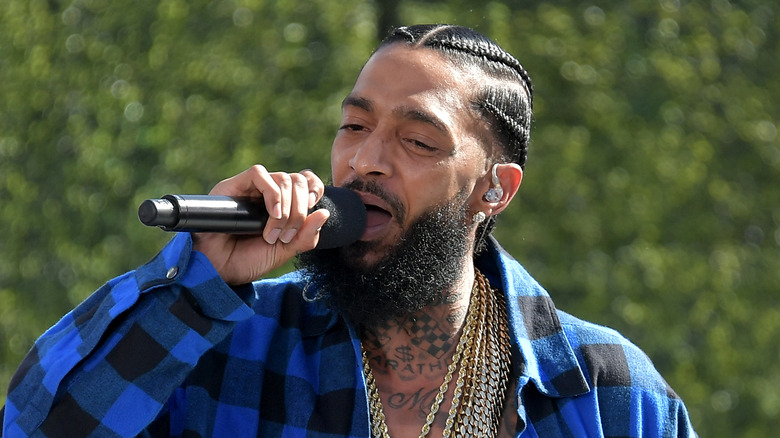 Neilson Barnard/Getty Images
After COVID-19 safety precautions loosened in Los Angeles in 2021, the next significant hurdle blocking the trial of Eric Holder from getting underway was the retirement of Judge Robert Perry, as New York Daily News reports. In this case, Holder and his defense attorneys agreed to the delay. In his opening statement, L.A. Deputy District Attorney John McKinney showed jurors pictures and videos that capture Holder as he fled the scene, and that show him in possession of the weapons with which he allegedly committed the crime, per NBC News. Holder is accused of shooting Hussle multiple times before he also kicked him in the head. "He clearly thought about what he was going to do before he did it," McKinney said in the courtroom (via NBC News).
Shortly before the trial began, public defender Aaron Jansen told Rolling Stone that Holder was under emotional duress on the day that his client is accused of killing Hussle. Holder has "a substantial mental health history predating all of this, and he was getting treatment, and his medication dosage was high," Jansen said. Holder was also recently treated with electroshock therapy prior to the incident, Jansen told Rolling Stone. For this reason, Holder's defense seeks to prove in court that assault with a deadly weapon is a more appropriate charge for their client than the two counts of first-degree attempted murder, of Hussle as well as another man who was injured in the shooting. Holder's bail has been increased to $6.53 billion, reports Essence.