The Rolling Stones' Second No. 1 Hit Has A Pretty Ironic Meaning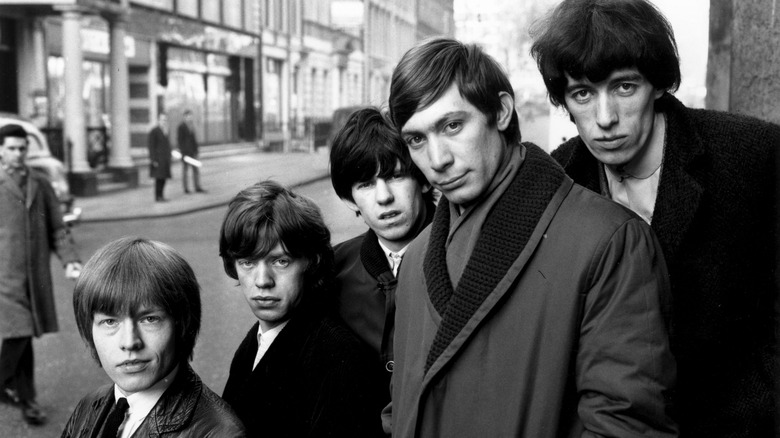 Terry Disney/Getty Images
In what turned out to be some sort of backward, incidental self-fulfilling prophecy, the Rolling Stones garnered more satisfaction than they could handle by proclaiming worldwide that they couldn't "get no satisfaction." In 1965, "Satisfaction" became the band's first No. 1 hit according to The List Wire, skyrocketing them into a crucible of stardom and unprecedented admiration from fans worldwide. At that point, The Stones were just starting to roll, and while the fame and glory that they'd craved for so long was certainly something to be cherished, it had a tendency to get overwhelming at times.
Today, 60 years after their conception, The Rolling Stones are often regarded as the greatest rock band of all time. In 2014 as Forbes reported they'd sold over 240 million records worldwide and were grossing an average of $10.1 million per U.S. show during their recent "No Filter" tour (via Ultimate Classic Rock). All these years later, The Stones are well versed in the hysteria that surrounds their iconic legacy, but when they were first cutting their teeth on the world of music back in the '60s, the group found themselves in over their heads. Following the success of "Satisfaction," fans were hungry for another hit. It didn't take long for the band to oblige, though it was the chaos and discontent associated with trying to get it out as soon as possible that ironically inspired its meaning (per Song Facts). Shortly after, "Get Off of My Cloud" became their second No. 1 hit. 
Get off of our cloud!
Dave J Hogan/Getty Images
"'Get Off My Cloud' was basically a response to people knocking on our door asking us for the follow-up to 'Satisfaction,' which was such an enormous hit worldwide," guitarist Keith Richards recalled years later (via Song Facts). "This, to us, was mind-blowing. We thought, 'At last. We can sit back and maybe think about events.'" Unfortunately, there was no such reprieve to be found in the wake of "Satisfaction's" success. People were hungry to see what else the band had in store, and patience had no place amongst their newly acquired fanbase. 
Though the heat was on and The Rolling Stones were frantically trying to assemble the rudiments of a new song, it only took a simple look at the world around them to make it happen. Yes, the staggering success and warm reception of their music was flattering, but they also needed time to recharge collectively. The Stones had conditions of their own that could be summed up in a simple message: back off, slow your roll, and get off of our cloud. 
Get Off of My Cloud was mistaken for a drug song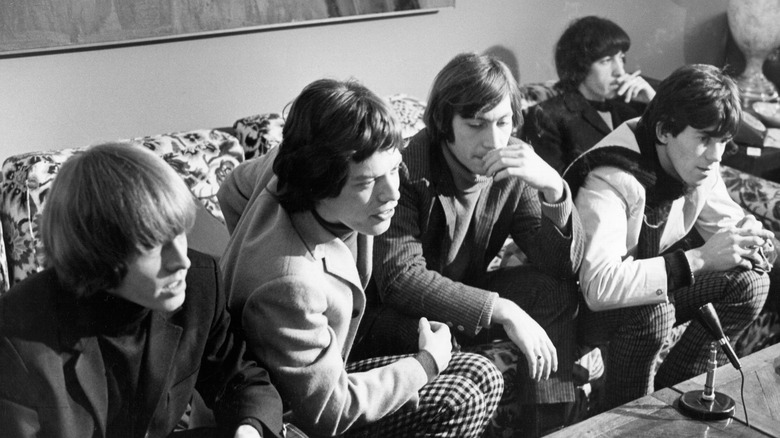 Michael Ochs Archives/Getty Images
It's not unusual for certain songs from the '60s and '70s to be mistaken as anthems of drugs glorification, like Bob Dylan's "Rainy Day Women #12 & 35" which fans have falsely assumed is about smoking marijuana since its release (per Rolling Stone). "Get Off of My Cloud" was one such song. Apparently, certain radio stations presumed that the "cloud" Jagger was singing about was a marijuana cloud, so they refused to play it because of its alleged unsavory subject matter. However, The Rolling Stones have cleared the smoke surrounding "Get Off of My Cloud's" true meaning, asserting that it has absolutely nothing to do with getting high (via Song Facts). 
"That was Keith's melody and my lyrics." Mick Jagger shared in 1995. "It's a stop-bugging-me, post-teenage-alienation song. The grown-up world was a very ordered society in the '60s, and I was coming out of it. America was even more ordered than anywhere else. I found it was a very restrictive society in thought and behavior and dress" (per Song Facts).