Inside The Tragic Relationship Between Dorothy Stratten And Peter Bogdanovich
Araya Doheny/Getty Images
In 1980, Canadian model Dorothy Stratten seemingly had it all (via Global News). At only 20 years old, Harper's Bazaar writes that she had been named Playboy's Playmate of the Year and was in the process of getting her acting career off the ground. Born as Dorothy Hoogstraten, All That's Interesting reports that her life drastically changed in 1978 when she met Paul Snider. He was an older man with a rugged past and first encountered the gorgeous blonde at a Dairy Queen in Vancouver. In Snider's words, he knew that Stratten's good looks "...could make me a lot of money" (per All That's Interesting).
According to ABC News, Snider, a self-proclaimed pimp, heavily pursued and lavished a teenage Stratten until she agreed to take nude photographs for Playboy. Impressed by her beauty, Playboy flew her to Los Angeles for test shots, changed her last name, and subsequently named her Miss August 1979. As Stratten's Playboy career took off, Harper's Bazaar states that Snider became incredibly controlling and desperately clung to Stratten for fame and financial gain. In June 1979, Snider convinced Stratten to marry him (via All That's Interesting).
A few months later, Stratten was cast in "They All Laughed," a film directed by Peter Bogdanovich. Per The Washington Post, Stratten and Bogdanovich first met in October, 1978. ABC News explains that Bogdanovich and Stratten connected at the Playboy Mansion. He became infatuated with her and wrote a role specifically for her in "They All Laughed."
Peter Bogdanovich and Dorothy Stratten's affair
Dorothy Stratten's marriage to Paul Snider began to unravel as she distanced herself from him and his control, according to All That's Interesting, Instead, she focused on her burgeoning film career and flew to New York in 1980 to film "They All Laughed" (via The Washington Post). ABC News reports that director Peter Bogdanovich later confessed that he and Stratten had fallen in love prior to the start of the film's production. In any case, the pair began to have an affair and Stratten moved in with Bogdanovich. While on set, he reportedly told Stratten's co-star Colleen Camp that he was "madly in love" with Stratten (per ABC News).
As for Stratten, Harper's Bazaar states that she separated from Snider in June of that year. She was said to have been racked with guilt over the affair and Stratten wanted to ensure that he was financially okay (via All That's Interesting). When filming for "They All Laughed" wrapped, Stratten and Bogdanovich returned to Los Angeles and moved in together. In a 1984 interview with The Washington Post, Bogdanovich stated that "She was unhappy in her marriage and had been for over a year. I wasn't taking Dorothy away from her husband. Her husband had already lost her long ago."
Of course, Snider did not agree with this sentiment. On August 14, 1980, Stratten met with her estranged husband at their former home. Snider proceeded to assault and fatally shoot Stratten before turning the gun on himself.
Peter Bogdanovich blamed Hugh Hefner for her death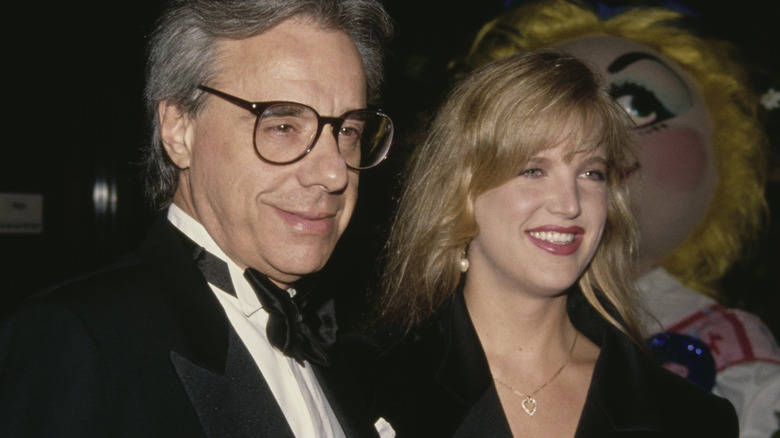 Michael Ochs Archives/Getty Images
Dorothy Stratten's death completely shattered Peter Bogdanovich, as ABC News writes. She was buried at Westwood Memorial Park in Los Angeles shortly after (via Find a Grave). Bogdanovich chose to engrave her headstone with a quote from "A Farewell to Arms" by Ernest Hemingway. He later told the The Washington Post that "One of the main things that happened as a result of the murder is that I refuse to take anything for granted any longer." Four years after her murder, Bogdanovich wrote and published "The Killing of The Unicorn." The book delves into his and Stratten's relationship as well as who he thinks is at fault for her death.
In the book, Bogdanovich blames Playboy and it's founder, Hugh Hefner for her murder and alleges that he may have acted innapporpriately towards her (per Global News). Hefner denied these claims and stated that "Dorothy's tragic death was motivated not in any way by her association with Playboy, but clearly by the breakup of her marriage, because of the affair with Peter Bogdanovich" (via ABC News). Despite Stratten's death, Bogdanovich remained close with her family. In 1988, at the age of 49, he married Stratten's younger sister, Louise (seen above) when she was just 20-years-old.
The pair later divorced in 2001 but continued to work together on film's including "She's Funny That Way" (via ABC News). In 2020, AP News reported that Bogdanovich, Louise, and her mother were living together in Los Angeles. According to The Hollywood Reporter, Peter Bogdanovich died on January 6, 2022, aged 82.