The Unusual Thing John Wayne Wore Under His Tuxedo At His Final Public Appearance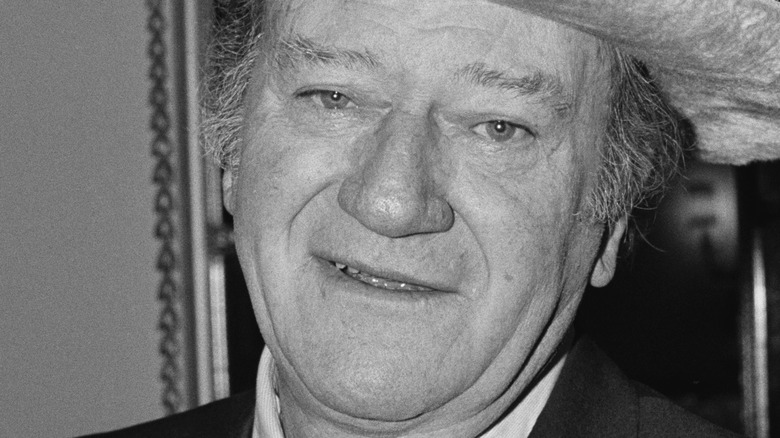 Victor Blackman/Getty Images
For most of his lengthy career, John Wayne was the kind of actor who projected an air of virility onscreen. However, as he aged that image couldn't have been further from the truth of what the Duke was actually dealing with away from the set. According to Express, the last 15 years of Wayne's life saw him battling one health issue after another, including a bout with cancer in the 1960s. Wayne was a smoker his entire life, even after his cancer required surgery to remove his lung and several ribs.
Still, the legendary actor continued to take roles and even did his own stunts when he could. He also continued to smoke cigars after calling it quits with cigarettes. In 1973, one of Wayne's frequent collaborators, director John Ford died, which reportedly led Wayne to remark that he was "on borrowed time." Still, while the truth was John Wayne's health was deteriorating, he went to great lengths to try to make things appear different.
The final years of John Wayne's career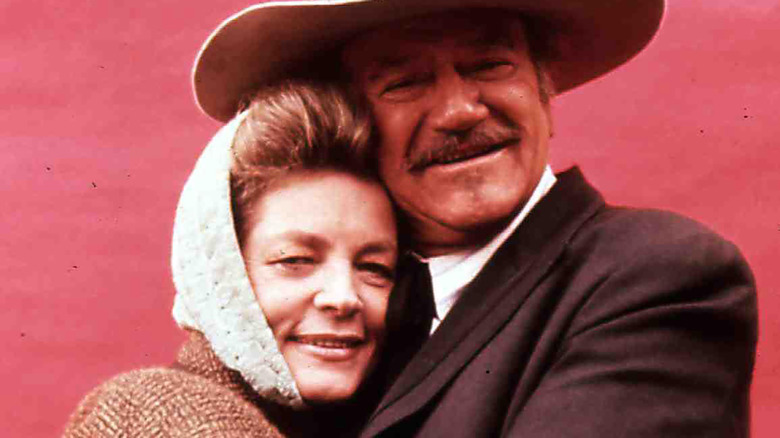 FilmPublicityArchive/United Archives via Getty Images
In the final years of his life and career, John Wayne continued taking film roles that he was clearly too old for. Not only did he need superficial help in the form of a toupee to make the film, but he also needed an oxygen mask to survive, especially on occasions when he was shooting westerns on location at high altitudes, per Outsider.
John Wayne is best remembered as one of the biggest stars the western genre has ever seen, and he appeared in his final western film, "The Shootist," in 1976 (promotional shot is pictured), which also starred Lauren Bacall, Ron Howard, and James Stewart (via Outsider). In it, Wayne playes the part of J.B. Brooks, a gunslinger who happens to be dying of cancer, per Biography. Wayne had already dealt with cancer once before but was diagnosed again in 1978.
This time the diagnosis was stomach cancer, and Wayne hoped to fight it by signing up for a vaccine study that sought to find a cure for the kind of cancer he was suffering from. Sadly, Wayne's cancer progressed rapidly and he was unable to receive chemotherapy or begin the experimental treatment he had volunteered for. Wayne died on June 11, 1979. However, that didn't stop him from making one last public appearance at the 51st Annual Academy Awards.
Wayne wore a wetsuit under his tuxedo in his final public appearance
The 51st Annual Academy Awards took place on April 9, 1979, just over two months before Wayne's death. The ceremony saw Oscars going to Jon Voight and Jane Fonda for their roles in "Coming Home," Christopher Walken for his part in "The Deer Hunter," Maggie Smith in "California Suite," and Michael Cimino for directing "The Deer Hunter" among others. Johnny Carson introduced John Wayne to the stage so he could present the award for best picture. The Duke received a standing ovation, but viewers immediately noticed something was up. This was because, under his tuxedo, Wayne was wearing a wetsuit to make him appear more muscular, and healthier, per Express.
"Thank you, ladies and gentlemen," Wayne said. "That's just about the only medicine a fella would really ever need. Believe me, when I tell ya, I'm mighty pleased that I can amble down here tonight. Well, Oscar and I have something in common: Oscar first came to the Hollywood scene in 1928, and so did I. We're both a little weather-beaten, but we're still here and plan to be around for a whole lot longer."
He then presented the award for best picture to "The Deer Hunter" and left the stage. It was his final public appearance before his death a few months later.