Who Was The First Woman To Appear On A Wheaties Box?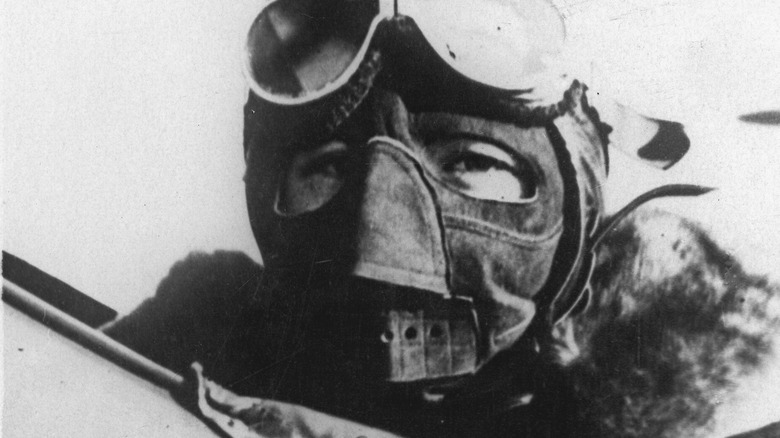 Austrian Archives/Imagno/Getty Images
For decades, one of the longest-running marriages between sports and marketing has been in the form of cereal boxes depicting athletes. Specifically, since 1934 Wheaties — the "Breakfast of Champions," according to its tagline — has depicted athletes on its boxes, as Smithsonian Magazine reports. Over the decades, the program has expanded to include whole teams instead of just individual athletes, as well as athletes in more low-profile sports than just baseball or tennis (one of the biggest sports at the time). "Wheaties has served as a staple in sports culture. Since 1934, 850 athletes have appeared on Wheaties boxes spanning decades, sports, gender, age, and unforgettable moments in history. Wheaties has reserved its boxes for champions who use their sports platforms for something greater and inspire others," said Taylor Gessell, brand experience manager at manufacturer General Mills.
In 1934, whether it was due to a bit of forward-thinking about the importance of representation, or whether it was because they wanted to latch on to a popular source of news at the time, Wheaties honored not just athletes, but aviators; although, to be fair, flying (at the time anyway) required dexterity, stamina, physical fitness, the ability to think on your feet — all qualities of an athlete. And, one of the aviators honored that year had made a name for herself as a 16-year-old girl: Elinor Smith holds the honor of being the first female athlete depicted on a Wheaties box.
Elinor Smith, The 'Flapper Aviator'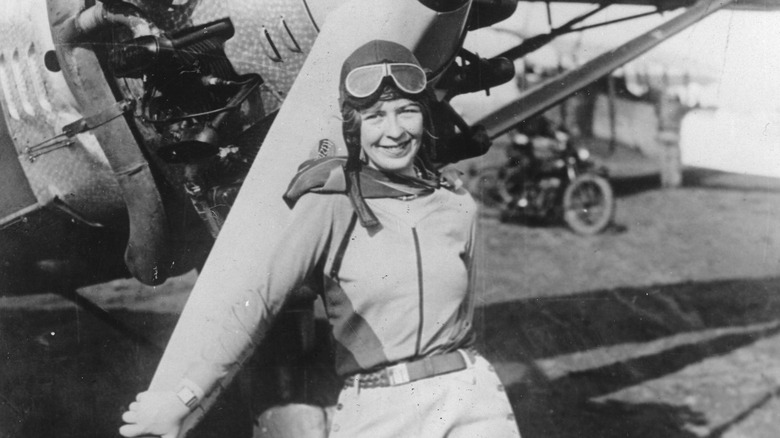 Imagno/Getty Images
In most states in the United States, you have to be 16 before you get your driver's license, but according to Southern Utah University, you can take the controls of an aircraft at any age, as long as there's a licensed pilot in the aircraft with you.
Back in the heady days of the 1930s, however, things were decidedly different. Private aviation was a new and exciting thing, and laws about who could pilot a craft were either comparatively freewheeling or utterly nonexistent. And, over in Freeport, Long Island, according to Cradle of Aviation, a young lass named Elinor Smith, who lived among other pilots, had access to wide-open fields on which to take off and land. By the age of 15, in 1928, she was doing solo flights and performing stunts, setting endurance records, and otherwise pushing the envelope of what both plane and pilot could do.
By 1934, Elinor was an adult woman, though she had made a name for herself as a teenage pilot; in fact, one of her biggest accomplishments was becoming the youngest person (at the time) to be licensed to fly a plane, at the age of 15. When Wheaties began depicting athletes on boxes that year, she and two other aviators — Martin and Osa Johnson — as well as baseball stars Lou Gehrig and Jimmie Foxx, were honored in the first year of the product honoring athletes.
Elinor Smith's Legacy
Imagno/Getty Images
Though she was honored by being depicted on a Wheaties box in 1934, by that time Elinor Smith's flying career was largely over. As the New York Post reports, she'd taken more than her share of risks, and at least once had suffered a terrible crash that knocked her unconscious and could have claimed her life had things gone differently. Further, the Great Depression was raging, and flying for the sake of flying just didn't make much sense. Elinor married and spent the next 20 years as a homemaker.
In 1956, her husband died and Elinor got back into the cockpit. By this time, however, her pilot's license had been revoked, and her flying was limited to test-flying aircraft for the Air Force Association. In 2000, at the age of 89, she participated in a computer simulation and landed the space shuttle in the program, becoming the oldest pilot to do so.
Smith died in 2010 at the age of 98.