Paul Walker's Chilling Words Before Death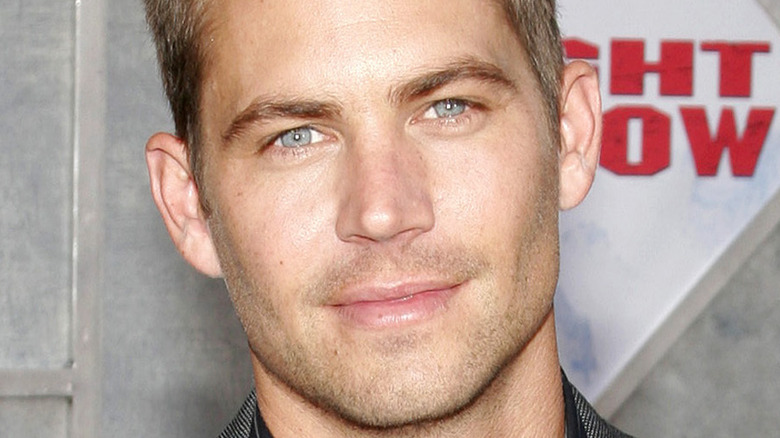 Tinseltown/Shutterstock
When Hollywood actor Paul Walker died at the age of 40 in 2013, his career was ascendant. He starred along with Vin Diesel in the first six installments of the "Fast & Furious" franchise, among other credits (per IMDb). Set in a criminal underworld full of espionage and intrigue, the "Fast & Furious" action films are largely concerned with street racing. That was an eerie coincidence, given the manner in which Walker was killed: as a passenger in a catastrophic Southern California car accident. Walker was reportedly traveling in excess of 100 mph in the passenger seat of a 2005 Porsche Carrera GT, as The Daily Mirror reports.
In addition to his "Fast & Furious" franchise appearances, Walker was known for roles in "Pleasantville," "Varsity Blues," and "Flags of Our Fathers," among others, according to Walker's filmography on IMDb. As of this report, the "Fast & Furious" series ranks among the most lucrative film franchises in history, per CNBC.  The manner in which Walker died puts him among a number of other well-known movie stars who died in car wrecks, including James Dean, Grace Kelly, and Jayne Mansfield (via HotCars).
Most notably, though, the tragic car wreck in which Walker was killed echoes the car-centric nature of Walker's most well-known role. This fact is deepened by what the actor purportedly said just before he died. Those words were revealed by a friend who overheard the star just prior to Walker speeding away in the Porsche, based on reporting from News24.
Walker's friend was behind the wheel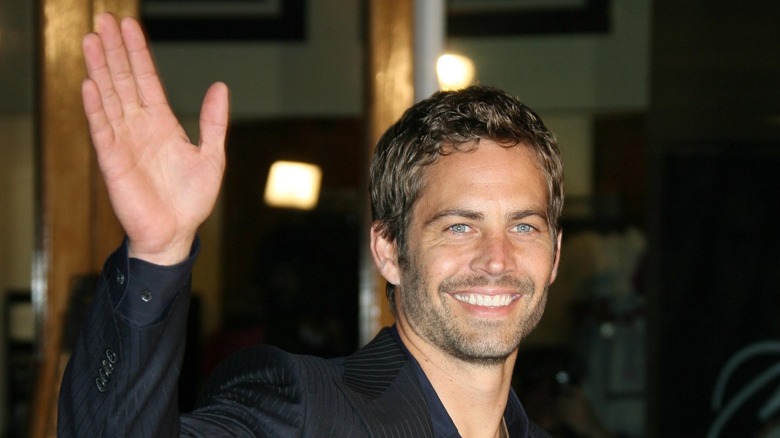 s_bukley/Shutterstock
Walker decided to join his friend Roger Rodas in a test drive of the high-end vehicle after attending a charity event at which the car was displayed, as News24 goes on to report. It was Rodas who was driving the Porsche Carrera GT at the time that Paul Walker's fatal accident happened. Rodas was the owner of the racing shop Always Evolving in which Walker had a stake, according to News24. 
The accident took place in Santa Clarita, California, near Hollywood. A fan of car racing and fancy vehicles, Walker was allegedly excited to experience a Porsche Carrera GT test drive for himself, per News24. The Carrera GT can reach top speeds of 208 mph, and it is also able to reach 60 mph in less than four seconds, according to TopSpeed.
As was later revealed by footage from a nearby security camera, the fatal accident happened when the Porsche hit a pole and then a tree before it burst into flames. No drugs or alcohol were involved, and Walker died from a combination of impact and fire, based on the coroner's report, as The Daily Mirror explains. In the wreck, Walker reportedly broke his jaw, collarbone, and left arm, among other injuries. 
With soot in his trachea, it's believed that Walker survived the wreck, though badly injured. He reportedly died in the ensuing conflagration (via The Daily Mirror). Walker's body was so badly burned it was otherwise unrecognizable, as The Daily Mirror goes on to report.
'Fast & Furious 7' production was underway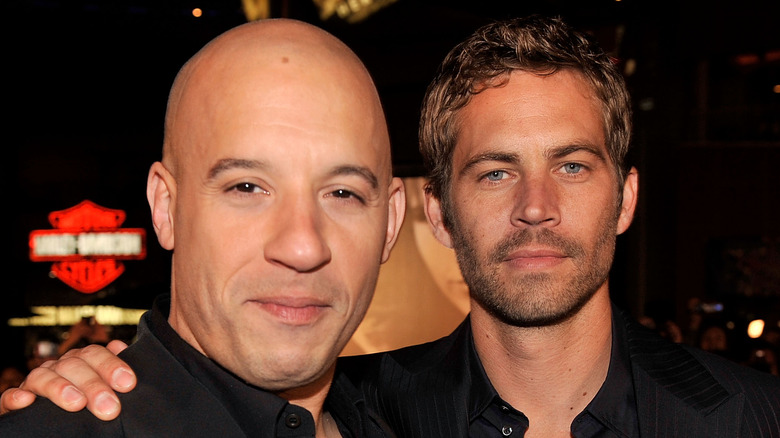 Kevin Winter/Getty Images
Walker was in the middle of filming for the seventh "Fast & Furious" film when he died. After his death, production was shut down, and proceeds from the sixth installment were then donated by the production company to Paul Walker's charity, Reach Out Worldwide, founded by Walker in the aftermath of the disastrous 2010 earthquake in Haiti. Also at the charity event that Walker attended shortly before his death was another close friend of the star, Jim Torp.
After he witnessed the accident, Torp tried to pull Walker from the wreckage, but was unable to do so because of the flames, as The Daily Mirror also reports. Walker's final words, beyond what he may have said to Roger Rodas, who also died in the wreck, were spoken to Torp. The last time Torp spoke with Walker, the star said (via News24), "Hey, let's go for a drive," as Torp later revealed to reporters. 
Torp continued (via The Daily Mirror), "[Walker] lived his life and he died fast and furious ... He loved speed, he loved cars, and he had to die this way. He died in a very fast car with his friend." After Walker's death was revealed, his "Fast & Furious" co-star and friend, actor Vin Diesel, shared his thoughts on Instagram. "My children always tell me that uncle Paul is with you dad, always ... and I know in my heart that they are right. Miss you Pablo," Diesel wrote. Walker is survived by his daughter, Meadow Walker who, when she married, asked Diesel's daughter to be her maid of honor.