The Elton John Song Someone Saved My Life Tonight Has A Much Darker Meaning Than We Thought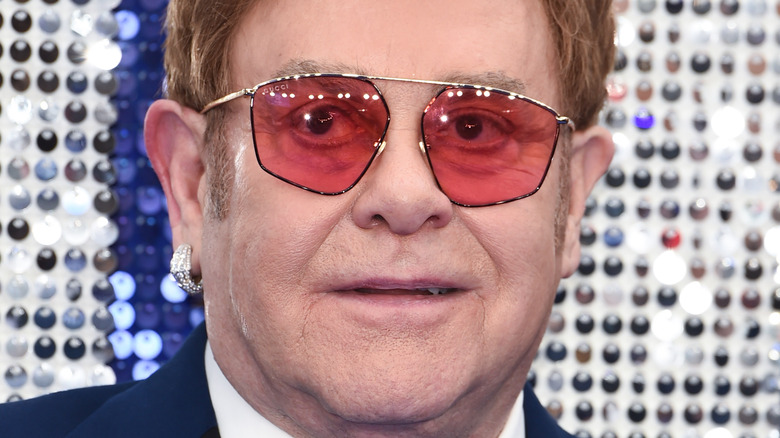 Featureflash Photo Agency/Shutterstock
During his long and eventful career, the inimitable Elton John has brought the world an incredible array of music. Some of his hits are energetic, joyful, raucous numbers, such as "Saturday Night's Alright (For Fighting)" and " Crocodile Rock." He's proven equally adept, though, at delivering truly poignant, touching songs like the iconic "Your Song" and "I Guess That's Why They Call It The Blues."
From his remarkable sense of fashion to his skill at the piano, John is every bit the superstar musician, but long-time lyricist Bernie Taupin has been an invaluable part of his success for decades. John has always acknowledged the great talent of his collaborator, telling Jim Kerr in a 2019 iHeartRadio ICONS Launch Party interview (via iHeartRadio on YouTube) that "his words always tell stories, his songs always tell stories."
The origins of these stories, naturally, differ an awful lot from song to song. In the case of "Someone Saved My Life Tonight," a sad incident from John's own life seems to have been the inspiration.
As AllMusic reports, this song first appeared on 1975's "Captain Fantastic and the Brown Dirt Cowboy." The outlet's Mike DeGagne describes the song as among the singer's "most intimate and biographical ... touching on Elton John's contemplation of suicide, which led to an actual attempt." It's a tragic and haunting piece.
The troubled musical genius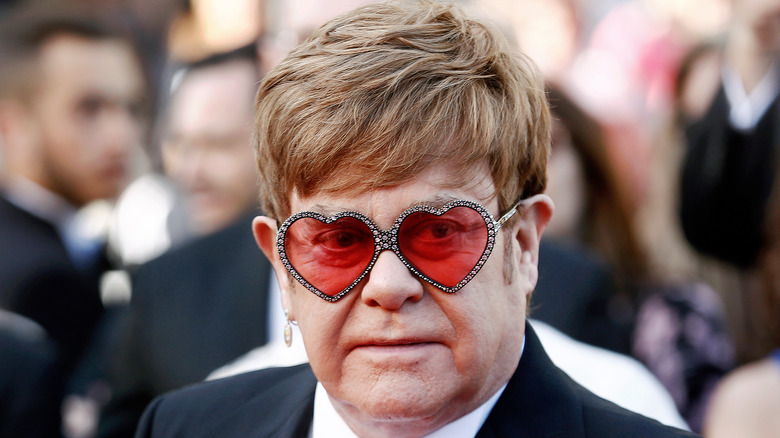 Andrea Raffin/Shutterstock
John has shared that his many romantic misadventures left him disgusted with himself. He writes in his autobiography "Me," per the Daily Mail, "I'd see someone I liked the look of ... I'd buy them the watch and the shirt and the cars, but eventually ... they'd end up resenting it, I'd end up getting bored with them ... I'd get someone else to get rid of them for me and start again. It was absolutely dreadful behaviour."
John goes on to confess that, beneath it all, he was "insecure and body-conscious and self-loathing." After a recording session one day, tormented by these thoughts, he took twelve valium tablets and retired to bed. "I can't remember what exactly prompted me to do that," he confesses, "although it was probably some catastrophic love affair gone wrong."
It seems that one such disastrous relationship did indeed inspire "Someone Saved My Life Tonight." In 1970, per American Songwriter, John had been weeks away from marrying Linda Woodrow, his partner and secretary at the time. Woodrow was also living with the "Tiny Dancer" crooner and Taupin at the time, and combined with his doubts about the upcoming wedding, it all made for a situation fraught with difficulties. John reportedly terminated the engagement in the early hours of one drunken morning, just another calamity in a life that has been, like so many others, both blessed and cursed by fame.
It seems that Long John Baldry saved Elton John's life that night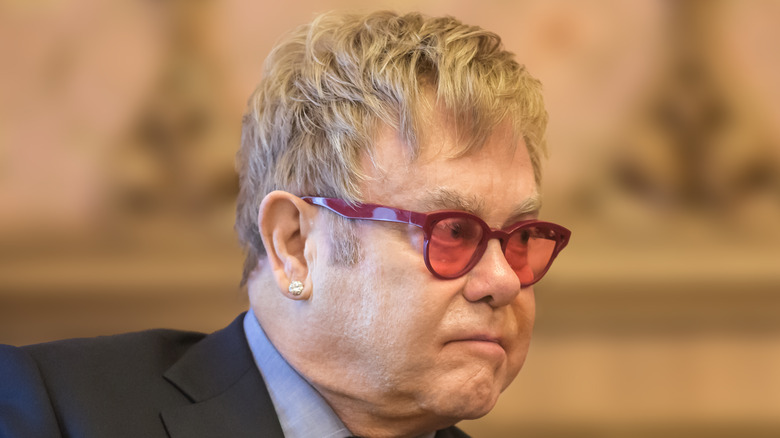 Drop of Light/Shutterstock
Two years before, according to David Buckley's "Elton: The Biography," Taupin discovered Elton John with his head in the gas oven. Reportedly, "a pillow [had] been placed inside for Reg's head, and all the windows [had] been left open." Writing in The Guardian/The Observer in 2019, John considered this "a completely ridiculous suicide bid ... my brilliant plan to try and get out of the wedding."
Fortunately, as American Songwriter explained, he eventually opted for excruciatingly difficult yet necessary words instead. He was reportedly helped to find those words by Long John Baldry, a musician with whom he had played before and who was also homosexual. In Paul Myers' "It Ain't Easy: Long John Baldry and the Birth of the British Blues" (via Three Dollar Bill), John reportedly states that "Someone Saved My Life Tonight" is about "John Baldry ... saying, 'You've got to call the wedding off' ... it could have been an entirely different story. He really did change the course of my life, bless his heart."
Baldry, per Three Dollar Bill, is the "Sugar Bear" referred to in the song.
(If you or anyone you know is having suicidal thoughts, please call the National Suicide Prevention Lifeline​ at​ 1-800-273-TALK (8255)​.