Marilyn Monroe Had A Stunning Net Worth At The Time Of Her Death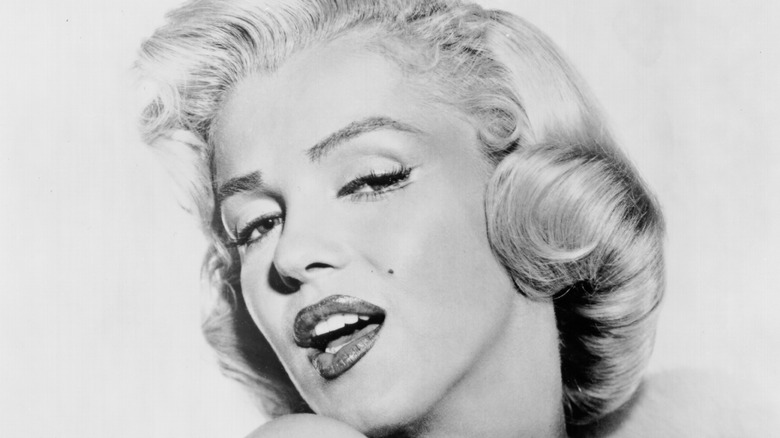 Michael Ochs Archives/Getty Images
On August 4, 1962, blond bombshell Marilyn Monroe died of an overdose. Her maid, Eunice Murray, saw her bedroom light turned on in the early morning hours of August 5 and received no response after knocking. The door was locked, and Murray alerted Monroe's psychiatrist, Dr. Ralph Greenson, of the situation. Dr. Greenson gained entry into the room through a window and found Monroe dead (via History). According to reports, her death was a probable suicide, but it was never confirmed. The actress was just 36 years old. Despite her death at a young age, she remains one of the most iconic actresses in Hollywood.
Monroe, born Norma Jeane Mortenson, came from humble beginnings and grew up in foster homes. A photographer took interest in the teen after seeing her at a munitions factory where she worked. From there, Monroe worked as a model and made her way up the entertainment industry by playing small movie roles, some of which were uncredited. She eventually gained recognition and received starring roles, per Britannica. Monroe became one of the biggest movie stars of the 1950s with movies such as "Gentlemen Prefer Blondes," "The Seven Year Itch," and "Some Like It Hot." At the time of her death, Monroe had starred in at least 30 films. According to Celebrity Net Worth, Monroe was paid between $100,000 to $1 million (about $980,000 to $9.8 million in today's money) for the major movies that she starred in. At the time of her death, however, Monroe reportedly had a net worth of only $800,000 or $7.7 million today.
Marilyn Monroe's lavish spending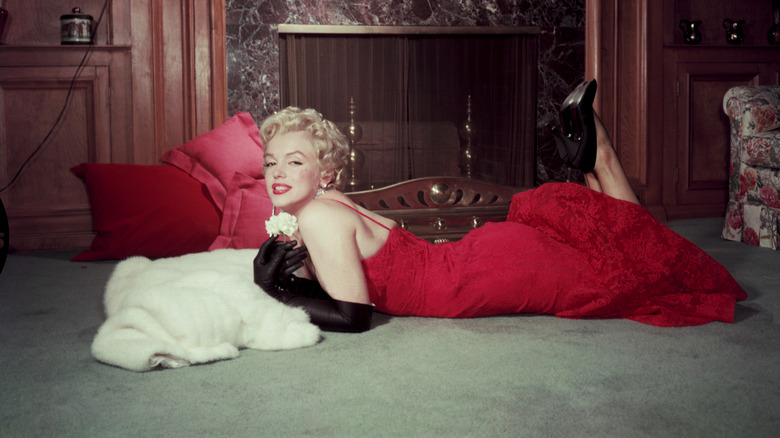 Gene Lester/Getty Images
Marilyn Monroe's net worth at the time of her death may be surprising to some, especially since she was one of the biggest stars during her time. As reported by Celebrity Net Worth, Monroe was a lavish spender and spent a lot of her hard-earned money on clothing and jewelry. As noted by Vogue, the actress was a big fan of Italian luxury shoe designer Salvatore Ferragamo, and the designer even patented a type of shoe for Monroe. One of the many she purchased from Ferragamo was a pair of red, Swarovski-encrusted stilettos worth between $4,000 to $6,000.
Monroe also adored clothing and accessories from another Italian luxury clothing designer, Emilio Pucci. She had multiple pieces from Pucci in her wardrobe and loved the designs so much that she had some of the same styles in different shades. She had scarves, belts, blouses, and dresses from the brand (via The Marilyn Monroe Collection). When she died, she was buried in a green Emilio Pucci dress that was reportedly her favorite.
Apart from her clothing and accessories, Monroe also purchased a home for $650,000 (about $6.2 million today) just months before her death located in Brentwood, Los Angeles. It was in her bedroom in that home where she was found dead. Besides spending for herself, the actress was also known to be generous to her relatives, close friends, and employees when it comes to money.
The blond bombshell's estate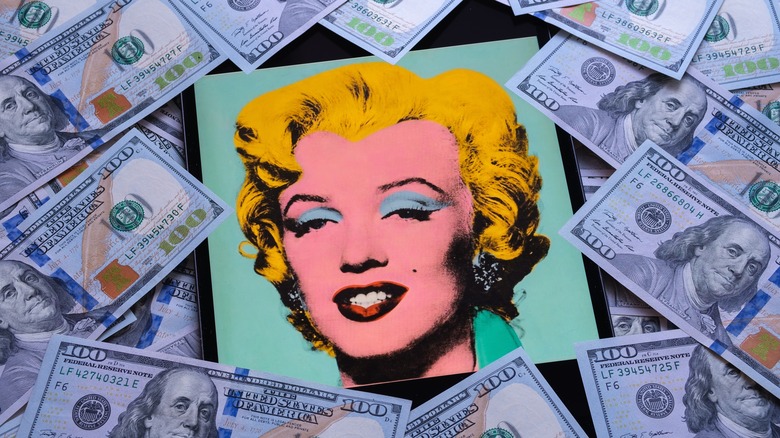 mundissima/Shutterstock
Toward the end of her life, Marilyn Monroe's accountant reportedly urged her to lessen her extravagant spending. Per Femme Frugality, she only had $13,000 under her name at the time of her death, and as previously mentioned, a net worth of $800,000. Although Monroe was married three times during her life, she was not married when she died. She also didn't have any children.
Monroe left a will that dictated how to divide her wealth, but as reported by Tudum, her net worth had dwindled down to just $370,000 when her estate was settled. She left $10,000 each to her half-sister Berniece Miracle and her personal assistant, and gave an additional $5,000 for her niece's education. $100,000 was given to help care for her mother, who had been in and out of mental institutions for most of her life. Three-fourths of Monroe's intellectual and physical properties, on the other hand, were left to her acting coach, Lee Strasberg, and his wife, Paula, who the actress considered family. The other one-fourth was given to Dr. Marianne Kris, her therapist.
Upon Strasberg and his wife's deaths, Monroe's estate went to Strasberg's second wife, Anna. She licensed the bombshells image and likeness and grew Monroe's estate to millions of dollars. In 2011, Anna sold her 75% intellectual property stake to Authentic Brands Group, a brand management company based in New York. Forbes recognized Monroe as one of the top-earning dead celebrities in 2019, as she reportedly earned about $13 million from October 2018 to October 2019 alone.