What Was Lou Gehrig's Life Like After Being Diagnosed With ALS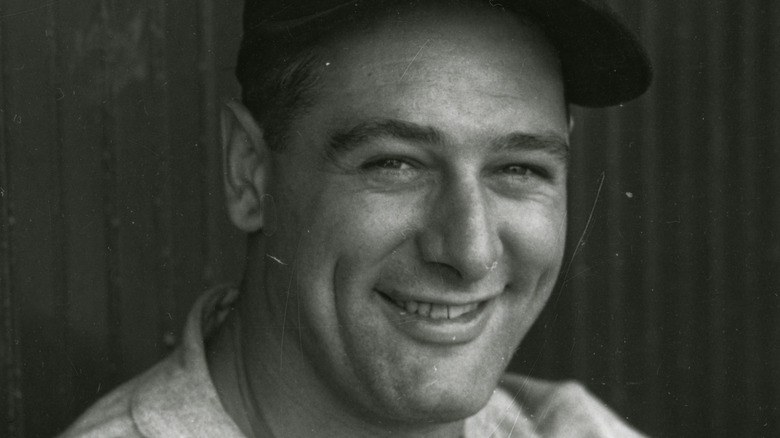 Transcendental Graphics/Getty Images
Nicknamed "The Iron Horse," Lous Gehrig is remembered for his impeccable baseball career and for succumbing to a disease that now bears his name (via Biography). According to ESPN, the Yankee ballplayer was born in New York to German immigrants in 1903. From an early age, Gehrig had a love for sports. When he enrolled at Columbia University, he joined the institution's football and baseball teams, and was recruited by the New York Yankees in 1923. As History explains, he ended up replacing Wally Pip as first basemen. Unlike his fellow teammates (like Babe Ruth), Gehrig did not seek fame and simply wanted to play ball.
Needless to say, his talent was remarkable. Per Britannica, Gehrig played 2,130 consecutive games. The Baseball Hall of Fame states that in 13 seasons, he scored more than 100 runs and 100 RBIs, and in 1934 achieved a Triple Crown, with 49 home runs, a .363 batting average, and 165 RBIs. In 1936 alone, he had 49 home runs. Overall, the 2007 book "1941 the Greatest Year in Sports" by Mike Vaccaro, reports that Gehrig had 493 home runs, a .340 lifetime batting average, and a .632 slugging percentage (per The New York Post). However, by 1939, Gehrig's baseball career was over.
He was diagnosed on his 36th birthday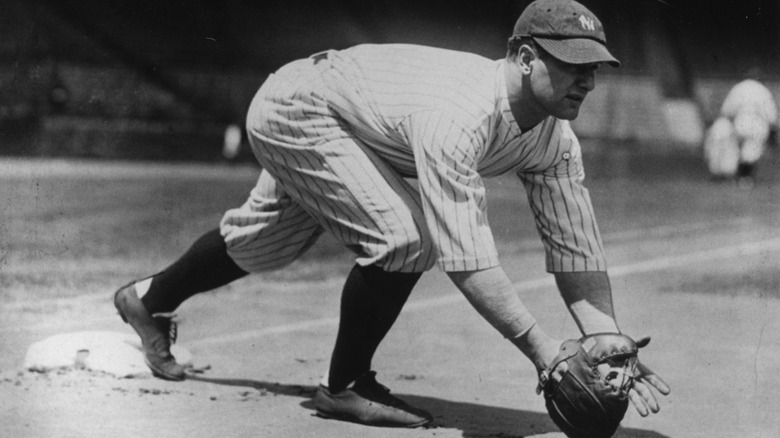 Transcendental Graphics/Getty Images
According to PBS, Lou Gehrig first noticed that something was amiss with his health in 1938. His biography explains that his batting average fell below .300. This had not occurred since 1925. As he lost his endurance, Doctors first believed that Gehrig was suffering from gallbladder issues. They changed his diet but the problems persisted. Mainly, Gehrig was losing control of his coordination (via The ALS Association). Unable to play at the level he was used to, History reports that he benched himself in May 1939. This ended his 2,130-game playing streak. Weeks later, Gehrig and his wife traveled to Rochester, Minnesota, to visit the famed Mayo Clinic for answers.
Gehrig was at the center for nearly a week until he received a diagnosis on June 19 of that year (via PBS). On his 36th birthday, Dr. Harold Habein informed him that he had amyotrophic lateral sclerosis, also known as ALS and now commonly referred to as Lou Gehrig's Disease. The ALS Association states that the disease was first discovered in 1869 by Jean-Martin Charcot, a French neurologist. Per the Mayo Clinic, ALS is a degenerative nervous system disease that gradually causes the loss of muscle control. There is no cure for ALS and Gehrig was told that he would no longer be able to play baseball (per Lou Gehrig). Shortly after, the Baseball Hall of Fame writes that the Yankee superstar decided to retire.
Lou Gehrig died two years after retiring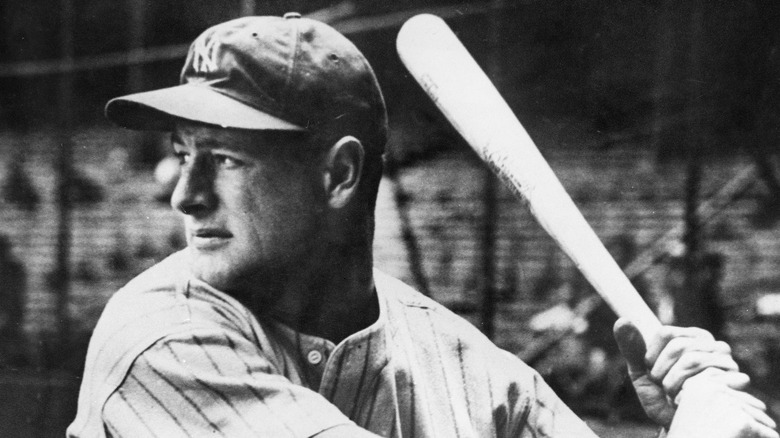 Photo File/Getty Images
To honor Gehrig and his outstanding baseball career, The ALS Association reports that the Yankees decided to hold a "Lou Gehrig Appreciation Day" at Yankee Stadium on July 4, 1939. According to the Baseball Hall of Fame, nearly 62,000 fans showed up to celebrate and to hear Gehrig speak. He addressed the crowd and said, "For the past two weeks you have been reading about the bad break. Today I consider myself the luckiest man on the face of the earth" (via Time). Gehrig went on to thank his fans for their support throughout the years.
That same year, his biography states that he was inducted into the Baseball Hall of Fame. Time reports that after he retired, Gehrig sought various treatments in an attempt to curtail the progression of his ALS. This included taking large doses of Vitamin E. Additionally, Gehrig joined the New York City parole commission (per PBS). History explains that he was offered the job by Mayor Fiorello LaGuardia and his responsibilities included working with prisoners.
Gehrig, per PBS, falsely believed that he could recuperate. Instead, however, Gehrig's health quickly began to deteriorate and he was unable to continue with the role. On June 2, 1941, Lou Gehrig, then 37, died (via Biography). In "1941 the Greatest Year in Sports," author Mike Vaccaro writes that thousands of fans showed up at the Christ Protestant Episcopal Church in the Bronx to pay their respects to the man that is considered to be one of the greatest ball players that have ever lived (perThe New York Post).