Tragic Details Found In Selena's Autopsy Report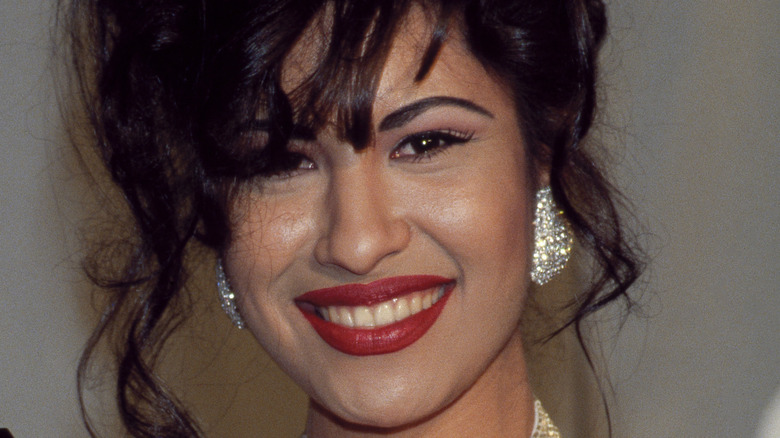 L. Busacca/Getty Images
Within 23 short years of life, Selena Quintanilla established a legacy as one of the greatest pop titans of all time. The Texas-born singer became an icon of song, dance, and dazzling fashion that carved out a new niche in the realm of Tejano-music. 
Originally from Lake Jackson, Texas, Quintanilla was born on April 16, 1971 to a family of musicians, as Biography reports, and though she was raised in a primarily English-speaking household, she was taught fluent Spanish at a young age. Singing lead vocals for her family's band, she learned a good deal of the Spanish language through lyrics and melody. Ultimately, she'd dedicate her career to musical artistry delivered through a foreign tongue. Sometimes called the "Mexican Madonna," other times "The Queen of Tejano Music," the world would come to know and remember her first and foremost as Selena.
If you've ever heard her name, there's a good chance you're familiar with some of her music and different parts of her story. Maybe you've seen the 1997 biopic "Selena" starring Jennifer Lopez and Edward James Olmos. If you have, you know that her life and career ended in murderous tragedy. On March 31, 1995, Selina Quintanilla was murdered in cold blood by her alleged friend and the president of her fan club Yolanda Saldivar. According to the Texas Department of Criminal Justice, Saldivar was convicted of murder in the first degree and sentenced to life behind bars. Today, she resides at Mountain View prison in Texas and is eligible for parole in 2025. 
Why did Yolanda Saldivar kill Selena?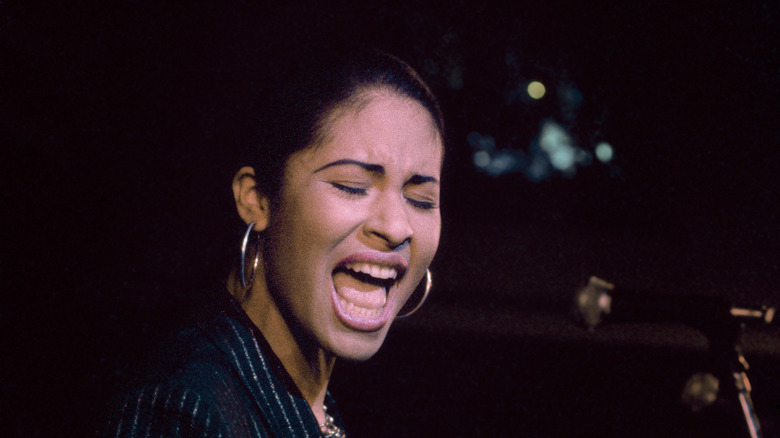 L. Busacca/Getty Images
At the time of the killing, Yolanda Saldivar was in control of several factions of Selena's music career. Originally a devout fan, Esquire reported that Saldivar ultimately was brought on board to head up the singer's fan club and oversaw thousands of dollars worth of transactions and merchandise along with other activities. It soon became apparent to Selena and her family that the head of her own fan club was stealing from her, leaving her no choice but to terminate all personal and professional ties with the woman she once trusted and called a friend. Saldivar was also managing several boutiques that Selena owned throughout southern Texas.
According to All That's Interesting, members of the singer's fan club had submitted a barrage of complaints that led to certain suspicions about Yolanda Saldivar's activities within the business structure; suspicions that ultimately unveiled unsavory truths about embezzlement and fraud on Saldivar's part. After declaring her unfit for employment, Selena agreed to meet her former friend and business associate at a Days Inn located in Corpus Christi, Texas in order to obtain certain business documents that she still had in her possession and to tie up any other loose ends. Unfortunately, the Tejano singer wouldn't return from the meeting alive. In a fit of rage, Yolanda Saldivar produced a revolver and fatally shot Selena before engaging in a nine-hour standoff with authorities called to the scene of the killing. She was eventually subdued, apprehended, and taken into custody (per Esquire). 
What was found in Selena's autopsy report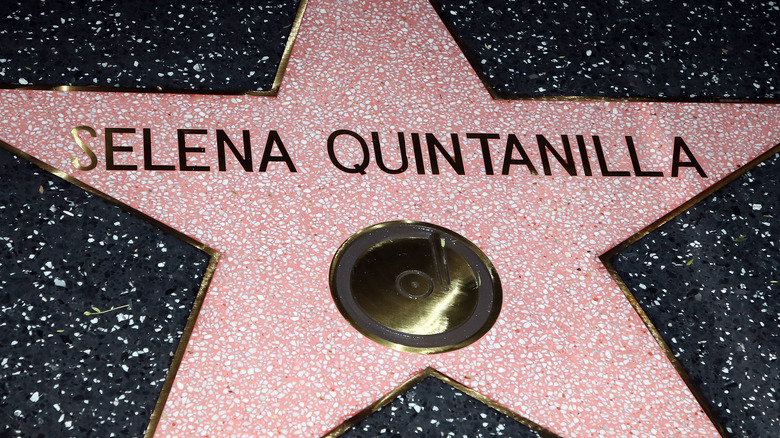 David Livingston/Getty Images
According to Selena's extensive autopsy report (via autopsy files), she'd been shot through the back right shoulder by a .38 caliber revolver. The bullet exited through her upper chest, which means Yolanda Saldivar shot her while her back was turned. The bullet did enough damage to her cardiovascular system to result in fatality, though she wasn't pronounced dead until she arrived at the hospital later on. Perhaps the saddest details present in the entirety of the report are the indicators of an otherwise perfectly healthy person, describing her body as "slender, well-nourished, and normally developed." An extensive evaluation of her endocrine, cardiovascular, digestive, and respiratory systems (among others) revealed a healthy young woman with high-functioning organs and — barring any major injuries or unforeseen illnesses — a long, wholesome life ahead of her. At the age of 23, the Tejano star was dead. 
Shocking news of Selena Quintanilla's untimely demise devastated fans and music lovers across the world. On April 3 — just a few days after she was killed — 60,000 of her followers attended a public funeral at the Bayfront Auditorium to mourn the loss. The event was also broadcasted live on several radio and television stations, as Music Minnessota reports. 
"I want to be remembered not only as an entertainer but as a person who cared a lot, and I gave the best that I could," Selena once said. "I tried to be the best role model that I possibly could" (via Good House Keeping).