Why Internet Sleuths Are Convinced Ghislaine Maxwell's Father Was An Israeli Spy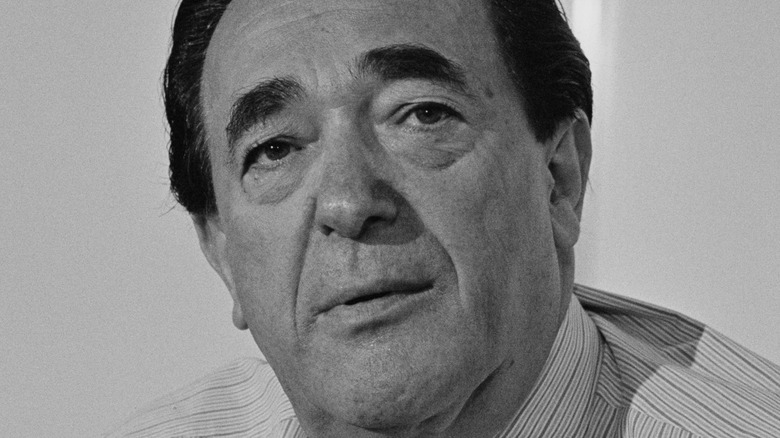 Reg Lancaster/Getty Images
In June, 2022 Ghislaine Maxwell, the former Manhattan socialite and girlfriend of disgraced American financier Jeffrey Epstein, was sentenced to 20 years in prison. One year earlier, Maxwell was convicted on five counts, including sex trafficking of underage girls, based on reporting from CNN. A convicted sex offender, Epstein, killed himself in prison while awaiting his own trial on federal sex trafficking charges in 2019, as the AP explains.
The news of Maxwell's sentencing brought up ongoing though unconfirmed theories, largely based on the internet, that Maxwell's father, Robert Maxwell, was, in fact, a spy for the Israeli intelligence agency Mossad. Robert Maxwell died suddenly in 1991 at the age of 68, when he fell from the deck of his yacht late at night. It was later ruled that Maxwell likely had a coronary incident precipitating the fall and that he drowned, as The Guardian notes. The official inquest into the death of Maxwell confirmed this version of the story. Three pathologists involved in the inquest allegedly could not reach the same conclusion, though, as The Independent goes on to explain. Supporting the official version of events, Robert Maxwell's post-mortem did reveal a heart and lung condition. 
Given the successful businessman's past involvement at the upper reaches of international politics and high society, with well-known business ventures in both New York and in the U.K., some speculate that Maxwell may have killed himself. Based on some theories, Maxwell may have even been murdered by Mossad agents.
Evidence of fraud emerged after Maxwell died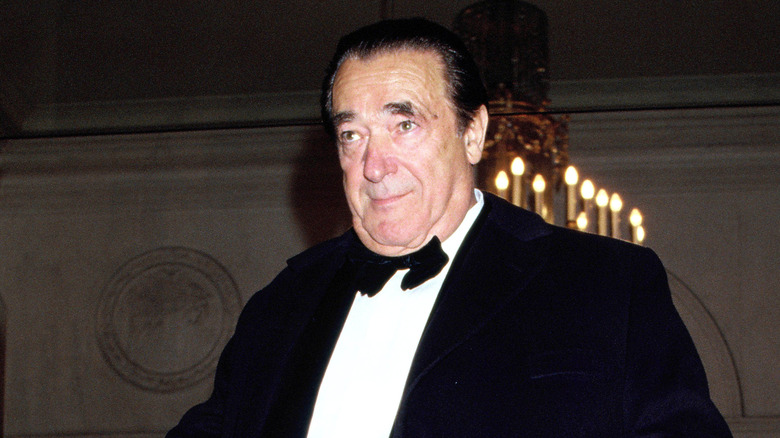 Georges De Keerle/Getty Images
Born in 1923 in Czechoslovakia, now the Czech Republic, in an area which is now part of Ukraine, Robert Maxwell emigrated to Britain as a young man. He was a media magnate with a publishing empire, which included a number of high-profile publications. His holdings included the Daily Mirror in the U.K., as well as MacMillan Book Publishers and the New York Daily News in America, among other outlets, as his Britannica biography explains.
A veteran of both the Czech and the British armies during World War II, Maxwell was also a one-time member of the British Parliament. Among his various business ventures, Maxwell owned both the Oxford United and Derby County football clubs in Great Britain, as The Guardian goes on to report. Shortly after he died, evidence emerged that Maxwell's business empire was not all that it seemed, when billions of dollars were found missing from his company's pension funds.
Throughout his life Robert Maxwell kept close ties with Israel, and when he was given what amounted to the funeral service of a state dignitary in Jerusalem, speculation intensified that he could have been murdered by the Mossad, or that he, himself, could have even been an agent for the Israeli agency. And the Mossad is not the only international espionage organization with which Maxwell is implicated.
Was it about money, or secrets, or both, or neither?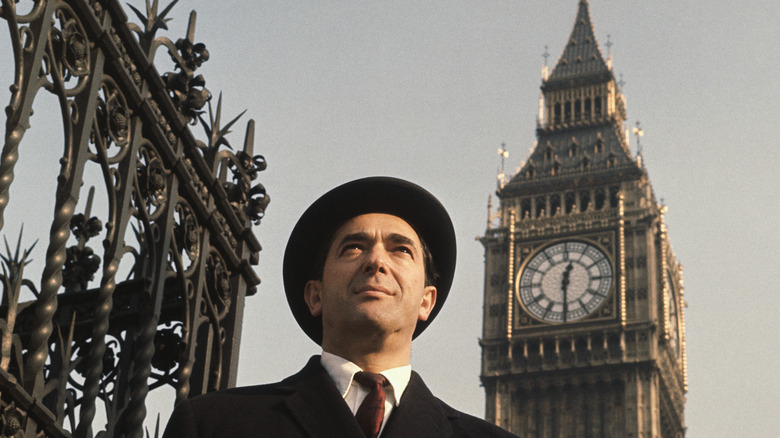 Keystone/Getty Images
Allegations that Ghislaine Maxwell's father was an Israeli spy were bolstered when a former high-ranking official in Israeli intelligence came forward to accuse Maxwell in the media, per The Guardian. Maxwell vehemently denied those claims and threatened legal action against media outlets who reported them. But just a short time after those allegations were revealed, Maxwell died.
One leading theory as to what might have motivated Mossad to kill Robert Maxwell was that, after years of service as a spy, Maxwell approached the Israeli government for a loan, but was denied, according to The Guardian. In retaliation, Maxwell could have then threatened to reveal crucial information from his long history of involvement in Israeli intelligence. And for this reason, the Mossad had him killed.
As The Guardian goes to report, Roy Greenslade, the former editor of the Daily Mirror and author of "Maxwell: The Rise and Fall of Robert Maxwell and His Empire," spoke in-depth with the captain of Maxwell's yacht, who was aboard on the night that he died. The captain affirmed that no one else could have been on board that night, and for this reason, Greenslade rejects the murder theory. Another source close to Maxwell also said she could not think of anyone less likely to kill themselves than Robert Maxwell.