The Real Reason Marilyn Monroe Got Married At Just 16 Years Old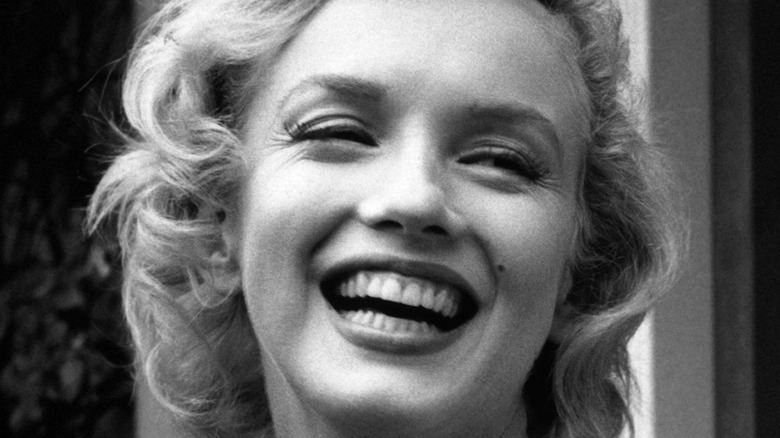 Evening Standard/Getty Images
For centuries, arranged marriages instrumentally bound different families and factions together for the sake of political and social pragmatism. In fact, CodeHER reports that even today, over 50% of the world's marriages are arranged (20 million marriages across the globe). That's a shocking figure in the context of modern love. However, the phenomenon of arranged marriages in the present day arises less from political/social necessity and more from tradition. Case in point, there can be more to marriage than just love. The otherwise sacred covenant between people that we see as the personification of true love is oftentimes no more than a means to an end. Take Marilyn Monroe for example. 
The legendary "Gentlemen Prefer Blondes" star of Hollywood's most enchanting era initially got married for a reason that might surprise you. Whereas any man would have traded the better part of his soul to call the iconic beauty his wife, her first marriage took place long before she was a star, and true love actually had very little to do with the situation. Monroe's first husband, James Dougherty, married the impending superstar when she was just a young girl, according to NPR. It was all so she didn't have to go back to a certain place that she dreaded for her entire life,.
Marilyn Monroe got married to avoid foster homes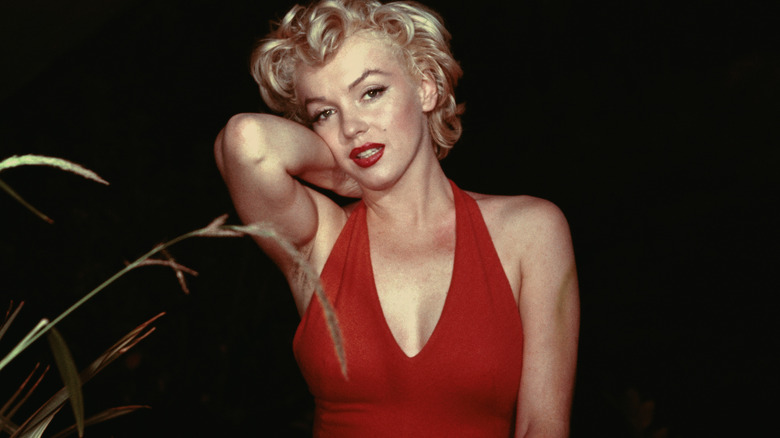 Baron/Getty Images
While it certainly wasn't what you would consider an arranged marriage in the traditional sense, Marilyn Monroe's courtship with her next-door neighbor James Dougherty didn't take place because she was head over heels in love with him. Only 16 years old at the time, Monroe had been raised primarily in the foster care system. She'd endured repeated bouts of abuse throughout her childhood and teenage years in different foster homes, and when the prospect of getting out of the vicious cycle presented itself in the form of an engagement ring, she graciously held out her hand and accepted it (via Showbiz Cheat Sheet). 
James Dougherty was four years older than Monroe at the time. He was reportedly a friend of Monroe's mother and knowing that she would likely be sent away to another temporary home, suggested that he marry her. It was only a few months after their first date that Marilyn Monroe and Jim Dougherty tied the knot. Alas, she was free from the foster care system and could begin life anew (per Biography).
Monroe stayed with Dougherty for four years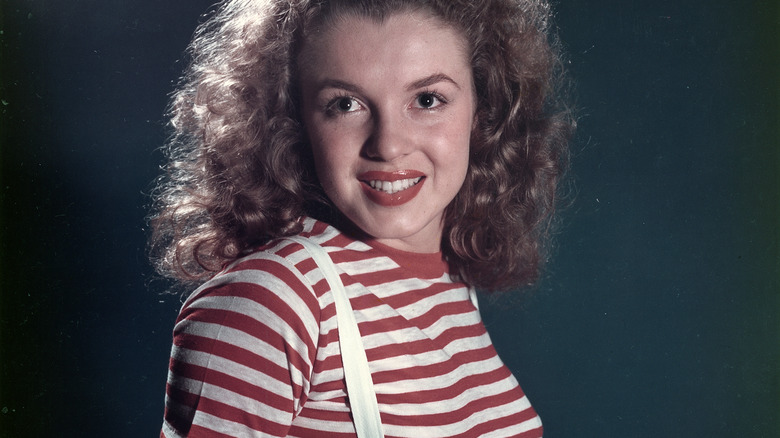 Michael Ochs Archives/Getty Images
As the dark cloud of World War II started to cast its ugly, ever-encroaching shadow upon the United States, Jim Dougherty took up with the marines and was eventually sent to the South Pacific, as NPR notes. In turn, his new wife became part of the domestic war effort and worked in an ammunition factory in California. Shortly after she was hired, the young Norma Jean (her birth name) caught the eye of a photographer who suggested she get into modeling and acting. According to Biography, it had long been a dream of hers to become a star on the silver screen, so there was little hesitation on her part when the opportunity suddenly appeared before her.
Dougherty came home from WWII in 1946, and by then, his wife was a well-known model who was rising fast into the blinding realm of stardom. It was in September of that same year that Monroe asked her husband for a divorce in order to fully devote herself to modeling and acting. Whereas love didn't prompt the union initially, it certainly had a place in their relationship later on, so the split wasn't easy on Dougherty. "I never knew Marilyn Monroe, and I don't claim to have any insights to her to this day. I knew and loved Norma Jean," he once shared (per Biography).