Joan Rivers Contemplated Suicide For A Heartbreaking Reason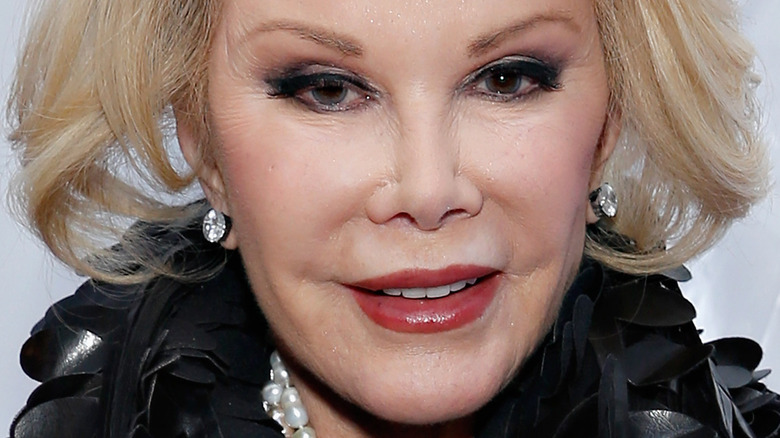 Cindy Ord/Getty Images
This article contains mention of suicide and suicidal ideation.
Comedy is, by its very nature, intended to make the audience laugh — whether that means laughing at the performer or laughing with them. Per Psychology Today, there's a relationship between comedy and pain; many great comedians have lived with depression and/or other mental illnesses during their careers. "It's a thing," said Roy Johnson, a comedy scene veteran and mental health advocate, in a 2014 interview with the media organization. "It's a real issue in the business because part of what drives people to do (comedy) for a living is some kind of deficiency inside you. It kills a lot of people."
Joan Rivers, who died in 2014, lived through her own share of pain in her life and career — and, according to Business Insider, at one point in the late 1980s considered suicide after a series of setbacks in her professional and personal life. Fortunately, she didn't follow through with her plan and subsequently enjoyed a career rebound, followed by three more decades as a top-tier entertainer. But what was the catalyst?
Joan Rivers' career low point affected her in more ways than one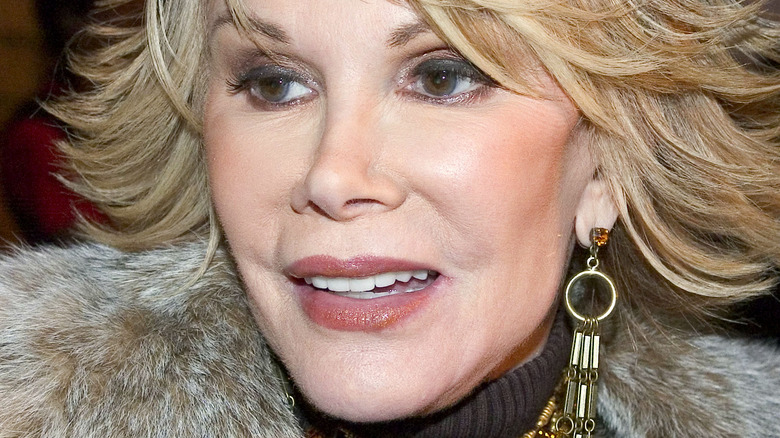 Astrid Stawiarz/Getty Images
Joan Rivers' big break came via "The Tonight Show With Johnny Carson" during the 1960s, after she was referred to Carson and his cohort by Billy Cosby. "I was brought on in the last 10 minutes of the show — the worst slot," Rivers herself recalled in a past interview (via ABC News). "And God bless Johnny Carson, he said right there on the air, 'You're going to be a big star.'" Rivers and "The Tonight Show" would go on to have a decades-long relationship, with her frequently guest-hosting, and of course, she developed a friendship with host Carson as well. 
However, that friendship came to an end when she was given her own late-night talk show, "The Late Show Starring Joan Rivers" — a direct competitor of "The Tonight Show," per The Hollywood Reporter. (Ultimately, Carson never spoke to her again. Unfortunately for Rivers, her show bombed — and soon thereafter, her husband of 22 years, Edgar Rosenberg, died by suicide. A few months later, according to Business Insider, she considered doing the same.
Joan Rivers' dog saved her life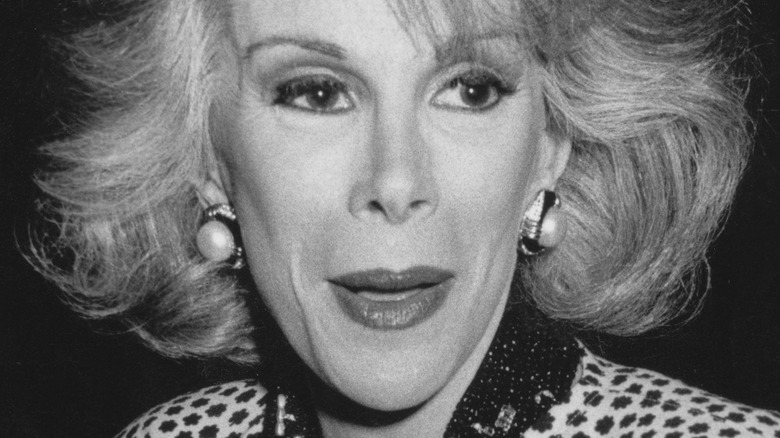 Michael Ochs Archives/Getty Images
In the late 1980s, Joan Rivers' personal life and career had both reached rock-bottom, following the cancellation of her late-night talk show, the end of her friendship with Johnny Carson, and the subsequent suicide of her husband. "My career was in the toilet, I'd lost my Vegas contracts, I'd been fired from Fox," Rivers recounted during a 2014 interview with The Daily Beast. "[Johnny] Carson and NBC had put out such bad publicity about me. I was a pariah. I wasn't invited anywhere. I was a non-person. At one point I thought, 'What's the point? This is stupid.'" 
According to Rivers' account, the comedian grabbed a gun, intending to use it on herself before fate intervened. Specifically, her dog Spike jumped up onto her lap and sat on the gun. At that moment, she realized that without her around, there would be no one to take care of her beloved canine. After that incident, Rivers' career rebounded from those setbacks, and she took the experience to teach others about the matter of suicide. "I lecture on suicide because things turn around. I tell people this is a horrible, awful dark moment, but it will change and you must know it's going to change and you push forward," she said to the Daily Beast shortly before her death in 2014.
If you or anyone you know is having suicidal thoughts, please call the National Suicide Prevention Lifeline​ at​ 1-800-273-TALK (8255)​.
If you or someone you know is struggling with mental health, please contact the Crisis Text Line by texting HOME to 741741, call the National Alliance on Mental Illness helpline at 1-800-950-NAMI (6264), or visit the National Institute of Mental Health website.