Tragic Details About Carol Burnett's Parents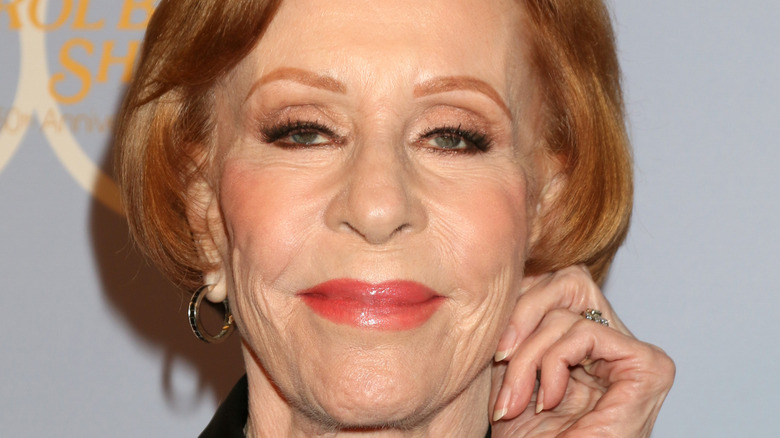 Kathy Hutchins/Shutterstock
Carol Burnett is a living legend and one of the most famous comediennes of all time. Born Carol Creighton Burnett on April 26, 1933 in San Antonio, Texas, she grew up going to the movies and dreaming of becoming an actor, per Britannica. She went on to study acting at the University of California Los Angeles, where she discovered her talent for comedy, and moved to New York to pursue her career after a benefactor who enjoyed her work gave her the money to do so. After achieving success in supporting roles on a variety of television comedies as well as bagging a Tony nomination for her role on Broadway in the musical "Once Upon A Mattress," she debuted her variety show, "The Carol Burnett Show," in 1967. It ran for the next 12 years, won several Emmy awards, and made Burnett a household name. Burnett also starred in several movies and proved herself capable of dramatic roles as well as comedic ones. However, like many comedians, Burnett's humor stood in stark contrast to many sad and difficult aspects of her personal life. In fact, Burnett spent her entire life living with family members who struggled with addiction.
In August of 2020, People magazine reported that Burnett was seeking legal guardianship of her then-14-year-old grandson, Dylan, the child of Burnett's daughter Erin Hamilton, because of Hamilton's issues with substance abuse and addiction. The situation echos Burnett's own early years as the child of alcoholics who was raised by her own grandmother.
Burnett's parents struggled with alcoholism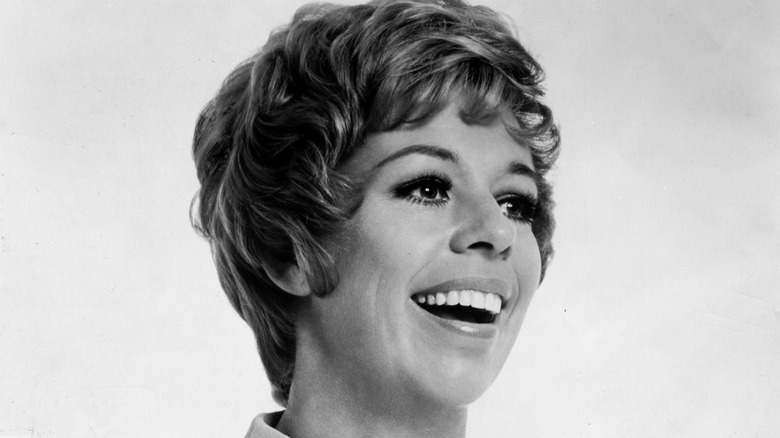 Michael Ochs Archives/Getty Images
In a 2003 interview on the NPR program "Fresh Air," Burnett discussed her childhood. While there were many laughs and good times, particularly with her mother and grandmother, her parents were alcoholics who both eventually died from the disease. Burnett noted that this was a common situation among the families she knew, and so she didn't think hers was unusual or particularly sad. She went on to explain, "my dad drank before my mother did ... But Daddy, when he drank, just became sweeter ... But he was ineffectual. He couldn't hold a job." 
Burnett's parents eventually divorced and she lived with her mother and grandmother, Mabel White. Her mother had attempted to stop her father from drinking, even breaking a bottle of liquor over his head during an argument, but eventually started drinking herself in her 30s. Burnett recalled, "she was a mean drunk. She could really get mean and vicious and angry ... she would accuse me of ridiculous stuff when she drank." Burnett went on to explain that she became self-conscious about her looks thanks to the way her mother spoke to her when she'd been drinking: "She was saying, listen, be a writer, because no matter what you look like you can always write, you know. And so that kind of imprints a little message." Burnett's grandmother remained her primary caretaker and support; per Britannica, Burnett's eventual trademark sign off of pulling her ear at the end of each episode of her show was a secret signal to Mabel, a way of saying "hello."
A family history of addiction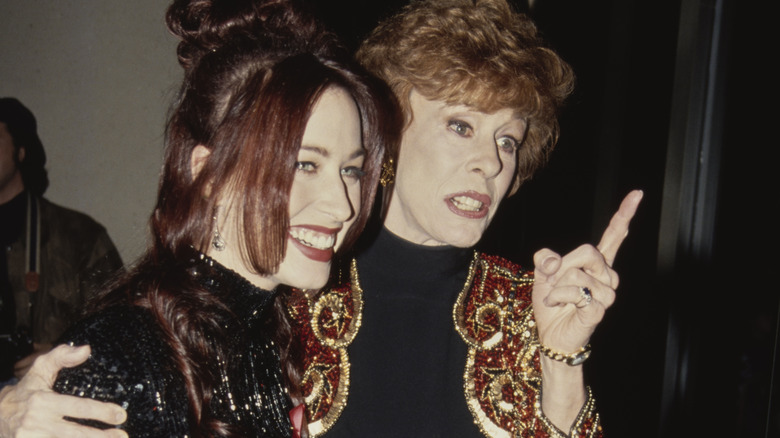 Michael Ochs Archives/Getty Images
According to the American Psychological Association, "[a]t least half of a person's susceptibility to drug addiction can be linked to genetic factors." Two of Carol Burnett's daughters have struggled with addiction, just as Burnett's parents did long ago. In a 2020 interview with AARP, Burnett described the years of struggles and pain that she endured while attempting to help her daughter Carrie Hamilton stop abusing drugs, advising, "[i]n that situation, don't be their best friend. When we got her into a third rehab, oh, she hated my guts! You have to love them enough to let them hate you." Burnett noted that Carrie got sober before her 18th birthday and "we had a good 20 years — we were joined at the hip for a while there." Carrie died of cancer at 38 and in 2014, Burnett published a best-selling memoir about their relationship, "Carrie and Me: A Mother-Daughter Love Story." 
As reported by People, Burnett's daughter Erin Hamilton (above, in 1993) has also been to rehab multiple times and was placed on a 51/50 hold in July 2020 due to "suicidality and drug use," according to court documents. Burnett and her husband responded by seeking guardianship of Erin's son Dylan. Dylan's father and Hamilton's ex-husband had recently entered a rehabilitation facility at the time of the court filing. In a statement to People, Burnett said, "Guardianship will be for oversight purposes concerning his health, education and welfare and not intended to deny him nor the parents proper visitation with one another."