Whatever Happened To William Shatner's Kids?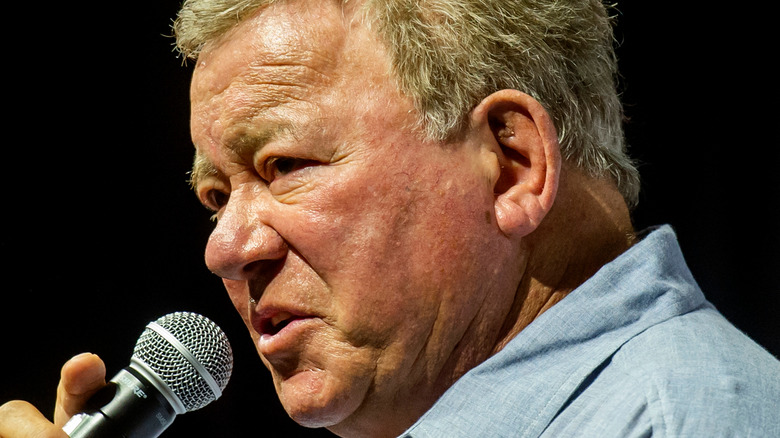 Bryan Regan/Shutterstock
For most of the later portions of his decades-long career, William Shatner has leaned into being a parody of himself. As KQED reports, "being William Shatner" is a big-enough source of comedic shtick that he doesn't really need much else. His gloriously ham-fisted overacting, his staccato delivery (which itself came from parody and was never his actual speaking voice), his unusual place in the history of Star Trek fandom – it's all a part of who he is. Or at least, it's the public image he presents.
Off stage, Shatner has been married four times, divorced three times, and widowed once, according to The Sun. Only one of those marriages produced any children, however: his first marriage, to Canadian actress Gloria Rand. They were married all the way back in the Eisenhower administration, and during their 13-year marriage, they had three daughters. Each of them followed their father's footsteps into acting, albeit briefly in some cases, and as of July 2022 all three are still living.
Little Girls On The 'Star Trek' Set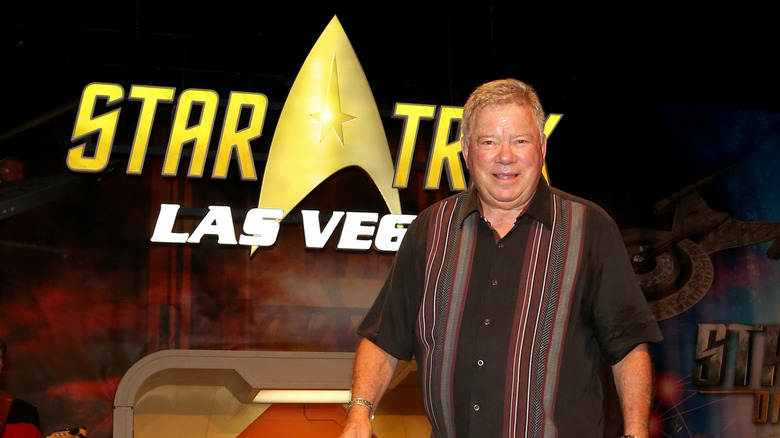 Gabe Ginsberg/Getty Images
As Britannica reports, the "Star Trek" universe got its start in the mid-1960s with what is now called "Star Trek: The Original Series." The show only ran from 1966 to 1969, but it laid the groundwork for the franchise that would come to include multiple TV series and movies set in the same universe; a franchise that continues to this day.
During those heady days in the 1960s, William Shatner was a father to three little girls: Leslie (born in 1958, according to Hollywood Life), Lisabeth (born in 1961), and Melanie (born in 1964). Taking a page out of John Wayne's book, Shatner was keen to have his young daughters in front of the cameras, if only as extras, and two of them appeared in at least one episode. Leslie, for example, appeared in Season 1: Episode 8, "Miri," as one of the survivors of a plague on an Earth-like planet in which only children have survived. Lisabeth also appeared in the same episode, as "Girl in red-striped dress," according to IMDB. Melanie, the youngest, did not appear in The Original Series, but did appear in two films in the franchise, as an adult and alongside her father, according to IMDB: "Star Trek IV: The Voyage Home" and "Star Trek V: The Final Frontier."
Shatner's Daughters Later In Life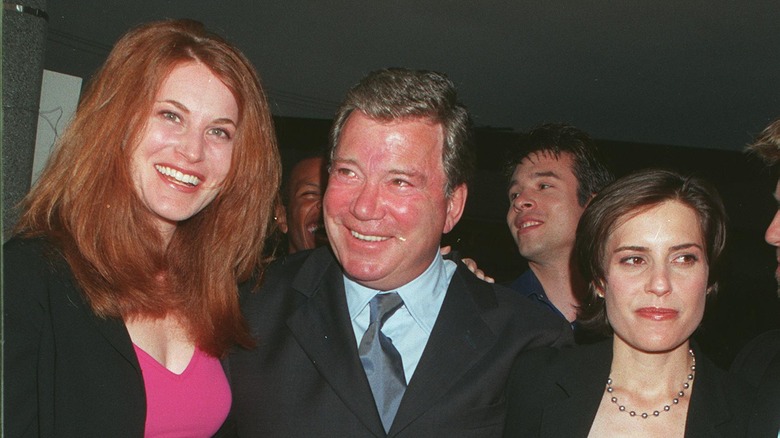 Denny Keeler/Getty Images
All three of William Shatner's daughters have done at least some acting, but not all of them have stayed in the profession.
Leslie's career in acting was probably the shortest, with only two acting credits to her name (including one uncredited role), per IMDB. As of October 2021, according to The Sun, she was working as an occupational therapist, and had two children of her own (William Shatner's grandchildren).
Lisabeth's acting career has been relatively short as well. Per her IMDB resume, her only acting credits include an appearance as a little girl on her father's show, plus an appearance in a Huey Lewis and the News video. She also has two writing credits, including one for "T.J. Hooker," in which her father was the star. Hollywood Life reports that she got married in 2005.
Melanie, the only Shatner daughter to not appear in Star Trek: The Original Series, has a considerably longer list of acting credits than either of her sisters, per IMDB, although the most recent was in 1998. Like her sister Lisabeth, Melanie is married.