The Verdict In The Murder Of Nipsey Hussle Explained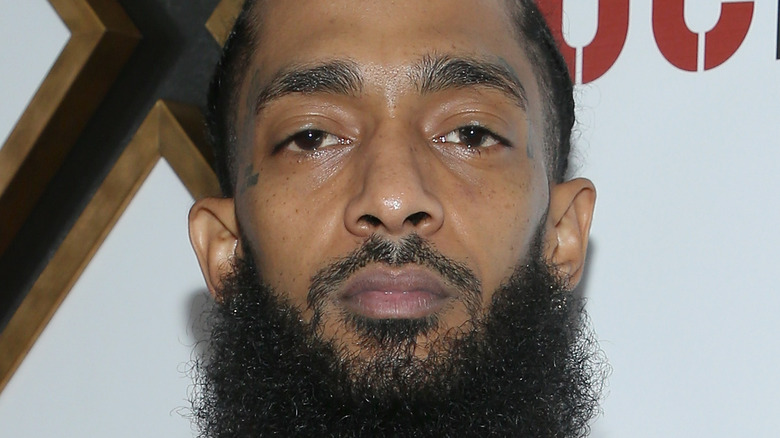 Phillip Faraone/Getty Images
In 2019, rapper Nipsey Hussle was shot and killed in Los Angeles. Two others were also injured in the incident. After several delays, including the COVID-19 pandemic, the trial of Eric Holder Jr. began three years later. Holder Jr. was charged with first-degree murder and attempted murder in the case. Following a short period of deliberation and discussion by the jury a verdict has now been reached, based on reporting from ABC News.
Born in Ermias Asghedom, the "Hussle and Motivate" rapper who performed as Nipsey Hussle was shot in front of his south Los Angeles clothing store (via NBC). Hussle, who was acquainted with Holder Jr., had allegedly confronted the defendant about being a snitch, as the AP explains. Angered, Holder Jr. reportedly left the scene only to return a short time later with two guns. After which point, Holder Jr. allegedly shot and killed the posthumous Grammy Award-winning rapper and injured two bystanders. Charged with murder and attempted murder, Holder Jr. pleaded not guilty.
Holder Jr. was convicted of voluntary manslaughter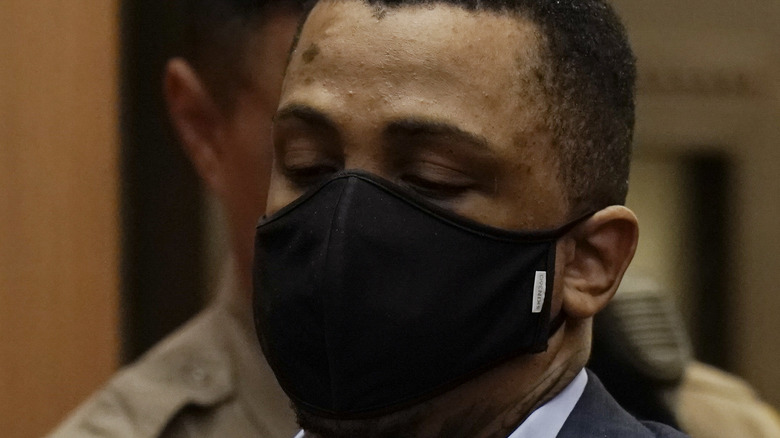 Pool/Getty Images
Identified by witnesses, Eric Holder Jr.'s defense admitted their client had fired the gun on the day that Nipsey Hussle died and the two other men were injured. The question Holder Jr.'s defense raised at the trial raised was whether first-degree murder was an appropriate charge in the case given their client's state of mind. According to defense attorneys their client was triggered and under emotional stress. Therefore, the killing of Hussle was not a premeditated act but a crime of passion instead, according to NBC News.
Similarly, Holder Jr. never intended to shoot the other two men who were injured in the incident. In this instance, the jury agreed, convicting Holder Jr. of a lesser charge for shooting the bystanders: two counts of attempted voluntary manslaughter and assault with a firearm, as CBS News also notes. As for the prosecution in the case, they maintained Holder Jr.'s crimes were premeditated, and therefore murder charges were warranted. Hussle was reportedly shot as many as 11 times and Holder Jr. also allegedly kicked the musician in the head before fleeing (via CBS News).
Eric Holder Jr. was also convicted of first-degree murder for killing Nipsey Hussle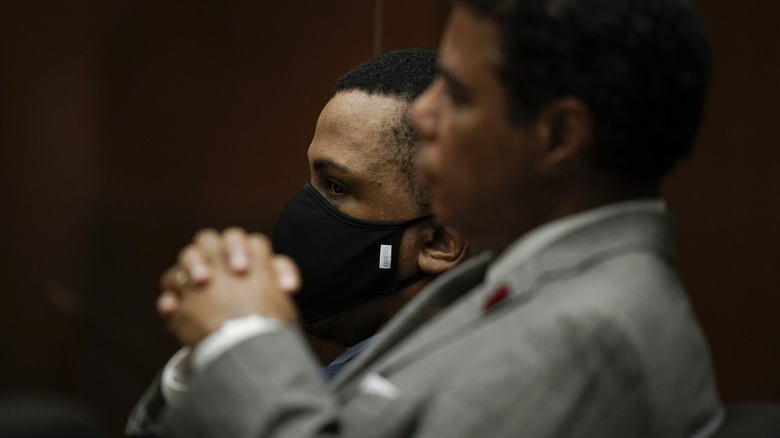 Pool/Getty Images
On the charges of first-degree murder for killing Nipsey Hussle, though, the jury found Eric Holder Jr. guilty. He was also convicted of assault with a firearm, and possession of a firearm by a felon, as CBS News goes on to report. Evidence against Holder Jr. included eyewitness testimony, as The Guardian notes.
Central to the jury's findings was that Holder Jr. intentionally fired the gun with intent to harm or kill Hussle. As a result of this conviction, Holder Jr. could receive a sentence of life in prison or the equivalent, as The Guardian also explains. After the trial began, the proceedings were briefly once more delayed after the defendant was attacked in prison, during which time he lost consciousness, according to CBS News. In their closing arguments, prosecution in the case said (via The Guardian) "[Holder Jr.] thought about what he was going to do before he did it."