The Tragic 2006 Death Of Mariska Hargitay's Father, Mickey Hargitay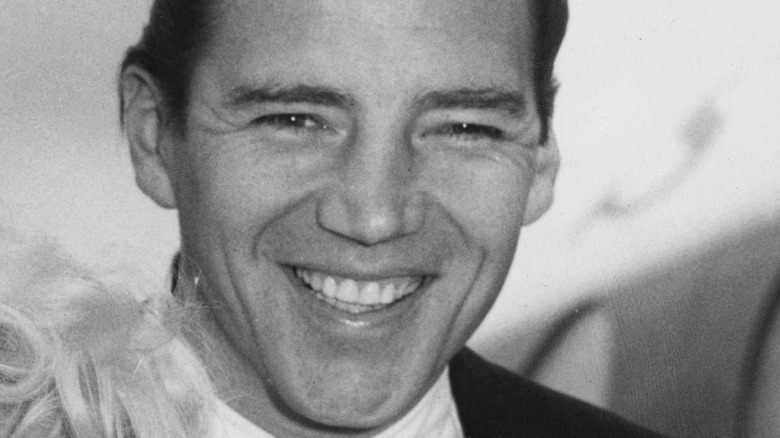 J. Wilds/Getty Images
Actor and bodybuilder Mickey Hargitay, who died in 2006 at the age of 80, was perhaps better known throughout his life as the husband and then father of two very famous actresses, but he had a legacy all his own. Born Miklós Hargitay on January 6, 1926 in Budapest, Hungary, per Turner Classic Movies, Hargitay immigrated to the United States when he was 21 years old. As reported by Iron Man magazine, he was already a great athlete by that time; his father had raised all three of his sons to be athletes. In Hungary, Hargitay had been a champion soccer player, an award-winning speed skater, and an accomplished acrobatic dancer. He lived in Indianapolis, Indiana, where he worked as a plumber and carpenter, as reported by Independent, spending his spare time working out and becoming a formidable body builder. He went on to enter body building competitions, including Mr. Indianapolis and Mr. Indiana, eventually winning the coveted title of Mr. Universe in 1955.
His impressive physique was featured in the fitness and bodybuilding magazines that exploded in popularity in the 1950s. He appeared on the cover of Strength and Health magazine, which led to his casting in actress Mae West's popular revue, featuring a line of muscular men wearing leopard print loincloths posing behind West as she sang and bantered. West referred to him as "the most perfectly built man in the world" (per Architectural Digest). Actress Jayne Mansfield attended a performance and reportedly answered a waiter (who asked what she wanted for dinner), "I'll have a steak and that tall man on the left."
When Jayne met Mickey
Evening Standard/Getty Images
Mickey Hargitay was cast opposite Jayne Mansfield in the 1957 movie "Will Success Spoil Rock Hunter?" The co-stars married in 1958 and went on to star in three more movies together, "The Loves of Hercules" (1960), "Promises! Promises!" (1963), and "Primitive Love" (1966), as reported by Independent. Hargitay also did much of the remodeling work on Mansfield's famous home, known as the "Pink Palace," including installing a heart-shaped swimming pool with "I love you Janie" emblazoned in gold mosaic across the bottom (via Architectural Digest.) Per Iron Man magazine, Hargitay also starred in the 1962 television program "The Mickey Hargitay Show," on which he demonstrated exercise routines, and made countless appearances talk shows hosted by Jack Paar and Johnny Carson, among others. He and Mansfield continued performing together in a revue, appeared on the cover of Life magazine together, and had three children, Miklós, also known as Mickey Jr., Zoltan, and Mariska. Mariska Hargitay is an award-winning actress who as of this writing holds the record for "the longest serving actress in the same role in the history of American live-action prime time television," according to the IMDb, having played Olivia Benson on "Law and Order: SVU" since 1999, totaling 23 seasons.
Mickey Hargitay and Jayne Mansfield divorced in 1964, and Mansfield was killed in a gruesome car accident three years later. According to Fox News, the driver and another passenger also died in the crash, while three of her children, including Mariska, were riding in the back and survived. 
Mickey Hargitay was an inspiration to many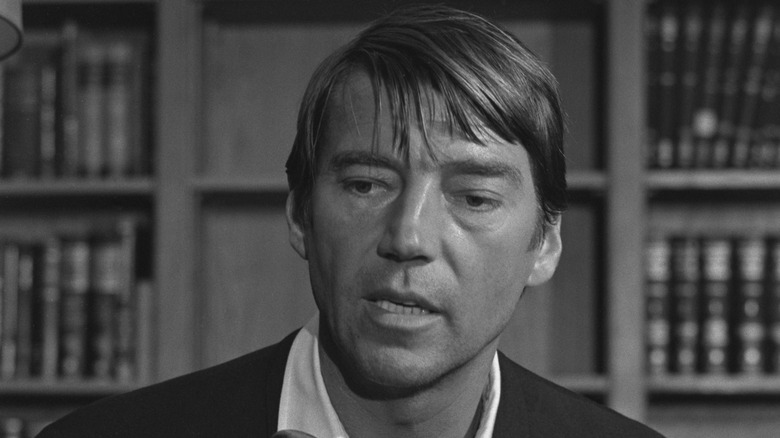 Michael Ochs Archives/Getty Images
Mickey Hargitay married his third wife, Ellen, in 1967, and they remained together until his death, per the IMDb. He made several more movies, ending with "The Reincarnation of Isabel" in 1973. His final on-screen appearance was a cameo on "Law and Order: SVU" in 2003 in which he played a witness to a crime and shared a scene with his daughter Mariska.
In 1980, Arnold Schwarzenegger played the role of Mickey Hargitay in the television movie "The Jayne Mansfield Story." Hargitay and Schwarzenegger had a lot in common — they were both body builders who became actors, even both playing the role of Hercules in the course of their careers. After Hargitay died on September 14, 2006, Schwarzenegger released the following statement, per CBS News: "Mickey was such an inspiration and always had such a positive attitude. He was a role model of mine for being a successful immigrant who came to this country and pursued his dreams." Hargitay was survived by his wife of 38 years and children Mickey Jr., Zoltan, Mariska, and Tina, born during his first marriage, to Mary Birge. His family released a statement: "Words cannot express how saddened we are by the loss of Mickey. At the same time, we are so grateful for who he was and is to all of us, and for the love he gave us in our lives. He will continue to be our source of inspiration and strength." According to The New York Times, the cause of death was bone marrow cancer.