Johnny Depp's Band Featured The Final Recording Of A Legendary Actor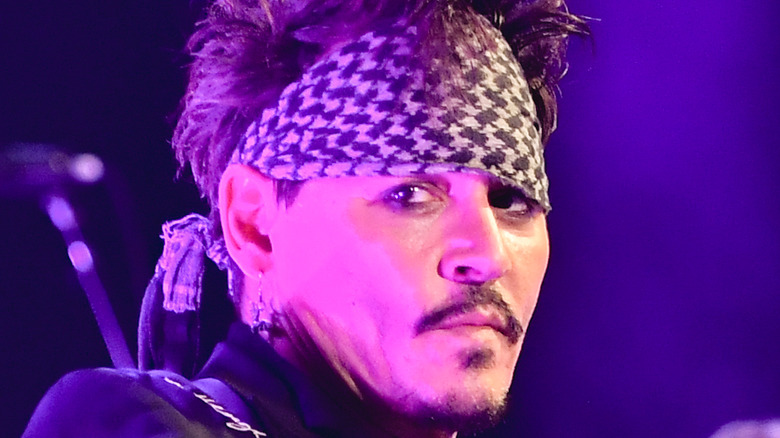 Matt Winkelmeyer/Getty Images
In 2012, "Pirates of the Caribbean" star Johnny Depp strapped on an electric guitar and teamed up with legendary rock titans Alice Cooper, Tommy Henriksen, and Joe Perry to forge the supergroup of the decade. To date, Hollywood Vampires has released two full-length albums, eight singles, and toured the globe multiple times over (via Discogs). The band's popularity has accrued over the years, and despite having to cancel a world tour this year due to COVID-19 restrictions still lingering, their future looks promising and they have every intention to reschedule the slew of shows, according to Variety. 
Here's a little known fact: Did you know that the band featured a soundbite from one of the most renowned actors of the past 60 years? If you've seen "Charlie and the Chocolate Factory" (2015), you might recall the scene when Willie Wonka (Depp) returns to his hometown to pay a visit to his estranged father. It's Christopher Lee who comes to the door when old Willie comes a knockin', and it's Christopher Lee's booming voice that provides the harrowing overture for Hollywood Vampires' 2015 debut studio album (per Song Facts). 
The band used Christopher Lee's voice on their album
Denis Makarenko/Shutterstock
Throughout his esteemed acting career, the late Sir Christopher Lee portrayed a vampire in several different films, including the king of all bloodsuckers, Count Dracula, according to Collider. It stands to reason then that he would be featured in a song called "The Last Vampire." The track is a minute-and-a-half of Lee's depthless, diabolical voice reciting an excerpt from Bram Stoker's 1897 gothic novel "Dracula" that chills you to the bone.
"You know, I think it was the very last thing he recorded," said Vampires frontman Alice Cooper in a 2015 interview with Digital Spy. "There's a part of the tape we were listening to when he was reading Bram Stoker and at one point it's, 'What music they make, the children of the night,' and then you hear him say to the engineer, 'I dread to think what Alice is going to do with this.'" A mere two months earlier, Sir Christopher Lee passed away at the age of 93 (via Britannica). 
Sir Christopher Lee was a heavy metal musician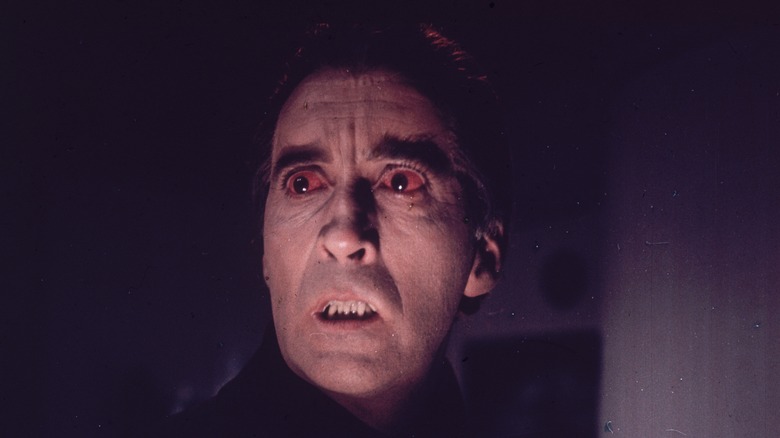 Bips/Getty Images
As if his horror merits didn't already make Sir Christopher Lee something of a modern-day Prince of Darkness (move aside, Ozzy), he also became an active contributor to metal music later on in life, according to Rock and Roll Garage. "Heavy metal has, since its very beginning, surprised in the best sense of the word," Lee said in an interview shortly before his death. "To be involved in that, and to show people that even now I can still surprise my audience. It's very important."
Sir Christopher Lee worked with rock titans Manowar when he appeared on their 1982 album "Battle Hymns," as Metal Insider reports. He also teamed up with power metal group Rhapsody on "The Magic of the Wizard's Dream" in 2005 and released several albums and singles of his own in the years leading up to his death (per Discogs).